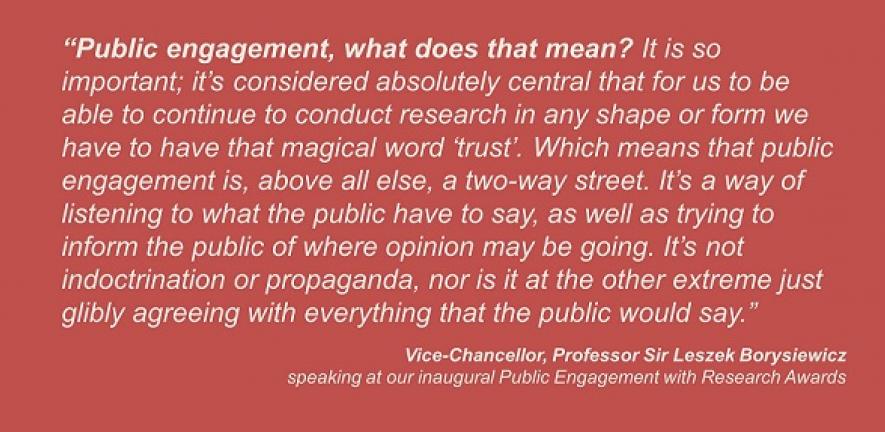 The term public engagement is used to describe the many ways in which the activity and benefits of higher education and research can be shared with the public for mutual benefit. You can find out more from the National Co-ordinating Centre for Public Engagement (NCCPE). The Vice-Chancellor has signed to NCCPE Manifesto for Public Engagement and is committed to embedding public engagement within the research culture of the University.
Why engage
There are a number of purposes that public engagement activity can serve: these can be described as inspiring, consulting and collaborating
If you are a researcher, public engagement can be of benefit in terms of developing your own and others' skills, raising your profile and enhancing your research. RCUK published a useful guide,'What's in it for me?' and Vitae's 'The engaging researcher' provides guidance too.
For members of the public, we hope that public engagement activities open up the work of higher education to unlock more benefits for society.
Public engagement stories
There are many examples of departments, research groups, individual researchers and students getting involved with public engagement initiatives from the University of Cambridge. In addition, the University's nine museums and collections are open year-round reaching hundreds of thousands of visitors, and the Institute of Continuing Education provides lifelong learning opportunities.
The Public Engagement team are gathering case studies of public engagement by University staff and students for publication on this site and in further formats, so please get in touch if you would like to share your experiences with us.
Useful reports and articles