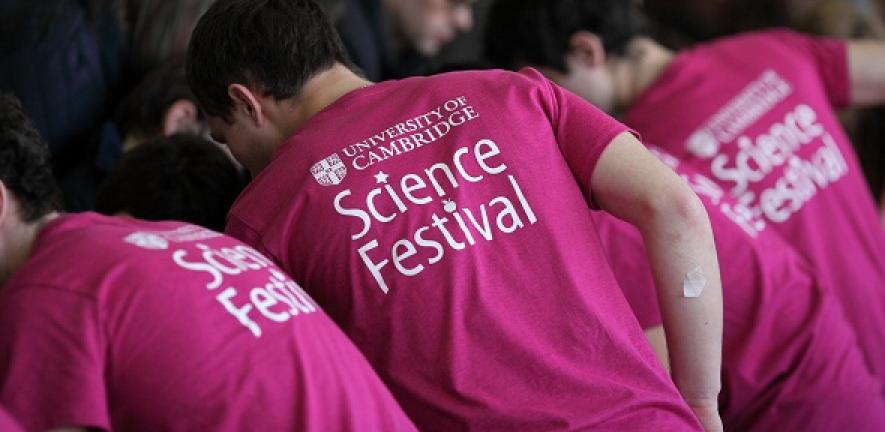 We are always looking for speakers to give talks at our Festivals, people to help organise activities or volunteer stewards for our events.
Volunteering can help University of Cambridge students and staff gain a whole range of skills such as teamwork, management, communication, business skills and many more. You can volunteer through one of the projects that the Public Engagement team co-ordinates or check out Student Community Action's opportunities or opportunities at the Cambridge Volunteer Centre. There are also many opportunities to volunteer overseas. Please visit the useful links section to find out about organisations that place volunteers locally, nationally and internationally.
Volunteer to speak or contribute an activity at our events
We'd love to hear from you if you have ideas or would like to contribute to future events.
If you're already signed up to coordinate an event at the 2024 Festival, you can find information on our Festival coordinators page.
Volunteer to steward
Volunteering for the University of Cambridge Public Engagement Team provides the opportunity to meet new people and develop new skills, while gaining a unique insight into one of the most globally renowned universities. The ideas and research that come from Cambridge help to save lives and change the way we think about the world – almost every day.
Thousands of people visit the Cambridge Festival each year discovering the ground-breaking research that takes place here. We simply could not deliver events on this scale without the help of our volunteers who donate their time, energy and expertise to the festivals. 
If you would like to volunteer as a steward and be part of these great events, please get in touch or download a volunteer expression of interest form at the top of this page. Please note that you will need to complete this form each time you volunteer with us to ensure our records are up to date.
How much time should you offer? When would you be needed? Where will you be based?
The Festival takes place between 17 March - 2 April 2023.
On weekdays we need volunteers to be able to support us between 5pm and 9pm. 
On weekends volunteers are usually required between 9am and 5 pm.
• Please note our expectation is that you would need to volunteer for the whole day during Festival weekend events.
• The role is based at University and partner organisation sites. It is in and around Cambridge and will be accessible by public transport.
What activities will you be involved in? 
• Assisting the public with entering the festival site and venues (on-site direction, greeting attendees, ticket checking and managing queues)
• Speaking and listening to the public and assisting with questions.
• Supporting Question and Answers sessions by facilitating a microphone in the audience.
• Supporting the University members of staff to engage with venue staff and event speakers.
Assisting with set-up at the venue, if needed, such as putting up Festival banners, flags and notices. Also arranging the welcome desk/s with brochures, feedback forms and leaflets.
What can you gain from this opportunity?
• Opportunity to engage with high-profile organisations.
• Play an important role in sharing latest research with the public.
• Access to high profile, stimulating Science, Arts and Humanities events.
• Making a difference to those who need support to attend events.
Is there an induction and training? Is there a Uniform?
• You will receive an induction, including a health and safety briefing, on the day you start.
• We provide a Festival T-shirt to all volunteers which needs to be worn during your volunteering session/s, this is to help attendees identify you as a point of information.
Who do I report to?
• The event coordinator will greet you at each event, this will be a member of Staff from the University of Cambridge Public Engagement Team. They will give you clear information as to what you are required to do. They will also provide you with a venue health and safety briefing.
What are we looking for?
• Friendly, approachable, good listening skills.
• Interest in other people's lives and an empathic nature.
• Ability to keep within boundaries of the role
• To be an ambassador for the University
• Can travel within Cambridge by public transport, on foot or by cycle.
Sound like you? Fill out the expression of interest form on the side of this page or get in touch at cambridgefestival@Admin.cam.ac.uk.