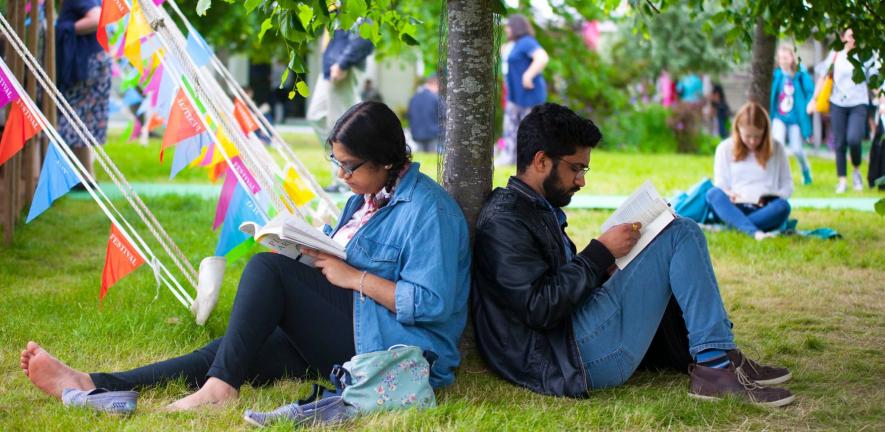 We deeply regret that Hay Festival 2020 is cancelled due to the Covid-19 pandemic. Ticket refunds are available. All ticket holders are being contacted.
We are heartbroken that our gathering of writers and readers and friends will not take place this spring. As we all face these times of uncertainty and isolation we will work harder than ever to carry forward our spirit of togetherness.
The Hay Festival is one of the most prestigious cultural and literary events in the world.
The University of Cambridge has partnered with the Festival for 11 years to deliver The Cambridge Series which gives a taste of the research being conducted at the University.
The Series is part of the University's public engagement work and draws on the University's two flagship public engagement events, the Cambridge Science Festival and the Cambridge Festival of Ideas.
The 2019 Hay Festival ran from 25th May to 2nd June, you can catch up and listen to some of the 2019 events below.
25th May
Emily Shuckburgh
How will climate change affect me?
Dr Emily Shuckburgh is a climate scientist and mathematician and co-author of the Ladybird book on climate change. She spoke about her research on modelling localised effects of climate change.
Sander van der Linden
How do we counter fake news and can we inoculate public opinion about misinformation? Dr Sander van der Linden is Director of the Cambridge Social Decision-Making Lab and is investigating the psychological mechanisms behind  the spread of misinformation.
26th May
Nicole Soranzo
Human disease: nature, nurture or both?
The sequencing of the human genome has revolutionised how scientists search for the genetic causes of human diseases. Human geneticist Professor Nicole Soranzo described how the field has evolved in the last 15 years, and discussed how new genetic evidence is used to better understand the interplay between our DNA ('nature') and the environment ('nurture').
27th May
Victoria Bateman 
The Sex Factor - how women made the West rich
The Industrial Revolution brings to mind famous male inventors and industrialists. In her new book economist Victoria Bateman instead argues that the everyday woman underpinned Britain's – and indeed the West's - rise.
28th May
Christopher Reynolds 
Black holes are nature's most extreme objects. Professor Christopher Reynolds described how they stretch our understanding of space-time to the limits and power some of the most energetic phenomena in the Universe.
Bill Sutherland
Rethinking decision making in a post truth world
Bill Sutherland, who holds the Miriam Rothschild Chair in Conservation Biology at the University of Cambridge, described attempts to make global evidence available to all, improve the effectiveness of experts and change attitudes toward the use of evidence, especially in relation to conservation.
Anthony Shillito and Neil Davies
A path well trodden - following the footprints of fearsome beasts from Britain's deep history
Throughout its ancient history, the UK has been home to many amazing creatures that are now long extinct. From dinosaurs to  giant millipedes, discover how these animals shaped the land around them and what secrets are held within their prehistoric footprints.
29th May
Adrian Weller
Adrian Weller is Programme Director for AI at The Alan Turing Institute, where he is also a Turing Fellow leading a group on Fairness, Transparency and Privacy. In addition he is a senior research fellow at the Leverhulme Centre for the Future of Intelligence leading work on Trust and Transparency and is on the board of the first Centre for Data Ethics and Innovation and a lecturer in machine learning. For his Hay talk, he examined the implications of machine learning and artificial intelligence for society and the importance of ethics, trust and transparency.
Martin Jones
Food security past and present: what archaeology tells us about the food we eat
Professor Martin Jones is Emeritus Professor of Archaeological Science at the University of Cambridge and a member of its Global Food Security research centre. An expert in archaeobotany and archaeogenetics, he discussed how our prehistoric ancestors built resilience into their food supply and what we can learn from them.
30th May
Mike Kenny, Eluned Morgan and Adam Price
Brexit and the Politics of National Identity in Wales and the UK
What are the Brexit implications for Wales and for the coherence of the United Kingdom. Professor Kenny is co-director of the British Academy's "Governing England" programme, and is a member of an external experts panel convened by the Scottish Parliament to advise on the constitutional implications of Brexit. Morgan is Welsh Government Minister for International Relations and the Welsh Language. Price is leader of Plaid Cymru.
31st May
Tyler Shores
Reading in an age of digital distraction
What is the difference between reading in print and digital? How is our reading experience affected in a digital age where we are prone to endless distractions?  Writer, editor and researcher Tyler Shores explored his latest research.
Paul Fletcher
Apples or ice-cream? Who - or what - determines what we eat?
Paul Fletcher is Bernard Wolfe Professor of Health Neuroscience at the University of Cambridge. A central principle of his research is that the brain is occupied in the process of forming predictions and associations to minimise error and uncertainty and to maximise reward. In many instances the processes engaged with this goal can conflict with underlying automatic and habitual processes, shaping our decisions and behaviours. The end result may be that our behaviours can seem irrational and in conflict with our longer term goals and plans. Given that major global non-communicable diseases are profoundly influenced by health-harming decisions and behaviours, understanding how body, brain and environmental signals are integrated and how they shape these behaviours will be a crucial part of improving health.
1st June
Fiona Maine
Beyond words: exploring the magic of visual texts
What is the potential of complex, ambiguous wordless picturebooks and short films as springboards for children's critical and creative discussions about the world and how we live together in it?  Fiona Maine is a lecturer in literacy education at the University of Cambridge.
2nd June
Morgan Seag, Ragnhild Freng Dale, Chandrika Nath with Melody Clark
Female voices on climate change
Does having more women involved in climate change-related research make a difference to discussions? What kind of adaptations will be required as global warming increases and how do we bring a broad range of the public on board, particularly with regard to the more complex issues around climate change? Panel discussion with Morgan Seag, co-chair of the international council of the Association of Polar Early Career Scientists, anthropologist Ragnhild Freng Dale from the Scott Polar Research Institute and the Western Norway Research Institute, Chandrika Nath, executive director of the Scientific Committee on Antarctic Research, and Professor Melody Clark from the British Antarctic Survey.
Catherine Aiken
Your granny's bump - how life in the womb affects future generations
We're constantly bombarded by advice on what pregnant women should do - but what does science really tell us about how early development impacts on future health? Dr Catherine Aiken, University Lecturer and Honorary Consultant in Maternal and Fetal Medicine, explored how life in the womb affects not only our children's lifelong health and well-being, but maybe even our grandchildren too.
Other University of Cambridge speakers at the Festival included Professor Martin Rees, neuroscientist Giles Yeo, author and lecturer Robert Macfarlane and neuroscientist Hannah Critchlow. Charlie Gilderdale, NRICH Project Secondary Coordinator, ran maths masterclasses with Alison Eves from the Royal Institution.