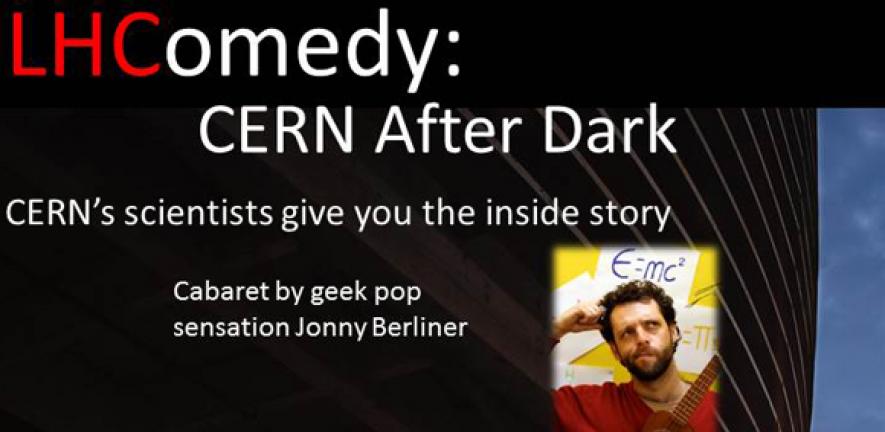 Scientists are set to lift the lid on their life and work at CERN during an evening of stand-up comedy next Friday, 30 August, between 7.30 – 11pm (CEST).
University of Cambridge PhD student, CERN affiliated scientist and particle physicist, Sam Gregson will be one of six intrepid scientists flexing their comedic muscles in front of audiences at the CERN Globe, Geneva, on 30 August between 7.30 – 11pm (CEST).
In recent years, science and comedy have become increasingly entangled. Shows like 'The Infinite Monkey Cage', starring Robin Ince (BBC's Mock the Week) and Professor Brian Cox have opened up areas of science such as particle physics to a wider and more mainstream audience. Similarly, a plethora of science-based comedy events have been showcased at science festivals across the country this year, such as Bright Club and Festival of the Spoken Nerd, which were both hugely popular shows at the Cambridge Science Festival in March.
CERN are recognising this trend and hosting the first LHComedy event 'CERN after dark'. Six CERN affiliated scientists (Sam Gregson, Alex Brown, Benjamin Frisch, Claire Lee, Hugo Day and Clara Nellist) will explain their research and lift the lid on what it is like to work at CERN using the medium of stand-up comedy. They will be ably supported by host Helen Keen (BBC4's 'It is Rocket Science'), geek-pop cabaret sensation Jonny Berliner, Pierre Novellie (Chortle Student Comedian of the year 2012 finalist) and Lieven Scheire ('De Laaste Show' and 'Scheire en de Schepping'). The show may also have an additional headline act. 
As creator and overall manager of the event, Sam is no stranger to the merging of comedy and science; he is a Bright Club veteran. He explained that, "Recent trends have shown us that science and comedy make a very potent combination. The evening is a great opportunity to enthuse people worldwide about the fantastic work going on at arguably the world's most important scientific facility through an exciting, vibrant and upcoming medium.
"The use of stand-up comedy allows scientists to engage with audiences that may not attend the usual lectures and exhibitions and helps bring cutting-edge science more into the mainstream spotlight. It also helps to break down the negative stereotypes that may go along with working in cutting-edge science.
"My advice to all scientists is to attempt a science comedy set based on their work. Trust me – if you can make people laugh at the same time as informing them, no other piece of scientific outreach or public speaking engagement need hold any fear for you! I absolutely love it and just maybe, if I do it enough, they'll let me have my dream job of being the next Brian Cox!"
The event, which is supported by CERN and the British Council, can be watched live online via a CERN webcast: http://lhcomedy.web.cern.ch on 30 August from 7.30pm (CEST). The event will be in English and includes adult comedy.
The European Organisation for Nuclear Research, which is known as CERN, is an international organisation whose purpose is to operate the world's largest particle physics laboratory to investigate the fundamental structure of the universe.
---
This work is licensed under a Creative Commons Licence. If you use this content on your site please link back to this page.
---