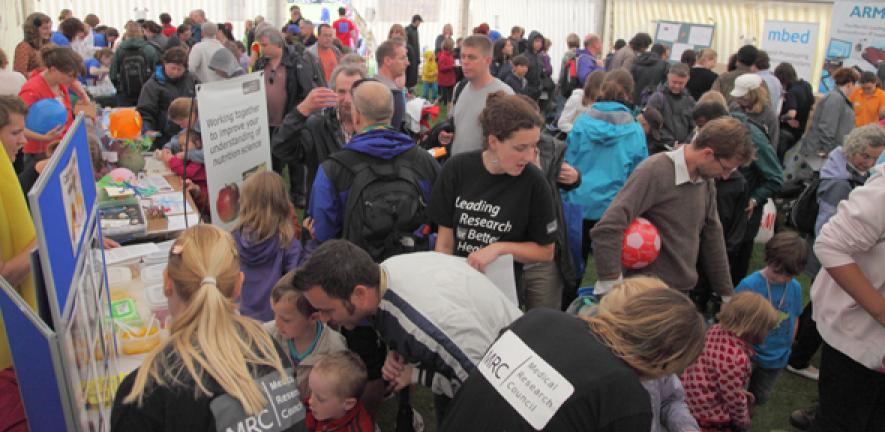 On Saturday 11 July from 12 – 5pm, the University of Cambridge will present the annual Fun Lab, a space where everyone can get seriously hands-on with science, during the Big Weekend on Parker's Piece.  
Hosted by the University's Public Engagement team, this year's events include creating a leaning tower of pasta, making slime, discovering the weird and wonderful world of plants, teaching yourself programming, discovering the science of eating and loads more.
Sponsored by ARM, this event is part of the Big Weekend, which is organised by Cambridge City Council.
Departments from across the University of Cambridge, the Medical Research Council, Napp Pharmaceuticals, Cambridge Science Centre and other partners will come together to offer hands-on activities for all ages.
Organiser, Sue Long said: "Every year, we welcome hundreds of people into the Fun Lab. It's such a delight to see everyone, young and old, having a go at the many activities. We very much look forward to welcoming people again this year as it's always as much fun for us as it is for the visitors."
Activities this year include:
Create a leaning tower of pasta, make slime, try your hand at finger printing, and much more with the Cambridge Science Centre.
Discover the weird and wonderful world of plants with the Botanic Garden. Home to some of the most unusual plants in the world, take a look at some bizarre specimens and make a plant print to take away with you.
Teach yourself programming with ARM. Light up a model animal cell, learn about cell biology and how proteins are produced.
2015 is the International Year of Light and did you know that white light contains all the colours of the rainbow? See how astronomers from the Institute of Astronomy use light to study planets, stars, galaxies and more! 
Discover the science of eating with the MRC Metabolic Diseases Unit. Find out why we eat what we do and how we use the energy it provides.
Just as there is a cycle of life, there is a cycle of decomposition. Discover the importance of microorganisms in decomposing organic material with Anaid Diaz from the Department of Veterinary Medicine.
See your genes and find out what makes you, you! DNA, the instruction book for all living things, carries tens of thousands of instructions called genes. Join geneticist Jonathan Lawson to discover how they work by getting a direct look at them.
What will geologists of the future find preserved in rocks? Have a go at predicting what future fossils might look like by making your own from plaster with the Sedgwick Museum of Earth Sciences.
Explore what different parts of our brains do and make your very own brain hat to take home with Napp Pharmaceuticals scientists.
Take the Sugar Cube Challenge and find out how much exercise you need to do to use up the energy it contains with the MRC Epidemiology Unit.
---

The text in this work is licensed under a Creative Commons Attribution 4.0 International License. For image use please see separate credits above.
---