Dr Ruth Armstrong and Dr Amy Ludlow
Institute of Criminology and Faculty of Law
Dr Ruth Armstrong, a British Academy post-doctoral fellow in the Institute of Criminology and Dr Amy Ludlow, a lecturer in the Faculty of Law, have collaborated on a research project addressing the delivery of education in the prison sector. Their project, Learning Together, pioneered a new approach to prison education where the end-users, the prisoners, are directly engaged with the design, delivery and evaluation of the research intervention. Adopting this shared dialogue approach has yielded positive results in terms of prisoners learning outcomes and has gathered praise from prison staff and government policy makers. Through continued engagement and partnership working, Armstrong and Ludlow have managed to expand their initiative across a broad range of sites and institutional contexts that has ultimately improved the depth and robustness of their future research.
Dr Paolo Bombelli
Department of Biochemistry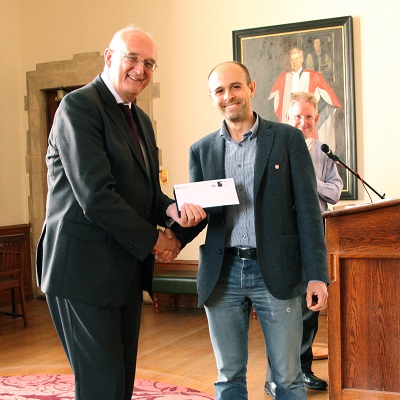 Dr Paolo Bombelli is a postdoctoral researcher in the laboratory of Professor Christopher Howe, in the Department of Biochemistry. His research looks to utilise the photosynthetic chemistry of plants to create biophotovoltaic devices, a sustainable source of solar power. For over five years, Dr Bombelli has been taking his research out of the lab to science festivals, schools and design fairs; tailoring his approach to a wider variety of audiences. Through his engagement, he has reached thousands of people, in multiple countries, and is currently developing an educational toolkit to further engage school students with advances in biophotovoltaic technology. Dr Bombelli's public engagement work has also advanced his research, namely through a transition from using algae to moss in live demonstrations. This development has forged a new line of research enquiry, and has led to publications, emphasising the benefits to researchers of engaging audiences in a hands-on way with experimental science. 
Dr Paul Coxon
Department of Materials Science and Metallurgy
Dr Paul Coxon is a postdoctoral research associate in the Materials Chemistry Group, in the Department of Materials Science and Metallurgy. His research looks to improve the efficiency of solar cell devices using new, nanoporous silicon surfaces such as 'black silicon'; one of the blackest materials on earth. Over the past 10 years, Dr Coxon has endeavored to engage with audiences often overlooked by traditional public engagement channels. He has given talks in venues as varied as bingo halls, working men's social clubs and steam fairs to showcase his passion for solar research, steering clear of the 'flashes and bangs' approach often associated with Chemistry. He has also designed a Fruit Solar Cell Starter Kit, used in fifty low-income catchment schools across the UK. Dr Coxon believes that working in a publicly-funded institution, he has a responsibility to give the public access to his research in a manner which is appropriate and accessible to them.
Mr Bill Nicholl and Mr Ian Hosking
Faculty of Education and Department of Engineering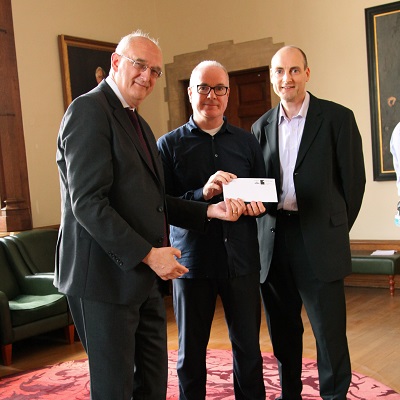 Mr Bill Nicholl, a lecturer in design technology for the Faculty of Education, and Mr Ian Hosking, a senior research associate in the Department of Engineering, are co-founders of Designing Our Tomorrow, a platform for transforming D&T education in schools. Their public engagement initiative began in 2009 and brought together research around inclusive design and creativity in education. Through production of their DOT box, Hosking and Nicholl have taken active research questions into the classroom and given students control of designing technological solutions. Engagement with teachers, students and policymakers is integral to the success of their initiative and has resulted in engineering design being included in the national curriculum and GSCE qualifications. New classroom resources and research partnerships are continually under development with Hosking and Nicholl planning a national launch of the DOT box in July.
Dr Becky Inkster
Department of Psychiatry
Dr Becky Inkster is a research associate in the Department of Psychiatry and a senior project manager for the Neuroscience in Psychiatry Network. Her public engagement work explores the intersection of art and science through the prism of mental health research. Dr Inkster has successfully collaborated with The Scarabeus Theatre in a performance called Depths of My Mind and founded the website HipHopPsych, showcasing the latest psychiatry research through hip hop lyrics. Her approach has allowed her to engage with hard-to-reach teenage audiences, encouraging them to reflect on their own mental health. Beyond this work she has explored the use of social media to diagnose mental illness, and has gathered patient perspectives on ethics, privacy and data sharing in preparation for research publication. Through utilising the strengths of public engagement Dr Inkster has been able to refine her research questions and develop hypotheses using a broad multi-disciplinary framework.
Dr Hazel Wilkinson
Faculty of English
Dr Hazel Wilkinson is postdoctoral researcher investigating the history of reading and writing habits in the 18th century. In collaboration with Dr Will Bowers at the University of Oxford, she has developed an online public platform, journallists.org, which allows readers to engage with instalments of periodicals, diaries, letters, and novels, on the anniversaries of the day on which they were originally published, written, or set. Adopting this engaged research methodology has allowed Dr Wilkinson to recreate an environment to study reading practices in the modern digital era. Her approach has allowed members of the public to actively participate in research with feedback from subscribers leading to the selection of new texts and providing content for research articles. On a broader level she has also inspired thousands of readers to engage with under-read 18th and 19th century texts, often for the very first time.
See more about our Public Engagement with Research Awards here.