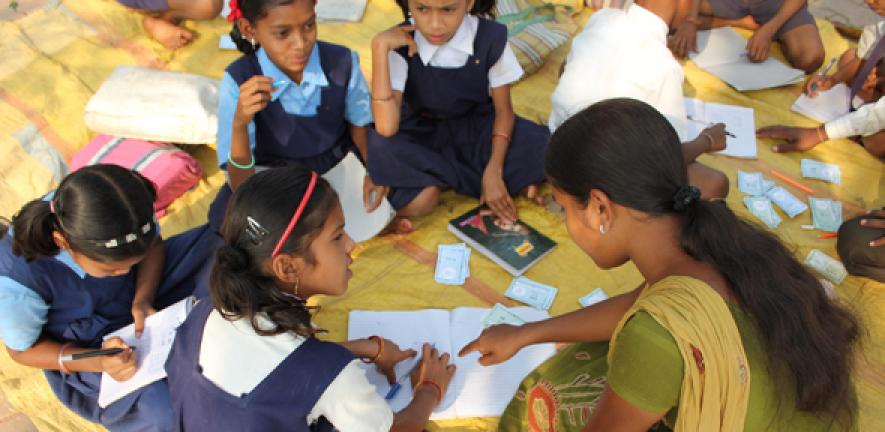 We are in the midst of a "global learning crisis" according to UNESCO, with too many children worldwide learning little or nothing at school. A new research programme focusing on India and Pakistan aims to understand what needs to be done to ensure that education adds up.
That number of 250 million children without basic skills slaps you in the face – you can't ignore it.

Pauline Rose
It's a numbers game. Three million households, seven million children, 30,000 volunteers, and a decade of assessing the basic reading and maths abilities of 3–16-year olds across India.
This is the size of the largest non-governmental survey of the state of Indian education ever conducted, and it's a key source of information for communities and policymakers on children's learning outcomes available in India today. The Annual Status of Education Report (ASER) is all the more impressive given the deceptive simplicity and fundamental importance of the question it seeks to answer: how many children are learning the basics in mathematics and reading?
But the numbers have to be huge given what's at stake. The education system in India is in crisis; in rural areas, fewer than one in five poor children of around 11 years of age have even the most basic of literacy and numeracy skills, although most have been in school for five years. And it's a pattern echoed worldwide in what UNESCO has declared "a global learning crisis" – even after going to school, 250 million children globally cannot read, write or count.
"What's the point in an education if children emerge after years in school without the skills they need?" says Professor Pauline Rose from Cambridge's Faculty of Education, whose team collaborates with the organisation in India responsible for ASER. "The rhetoric about education used to be about giving children access to school but now it must also be about making sure they learn what they need to learn once they are there."
Rose was previously Director of UNESCO's Education for All Global Monitoring Report. In 2014, the Report assembled the first evidence on the scale of the education crisis. "There was already a debate rumbling. It was becoming clear that increasing the number of children enrolling in school was not enough. But the report brought the evidence into one place. That number of 250 million children without basic skills slaps you in the face – you can't ignore it. It's also an entry point to understanding why we have got to this situation and what we can do about it."
Rose leads Cambridge's Research for Equitable Access and Learning (REAL) Centre, which has highlighted some of the factors that limit children's learning in India and Pakistan. Among them are an over-ambitious curriculum that leaves children behind and a lack of training and support for teachers, who may themselves be the product of a poor education.
Now the Centre has been awarded funding by the Department for International Development (DFID) and the Economic and Social Research Council (ESRC) to look at ways to improve the effectiveness of teaching quality in India and Pakistan.
"Education increases opportunities in life, it can pull people out of poverty, with better jobs and higher wages; for girls, education often results in delaying marriage and having fewer children, who as a result are healthier," she explains. "Nationally, a young, educated workforce can transform the wealth of a country."
India has made a significant investment in schooling over the past decade, achieving near universal enrolment in primary education. According to government figures, around 195 million children are currently in primary school. However, the question of how effective is the teaching within the classroom has largely been overlooked.
Over the past few months, Rose and Dr Ben Alcott have been using the ASER datasets, covering all of rural India, to identify the extent to which children are learning and who in particular is being left behind.
"Among the most disadvantaged girls, fewer than 10% are learning by the time they should have had five years in school," says Rose. "Some aren't learning because they've dropped out of school, others because of the poor quality of education. Governments, schools and teachers have tended to focus on the more advantaged, able children. But to close educational inequalities, they must focus on the disadvantaged, whether it's by poverty, gender, caste or disability."
Rose and Alcott suggest five key steps: encourage children to start school as young as possible; set the curriculum at the right pace for the majority of learners, not the minority of able learners; train teachers to teach the most disadvantaged learners; provide schools with appropriate textbooks in the right language; and hold schools and policy makers accountable for improving learning outcomes for those who would otherwise be left behind.
Of course, improving the quality of education requires a better understanding of what is actually going on in the classroom. In the newly funded ESRC–DFID programme, Rose, Professor Anna Vignoles and Dr Nidhi Singal are working with an independent education research group in India – Collaborative Research and Dissemination (CORD) – to create a new dataset that will follow children through their learning experience, from home to school.
Singal's focus is on children with disabilities: "In many cases, children with disabilities are given access to mainstream school just for 'socialisation purposes' – there's an assumption that they are not there to learn.
"My reason for researching what happens to children with disabilities in school is not only to do with issues around social justice and human rights, but also because problems will be magnified for the most marginalised of the marginalised – if teaching can be more effective for this group then it can respond to the needs of all disadvantaged children."
The research will assess children both in the household and in schools, testing their basic skills on a yearly basis. The aim is to identify what makes a difference to learning, and to understand the problems teachers face and the support they need.
"There's a big debate on how the global Sustainable Development Goal of all children learning by 2030 can be achieved," adds Rose. "This project will help understand what we need to do to make sure we are not failing children who are coming from some of the most disadvantaged of backgrounds."
Will governments take notice? "I don't think we as researchers can always go knocking on doors and say look at our evidence. But I do think that, through the networks that CORD and ASER have, this research can have an influence. These partnerships are really central to what we do: it's no good us sitting here doing all this wonderful research if it's not actually changing anything for children's experiences on the ground."
As part of the Festival of Ideas and WOW Cambridge, Pauline Rose is participating in a panel discussion on this topic with Philippa Lei from the Malala Fund on October 27. Visit http://www.equality.admin.cam.ac.uk/events/school for more information.
---
Professor Pauline Rose will take part in discussion hosted by the University of Cambridge and Georgetown University in Washington DC on 30 November 2015 to follow up on Michelle Obama's announcement of a UK-US initiative as part of the Let Girls Learn campaign.
The event will bring together key stakeholders to identify the biggest challenges to girls' education in conflict settings, with the aim of developing a research agenda that will provide policymakers with evidence-based policy recommendations.
Specifically, during the First Lady's visit to the UK in June 2015, the USA and UK committed to building an evidence-base around increasing access to education and enhancing learning for girls in conflict and crisis situations, including in refugee and internally displaced person settings. The event will be hosted by the University of Cambridge's Vice Chancellor Professor Sir Leszek Borysiewicz and Ambassador Melanne Verveer.
---

The text in this work is licensed under a Creative Commons Attribution 4.0 International License. For image use please see separate credits above.
---