A new type of online product image, developed by researchers at the University of Cambridge in collaboration with global consumer goods company Unilever, could improve the mobile shopping experience for the world's 2.5 billion smartphone users. 
We want to improve the e-commerce images used for every product, at every retailer, in every country in the world.

Sam Waller
The concept, known as 'mobile ready hero images', was designed to make shopping for grocery products faster, by making it easier to quickly spot key information about a product, such as size, type or flavour.
For example, searching for 'soap' on Amazon or other retail websites will bring up hundreds of images, and most customers will scroll quickly through the list on their phone in order to find the particular item they want. However, based on product images alone, it can be difficult to quickly spot the differences between items: whether an item contains one, three or ten individual bars of soap, for instance.
"While traditional pack photographs can be effective on desktop screens, different flavours and sizes of products can look identical when these photographs are displayed on mobiles, reduced to the size of a postage stamp," said Dr Sam Waller from Cambridge's Engineering Design Centre, who led the project. "This is especially problematic for older consumers with age-related long-sightedness."
To date, mobile ready hero images have been adopted by over 80 retailers in more than 40 countries. India – where 65% of all online shopping transactions take place on mobiles – has been one of the fastest countries to adopt these images.
In addition to making the mobile shopping experience easier for customers, mobile ready hero images have also been shown to have a positive impact on sales. "Magnum ice cream is one of our billion dollar global brands that has adopted hero images," said Oliver Bradley, e-commerce director at Unilever. "During an eight-week A/B split test with a retailer, Magnum's hero images led to a sales increase of 24%."
In order to meet retailers' demands for consistent product images across all brands, Unilever commissioned Cambridge to develop a website for hero image guidelines, with freely available templates to help brands create improved product images.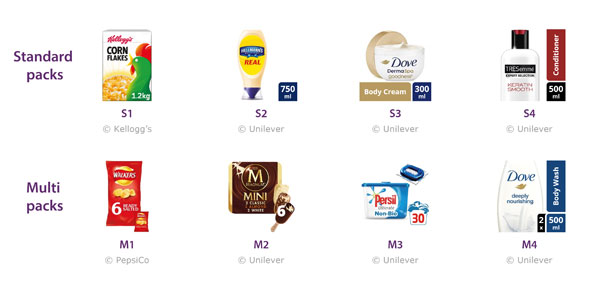 To date, some brands have created mobile ready hero images using the Cambridge templates, while others have developed hero images in a different way. Some retailers have chosen to accept all kinds of hero images, while others will only accept some kinds of hero images, resulting in an inconsistent experience for consumers.
GS1, a global non-profit organisation which sets standards for consumer goods, has recently established a working group to focus on mobile ready hero images.
"We spotted the opportunity to improve the current situation using our Global Standards Management Process," said Paul Reid, head of standards at GS1 in the UK. "The aim of the working group is to get agreement between competing brands and retailers, leading to a single, globally applicable set of guidelines for mobile ready hero images. These guidelines will help brands and retailers make the shopping experience better and more consistent."
"Inclusive design can help improve the visual clarity of hero images, making them more accessible to a wider range of consumers," said Waller. "In particular, our SEE-IT method can estimate the proportion of the population who would be unable to discern the important information from e-commerce images. We have joined the GS1 working group in an advisory capacity, and we are looking forward to contributing our expertise to help inform the critical decisions.
"Grocery products are just the start: we want to improve the e-commerce images used for every product, at every retailer, in every country in the world."
Inset image: Examples of mobile-ready hero images. Walkers is a trademark owned and designed by PepsiCo and used with permission.
---

The text in this work is licensed under a Creative Commons Attribution 4.0 International License. For image use please see separate credits above.
---