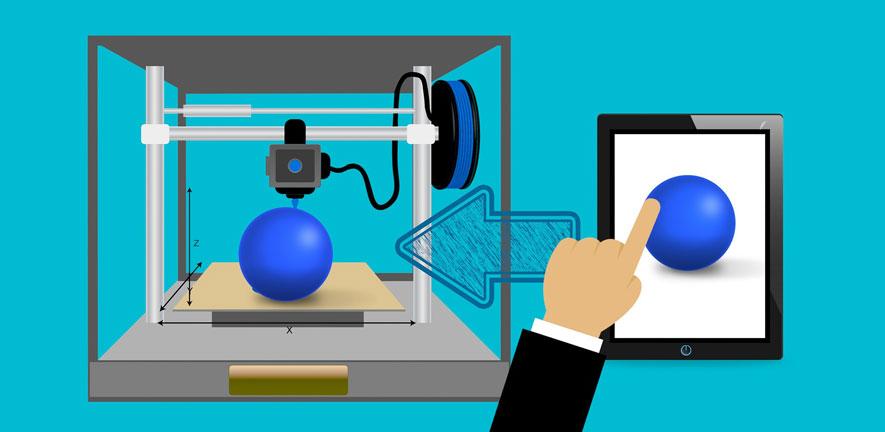 Businesses need the skills to adapt to new technologies, such as 3D printing, but when they emerge fast and change quickly, how do workforces plan for the future? University researchers are collaborating with small and medium-sized enterprises in the region to help find the best upskill strategies for driving innovation. 
Technology is moving so fast... how do we know what skills are needed by who and how they get them?

Tim Minshall
Five years ago, 3D printing was hailed as a technology that would fundamentally transform the way that most things are made: the hype cycle was in full gear. Breathless columns were written about a world where Star Trek-style replicators would be in every home, and no less a figure than former US President Barack Obama claimed that 3D printing would change manufacturing forever.
Fast-forward a few years and, while 3D printing has advanced rapidly, many companies still aren't sure whether they should use it, how they should use it and what skills they need to use it effectively.
Tim Minshall, the Dr John C Taylor Professor of Innovation and Head of Cambridge's Institute for Manufacturing (IfM), likes to use the example of 3D printing to illustrate the challenge that the East of England – and the UK at large – has with skills. With funding from the Engineering and Physical Sciences Research Council (EPSRC) and the Economic and Social Research Council (ESRC), he has been studying the potential impact of 3D printing on companies of all sizes, including some in the local region.
When a new technology is developed, among the first questions often asked are: how many jobs will it create as new business opportunities are realised, and how many people need to be trained to capture these opportunities? But according to Minshall, when it comes to acquiring the right skills to best exploit new technologies, those are the wrong questions.
"New technologies come along and we think we need new skills to be developed to use them when the truth is, it's knowledge about these technologies that needs to be developed – and that's a more difficult problem," he says.
"If you're a small manufacturing firm, and you've been doing business in a broadly similar way for decades, and then someone comes along and tells you that you need to get on board with this new technology or you'll be left behind, how do you know whether that's actually true? Should you buy the new solution that's being offered to you, and if you do, do you need to retrain all your staff, or even recruit new staff, to make sure you've got the skills to be able to use it?"
According to Minshall, companies need to be asking who needs to know about the technology, and what they need to know.
"If a company invests in a new technology but hasn't thought about these issues, it could be a disaster for their business," says Minshall. "We run research projects that aim to help companies of all shapes and sizes, but in particular smaller ones, to develop the skills and capabilities they need to adapt to these technologies."
Minshall's colleague Professor Duncan McFarlane is working on such a project. Also funded by the EPSRC and in collaboration with the University of Nottingham, the three-year Digital Manufacturing on a Shoestring project is looking to help small and medium-sized enterprises (SMEs) use digital information to enhance their manufacturing operations.
"In Cambridge and the surrounding area, there are two fundamentally different types of SMEs: the small manufacturers who make things and the solution providers. The programme aims to support both of these types of SMEs."
One of the aims of the Digital Manufacturing on a Shoestring project is to provide SMEs locally and across the country with the building blocks to make the right solutions for them.
"We want to get straight to the heart of the digital challenges that manufacturing SMEs are trying to overcome," says McFarlane. "SMEs want inexpensive and easy digital manufacturing solutions: they haven't got large specialised IT departments. There are numerous examples of companies investing into digital solutions which turn out to be no benefit at all because they haven't been developed in line with their needs, and they haven't got the right skills to use them effectively. And if we can engage local IT solution providers in developing these right solutions then it will be a double win!"
UK government policy is focused on improving productivity through its Industrial Strategy, which is "backing businesses to create good jobs and increase the earning power of people throughout the UK with investment in skills, industries and infrastructure."
McFarlane says that the approach he and his team are developing could help manufacturers be more effective, which could, in turn, help productivity numbers. "We're approaching SMEs who have productivity challenges to help them understand to what extent digital or automated solutions could help them if they can afford them, and then we are helping them piece together low-cost automation solutions," he says. "In particular, we are making use of non-industrial digital technologies – low-cost computing, WiFi cameras, voice recognition systems – because they are cheap and getting cheaper."
While the Digital Manufacturing on a Shoestring project is fundamentally research, McFarlane says there is also a technology transfer aspect to their work, as they try to find the best fits between the digital requirements of different types of SMEs and the low-cost solutions under development.
In 2016, in collaboration with the government's Department for Business, Energy and Industrial Strategy, researchers from Cambridge's Centre for Science, Technology & Innovation Policy (CSTI) in the IfM developed and ran a pilot project that also tried to match up skills and industries, but with a policy slant. Their case study for this 'industrial-innovation system' approach was Agri-Tech East, a membership organisation comprising farmers, growers, scientists and entrepreneurs in the East of England focused on innovation in agri-tech.
"We wanted to quantify what this region is really good at in order to drive innovation," says Dr Carlos López-Gómez, who led the research and is currently Head of the Policy Links Unit at IfM. "In the East of England, we tend to focus on our strengths in science and assume that new industries will flow from that. But, quite often, innovations come from established industries. Our approach allows for a better alignment between distinctive regional capabilities and promising areas for future specialisation."
According to López-Gómez, priorities for existing regional innovation strategies are too generic and don't give enough consideration to existing regional economic and innovation structures, or are simply replicated from elsewhere.
For the pilot project involving Agri-Tech East, the researchers found that modern industries increasingly cut across sectors and technologies. By carrying out a comprehensive mapping exercise, they identified various opportunities in the East of England's agri-tech sector. These were in the arable and horticultural crop sectors, across various stages of the value chain, and were in a combination of disciplines, in particular, plant sciences and engineering. Five 'smart specialisation' opportunities, including robotics, remote sensing and smart irrigation, were selected for further analysis.
"Claiming you are world class in everything will not be believed, and therefore in an emerging sector like agri-tech it is vital that we collectively agree where our real strengths lie," says Martin Collison from regional consultancy firm Collison and Associates Limited, who participated in the pilot project. "The Cambridge-led project brought together a wide cross-section of partners to identify where the East of England has particular strengths in agri-tech, and this will support our ability to attract companies and investment to the area."
"At the end of the day, digital manufacturing and other emerging technologies are just another tool in the toolbox, but they do raise a lot of interesting business and policy issues," says Minshall. "By looking at those issues, we realise that there are all sorts of problems that require regional and national-level solutions. One of the most important of these is how do we know what skills are needed by who and how they get them. Technology is moving so fast, and businesses want to find the areas where it will be of most benefit to their particular situation."
Read more about our research linked with the East of England in the University's research magazine; download a pdf; view on Issuu.
---

The text in this work is licensed under a Creative Commons Attribution 4.0 International License. Images, including our videos, are Copyright ©University of Cambridge and licensors/contributors as identified.  All rights reserved. We make our image and video content available in a number of ways – as here, on our main website under its Terms and conditions, and on a range of channels including social media that permit your use and sharing of our content under their respective Terms.
---