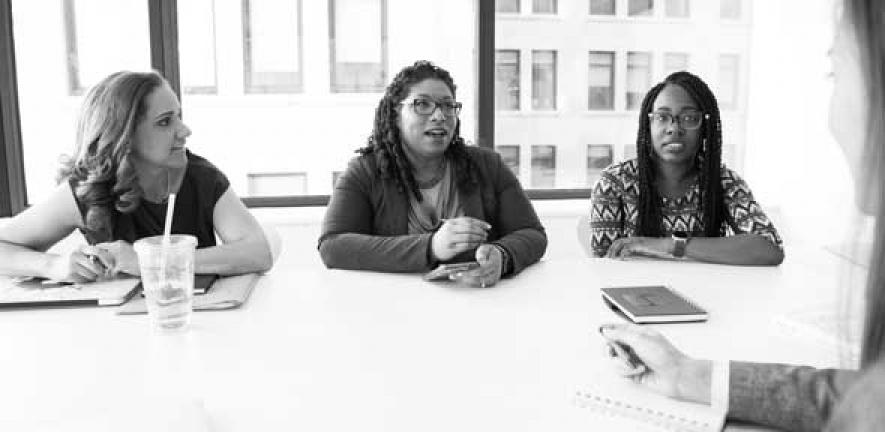 Researchers call for gender equality and career support for women in the workplace, and an end to "the doom and gloom narrative" over their limited numbers.
Hiring more women into senior positions is the right thing to do for gender equality. It's also the smart thing to do from a business perspective

Sucheta Nadkarni
Glass ceilings, glass cliffs, glass escalators… much has been written about the metaphorical glass barrier that stands invisibly yet solidly between women and high-level success across the economy.
It's a description that exasperates Professor Sucheta Nadkarni from Cambridge Judge Business School.
"The challenges faced by women in business are well documented and fiercely debated, and there's a tendency for most of this talk to be negative. I call this the doom and gloom narrative – it's about the barriers that women face and why women fail. Let's change the conversation about gender equality to focus on the factors that help women
to succeed."
Nadkarni is the lead academic on a major global research project that reported in the European Business Review last year on the factors that help women to succeed in corporate environments. The project gathered data from 1,071 companies in 42 countries, covering 56 industries. The information spanned a ten-year period, during which the average percentage of women on executive teams in sampled firms rose from 7.6% to just 11.7%.
The study highlighted the many benefits that women in senior roles bring to companies. "It's not just that hiring more women into senior positions is the right thing to do for gender equality, it's also the smart thing to do from a business perspective," says Nadkarni.
"We found that bringing more women to top roles can make a business function better, attract new customers and improve the bottom line. Women bring in diverse capabilities, diverse knowledge and new ways of thinking, which organisations need."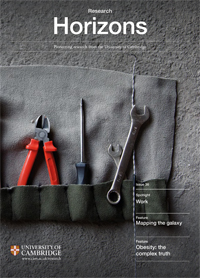 With revelations about the gender pay gap making current headlines – three quarters of the 10,000 firms that have provided information pay men more than women – the inequality problems women continue to face in the labour market are gaining increasing attention.
However, Nadkarni is keen to focus on the future. "The question we need to ask now is: what can we do about this situation of unequal pay and unequal representation, and how can we create a more optimistic, promising picture for our students and for the women who are just starting to rise up?"
Her study considered the economic, political, legislative and cultural forces that determine the number of women in the boardroom in different countries. The findings showed that the strongest drivers are 'female economic power' and a requirement for gender diversity in a country's corporate governance code. Maternity provisions and female politicians providing a championing voice for women are also important factors.
Female economic power was measured by the expected years of schooling for women, and the percentage of women in the labour force. The results suggest that as women become more highly educated, and gain increasing levels of employment, they play a greater role in the marketplace. This then provides a powerful incentive for companies to hire more women onto the board, to reflect the market they cater for. 
Corporate governance codes are a set of best practice recommendations, including gender diversity requirements. In the past decade, codes have been created in 64 countries. Among countries sampled in Nadkarni's study, Colombia had the highest percentage of women in executive teams, at 28.5%, and Japan ranked bottom with 0.57%.
These codes, says Nadkarni, are one example of a 'soft' measure that has been shown to be effective in helping women to gain top roles in executive teams or on management boards. In comparison, 'hard' targets – such as the mandatory quotas enforced on companies by several countries to give a percentage of seats on the board to women – do little to support gender diversity, and can also have a negative effect on company cohesion.
"Although quotas can help to improve the representation of women on corporate boards, they do little to help women stay in senior positions long enough to make a real impact, and can have both positive and negative effects on turnover rates," says Nadkarni. "They can also create a hostile environment, by conveying a sense of 'preferential treatment' rather than recognition of hard work, skills and capabilities."
The research also uncovered some of the loopholes that companies exploit to meet quota requirements. For example, in countries where family businesses are common, quotas are sometimes fulfilled by appointing female relatives to the board. In one case, an 86-year-old, the daughter of the founder of a company in Turkey, had been on the board since 1964.
Dr Jude Browne, the Jessica and Peter Frankopan Director of the University of Cambridge Centre for Gender Studies, has constructed a different approach to addressing gender equality that focuses on encouraging diversity at all levels of an organisation rather than simply quota requirements for senior roles.
Browne suggests that "each organisation with significant pay gaps and other segregation patterns needs to begin by building a detailed picture of what it thinks its data ought to look like and, crucially, publish its goals.
"Too many organisations simply collect data, compile aggregate figures that don't tell us that much and then look to other organisations to see how they compare. Given that a great many are failing to pick up real pace in addressing these patterns, the 'comparison with competitors approach' tends to generate a complacent comfort zone around what ought to be, in many cases, unacceptable."
As Browne set out at the European Commission recently, the 'Critical Mass Marker' approach focuses on skilled women who are not advancing to the next level as quickly as one might expect – that is, where critical mass is not having the desired flow effect.
The approach requires an organisation to undertake a detailed analysis of its workforce and mark out goals that proportionately relate each level to the next, taking critical mass failures into particular account. Organisations would then be required to analyse and explain their continued segregation patterns against their published goals. This might include analysing the different career profiles that various intersectional groups tend to have and the impact of dependant-related responsibilities, reassessing the benchmark criteria for promotion, and comparing those who have worked within the organisation for long periods to newcomers with very different workloads.
"The Critical Mass Marker approach is not going to solve all the segregation problems that organisations tend to have," she adds. "But it puts a greater onus on them to ensure those equipped with the relevant talents are able to move up and across institutional structures in a more effective and proportionate way than blanket quotas aimed solely at the top layers of management where we often only see the same few women."
Nadkarni is also keen to see more women supported at every level, and would like to see action to increase the number of women in executive teams, not just on corporate boards.
"Corporate boards are important, but they only play an indirect role in influencing company strategies and performance, because they mainly have an advisory capacity," she says.  "The decisions are made by the executive team. So, if we want companies to benefit, if we want women to really make an impact, then it's the executive teams that matter.
"In this context, a quote that comes to mind is it's not about 'counting the numbers', it's about 'making the numbers count'. In other words, it's not merely the quantity of women in top positions that matters, but also whether policies are in place at various levels – company, government and corporate governance codes – to ensure that women can make
a true impact in such roles.
"Hopefully in the future we will watch the doom and gloom ebb away as the true benefits of gender equality become crystal clear to everyone."
Inset image: read more about our research on the topic of work in the University's research magazine; download a pdf; view on Issuu.
---

The text in this work is licensed under a Creative Commons Attribution 4.0 International License. Images, including our videos, are Copyright ©University of Cambridge and licensors/contributors as identified.  All rights reserved. We make our image and video content available in a number of ways – as here, on our main website under its Terms and conditions, and on a range of channels including social media that permit your use and sharing of our content under their respective Terms.
---