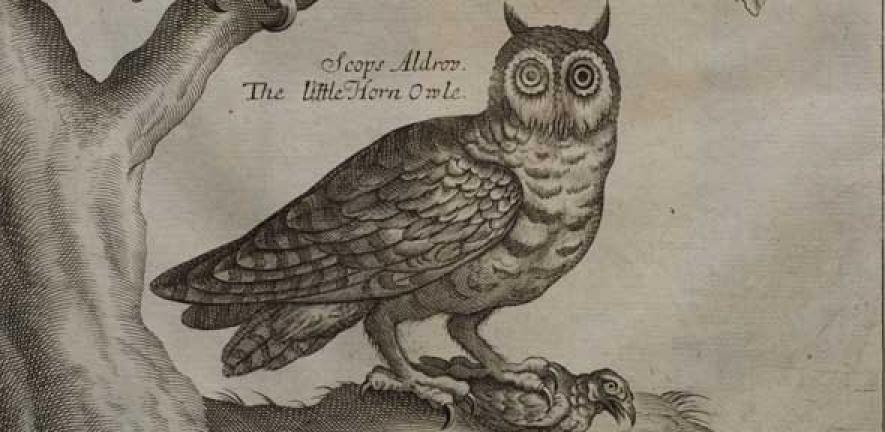 In his short life Francis Willughby immersed himself in the study of natural history yet he has been overshadowed by more famous peers. In a talk on Monday (6 May 2013), historian Dr Richard Serjeantson will draw attention to a remarkable man and his contribution to the beginnings of modern science.
I thinke it were Best [for her] when warm weather comes to bee exposed somtimes to the sun.

Francis Willughby, 1660, advice to a friend on looking after a caterpillar
Surprisingly little has been written about the polymath Francis Willughby (1635 to 1672), the author of one of the earliest comprehensive and analytical ornithologies.  His work Ornithologia libri tres was published by his more famous friend and colleague John Ray (1627 to 1705) after Willughby's death.  The lavishly produced volume, which contains dozens of plates showing birds categorised by their characteristics, bears Willughby's name on the title page but it is Ray who is best remembered.
Cambridge University historian Dr Richard Serjeantson will be giving a talk on Francis Willughby on Monday (6 May 2013), titled 'The Education of Francis Willughby: New philosophy and natural history in mid-seventeenth-century Cambridge'. He hopes that his research into the life and work of this remarkable figure will help to encourage a reappraisal of a man who worked indefatigably to develop taxonomies of insects, birds and other creatures – and was fascinated by topics as diverse as football and fish. 
Dr Serjeantson, a specialist in the history of science of the 1600s, is a Fellow of Trinity College, where Willughby himself studied from 1657 to 1662, graduating at the top of his year – an achievement that would have required a thorough knowledge of Latin, Greek and philosophy.
"One of the chief reasons that Willughby has been neglected by historians of science is that he worked closely with John Ray, who lived much longer and outshone him in terms of publications. However, surviving correspondence between the two suggests that they worked as collaborators on an equal footing. The fact that Ray published the Ornithologia libri tres the under Willughby's name after his death also suggests that he was keen to acknowledge his friend's authorship," says Dr Serjeantson, who is working on Willughby as part of a team project headed by Professor Tim Birkhead, FRS, of the University of Sheffield.
Willughby's substantial wealth is another factor that might later have stood against him being taken seriously as an early scientist. "He came from a rich family with large estates in the West Midlands, while Ray's father was an Essex blacksmith. This disparity in their fortunes has added to assumptions that Ray was the brains behind the duo while Willughby merely supplied the financial support," says Dr Serjeantson. 
"In fact, the papers relating to Willughby that survive in archives paint a picture of an extraordinarily intelligent man who worked extremely hard in the pursuit of the fields that interested him. Though he didn't need to earn a degree in order to make his way in the world he nonetheless took one, and he clearly cared deeply about his studies.  There's even a poem in which his former tutor, James Duport, urges Willughby to stop working so hard and concentrate more on his family."
The young Willughby's passion for natural history comes through touchingly in a letter to his friend Peter Courthope, in which he gives him advice about how to look after a caterpillar: 'I thinke it were Best' for her, he says, 'when warm weather comes to bee exposed somtimes to the sun.'  He goes on: 'for Her Diet & other things I leave Her wholy to your Discretion.'
As a rich undergraduate at Cambridge Willughby was a fellow-commoner, which meant that he would have eaten his meals (commons) alongside Trinity's fellows, who included James Duport and the mathematician Isaac Barrow.  Dr Serjeantson believes that the opportunity this privilege would have afforded Willughby, in terms of engaging with some of the brightest minds of the time, is likely to have been significant.
He says: "Students were admitted according to a hierarchy that reflected how society worked at the time.  Willughby and other rich students would have been looked after by poorer students known as sizars who earned their keep by acting as unpaid servants.  Isaac Newton, who arrived at Trinity shortly after Willughby graduated and lived on slender means, was a sub-sizar, something he is said to have resented. It is likely that he would have carried out menial tasks, such as emptying chamber pots and serving the fellows and fellow-commoners."
In archives held by Nottingham University Library is Willughby's commonplace-book – a book of the notes that he took while he was an undergraduate. Its pages contain evidence of his formidable intellect and passion for discovery, written in Latin in an untidy hand that is difficult to read. A typical page contains references to idiots born under the new moon, the copulation of horses, the Roman poet Lucretius' views on the eternity of the world, and hot springs and baths, as the young student grapples with, and seeks to find connections between, a myriad of subjects.
"It's a real puzzle to decipher Willughby's commonplace-book, as it contains several layers of annotations and crossings-out. But it reveals that 21-year-old Willughby was grappling closely with the writing of Descartes, Hobbes and Galileo – all of whom were pioneers of the 'new philosophy'. He was soaking up the ideas that fundamentally changed the ways in which people thought and laid the foundations for modern science," says Dr Serjeantson.
The Cambridge education system in the mid-1600s emphasised the study of philosophy and ancient literature. It's therefore likely that all Willughby's work on natural history while at Cambridge – which includes his contributions to a catalogue of the flora of Cambridgeshire published by John Ray in 1660 – would have been undertaken as an extra-curricular activity. He also participated in early chemical experiments, 50 years before Cambridge appointed its first professor of chemistry.
Willughby's years at Cambridge gave him the intellectual and physical space in which to explore his interests. A late 17th-century print of Trinity College by David Loggan shows a small garden, organised into plots, in front of the main gatehouse. "This may be the garden that John Ray is known to have created at Trinity, perhaps with the help of his friend Francis Willughby," says Dr Serjeantson. "The same image shows a shed-like building up against the wall. This is the workshop that Newton later used to carry out his experiments – archaeological analysis of the soil at the spot reveals significant traces of mercury, a substance Newton is documented to have used."
Sadly, Trinity has no record of where Willughby lived while he was studying there. However, busts of Willughby and Ray by the French sculptor Roubillac flank the entrance of the Wren Library which has copies of Willughby's Ornithology and his other books. Just last year the Library was also generously presented with a copy of Ray's Catalogue of Cambridgeshire flora which Ray gave to Willughby's friend Peter Courthope when it was published.
"It's not often that one comes across someone really interesting, who left a rich body of evidence, but whom historians haven't previously investigated in any detail", says Dr Serjeantson. "Yet Willughby is just such a person." He hopes that the work that he and the other members of Professor Birkhead's team are doing on Francis Willughby will bring a major figure in the history of English science firmly back into focus.
Dr Richard Serjeantson will be talking on 'The Education of Francis Willughby: New philosophy and natural history in mid-seventeenth-century Cambridge' on Monday, 6 May at 1pm, Department of History and Philosophy of Science, Free School Lane, Cambridge. All welcome.
For more information on this story contact Alex Buxton, University of Cambridge Communications Office, amb206@admin.cam.ac.uk 01223 761673.
---
This work is licensed under a Creative Commons Licence. If you use this content on your site please link back to this page.
---