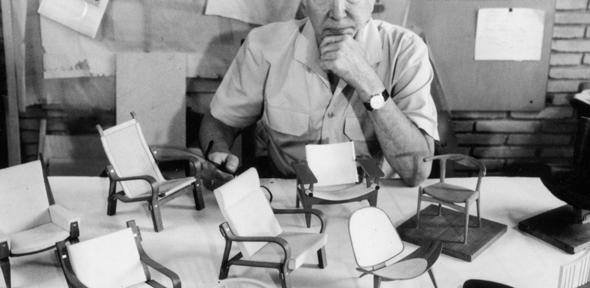 One of the most influential designers of the 20th century, who turned furniture into works of art to support the human form, is being celebrated with a unique, free exhibition in Cambridge - opening today.
This isn't simply an exhibition about chairs, it's about how design can fundamentally change the way we live.

Barry Phipps
Hans J Wegner's iconic work can be found in the permanent collections of museums around the world, including New York's Museum of Modern Art and the Centre Pompidou in Paris.
Wegner, born in Denmark in 1914, received almost every major recognition given to designers during a career that spanned from the early 20th century until his death in 2007.
The exhibition, Chairs by Wegner, which runs from October 25 to November 28 at Cambridge University's Churchill College, brings together some of his most iconic and recognisable furniture of the last century, including the type of chair used by future Presidents Nixon and Kennedy during their famous 1960 Presidential debate.
Exhibition curator Barry Phipps, a Fellow of Churchill College, provides a passionate and compelling argument when asked whether furniture can also truly be classified as art.
He said: "This isn't simply an exhibition about chairs, it's about how design can fundamentally change the way we live.
"Hans J Wegner's furniture unites form and function; in every design he places the highest demands on comfort and ergonomics. To Wegner, a chair isn't just a piece of furniture, but a work of art made to support the human form."
The exhibition at Churchill brings together 30 individual items of furniture spanning the whole of Wegner's career, from his most famous design 'The Chair' (1949) – the one used in the 1960 presidential debate – to his bespoke design for the 'Moller Chair' (1990).
Indeed, much of the furniture on display comes from either Churchill College or the Moller Centre that sits in its grounds and was founded by a gift from the shipping magnate A P Moller. The exhibition marks the 20th anniversary of the Moller Centre and also includes rare Wegner designs for sofas, tables and lighting.
Over his career, Wegner designed more than 500 chairs with many different woods and styles. Proof of his enduring popularity and the timelessness of his designs is evident in the fact that many of his iconic designs are still in production today.
Although he was earnest in his ambitions, Wegner allowed himself the space to have fun, too.
He said: "We must take care that everything doesn't get so dreadfully serious. We must play – but we must play seriously."
During his lifetime Wegner won the Lunning Prize, the Grand Prix of the Milan Triennale and was an honorary Royal designer for industry of the Royal Society of Arts in London, as well as receiving an honorary doctorate from the Royal College of Art, awarded at the same time as Martin Scorcese received his.
---
This work is licensed under a Creative Commons Licence. If you use this content on your site please link back to this page.
---