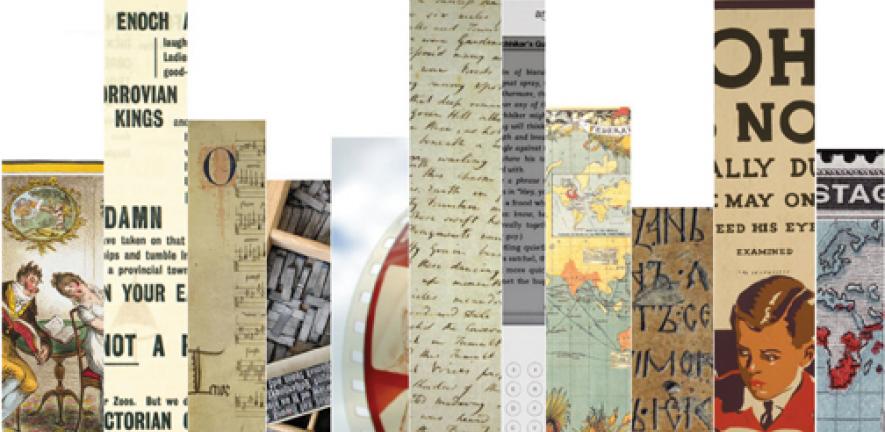 Close scrutiny of text is the bedrock of a research culture that spans practically the whole range of contemporary English studies.
To some extent, what we're doing is preserving and keeping alive the great heritage of English Literature.

Professor Adrian Poole
The Faculty of English boasts one of the largest concentrations of research activity in the discipline in the UK. 'Perhaps we could be accused of being overambitious but we'd like to think that, across the 100 or so Faculty members here, our combined research areas gather together all the threads that make up the fabric of English,' said Professor Adrian Poole, Head of the Faculty.
Research ranges chronologically from the 7th to the 21st centuries; linguistically from Classical to French and German literary traditions; geographically from colonial America to post-colonial India; thematically from early Christian music to 21st-century environmentalism; intellectually from the history of the language to the history of moral philosophy; even alphabetically from Aaron's Rod to Louis Zukofsky.
'To some extent, what we're doing is preserving and keeping alive the great heritage of English Literature,' added Professor Poole. 'Of course this might take a multitude of different forms, whether it's constructing arguments for the importance of a certain poet, bringing a fresh perspective to a genre, or drawing comparisons between contemporary literature and screen media.'
Founded in 1919, the Faculty was the first in the country to encourage the study of English literature up to the present day and to approach the discipline from a 'literary' point of view, rather than as a product of the history of the language. In 2004, a new chapter began, with the opening of a £15 million building funded by the University, external donors, including major gifts from Garfield Weston Foundation, The Kirby Laing Foundation and The Atlantic Philanthropies, and the Higher Education Funding Council for England (HEFCE).
For the first time in the history of the Faculty, its research and teaching, a drama studio and 80,000 library books were together, as well as the closely linked Department of Anglo-Saxon, Norse and Celtic (ASNC) and the Research Centre for English and Applied Linguistics (RCEAL).
A close read
Great importance is attached to the ability to read literary texts closely and attentively, combining this with detailed historical research. New vistas in understanding writers and their work can be opened up by unpicking the rich historical patchwork that influences them, as Professor Helen Cooper, expert in medieval and Renaissance literature, is finding.
Professor Cooper's most recent research, due to be published later this year, investigates Shakespeare and the medieval world. 'Although we think of him as quintessentially belonging to the English Renaissance, Shakespeare's world was still largely a medieval one,' she explained. 'The cityscape of London was still medieval, his ideas about what could be staged and how it was done were carried forward from the late days of the Mystery Cycles, and half his plays have medieval roots. We can only measure what he achieved, or even see it clearly, when we recognise how much the underlying culture of the Middle Ages shaped the world's greatest playwright.'
Working in a very different period, Dr Ben Etherington, a newly arrived Faculty-funded Research Fellow, also brings together close reading with an awareness of historical context. His research focuses on post-colonial and international literatures in English, a fast-growing research area in Cambridge and elsewhere. Studying literary primitivism in the early 20th century, and reading the work of writers and intellectuals from the Anglophone and Francophone Caribbean, Britain, West Africa and France, Dr Etherington is interested in the spread of primitivist modes of writing and what this can tell us about colonialism in the early to mid-20th century.
Embracing a digital age
Members of the Faculty have been in the vanguard when it comes to embracing the changing landscape brought about by digital advances. The recently completed Scriptorium project, funded by the Arts and Humanities Research Council, has assembled a digital archive of medieval and early modern manuscripts, and teamed this up with a fully interactive online course to help scholars learn how to read these notoriously difficult texts.
A computational approach is being taken in a groundbreaking collaborative research programme in RCEAL called English Profile, supported by Cambridge University Press and Cambridge ESOL. 'The idea is to understand how English is acquired as a second language and then apply this knowledge to improving textbooks and testing,' explained Dr Henriëtte Hendriks, Acting Director of RCEAL and one of its Principal Investigators. A corpus of 26 million words taken from test sheets for speakers representing over 100 different languages is being analysed by linguists and computational linguists for the common developmental paths that learners of English follow over time. This study is just one of several RCEAL projects that are helping to solve practical problems involving the English language – in language teaching, textbook publishing and even medical diagnosis.
A pioneering study by Professor Peter de Bolla could have implications for transforming research methodologies of the future. In a project funded by the Leverhulme Trust, Professor de Bolla has been mapping how an idea, or concept, develops through literature. Rather than attempting the impossible task of reading many thousands of books, letters and manuscripts, Professor de Bolla has taken the innovative step of searching for and counting the incidence of sets of keywords in the huge digital archives that have only recently become available to scholars. It's new territory for scholars of English, forging a methodology that has the potential to reap significant academic dividends.
Anglo-Saxon gold
Recent headlines might give the impression that to strike Anglo-Saxon gold you need a metal detector but, as ASNC academics Professor Simon Keynes and Dr Rosalind Love discovered, there's still plenty awaiting the historians and literary scholars who depend on texts.
When a 14th-century compilation of historical materials that had lain undiscovered in the library of the Earl of Devon for centuries went under the hammer at Sotheby's, an eagle-eyed expert (and former ASNC graduate student) spotted that it contained a copy of a much older and incredibly rare text. It was the Encomium Emmae Reginae, a highly charged polemic written on behalf of Queen Emma, wife of King Æthelred the Unready and then of King Cnut, in 1041. But, unlike the only other surviving copy, it was preserved here in a version with a different ending, added after the accession of her son Edward the Confessor in 1042. Coincidentally, a related discovery was made in Oxford, where papers of a 16th-century antiquary were found to include a long-lost section from a biography of King Edward, written soon after his death in 1066.
Both 'new' texts have now been studied closely at ASNC, and interpreted in relation to each other. 'The variant ending of the Encomium is rather explosive in its implications for our understanding of how Edward's accession was perceived by contemporaries, spinning it as the longed-for restoration of the Anglo-Saxon royal line,' explained Professor Keynes. 'And it provides the perfect context for understanding a poem, now fully recovered, which describes a magnificent ship given to Edward at precisely that time,' added Dr Love.
The word in the world
The newest initiative for the Faculty of English has been the launch of the Centre for Material Texts, which will foster the next generation of research and teaching relating to texts of any form, from spoken words to celluloid, from manuscript to XML. As any academic in the Faculty will attest, text is the product both of its creator and a mass of worldly circumstances; unravelling how texts of many kinds have been embodied and circulated is becoming one of the most exciting areas of humanities research today, and continues a tradition at the Faculty of English of getting close to the written word.
---
This work is licensed under a Creative Commons Licence. If you use this content on your site please link back to this page.
---