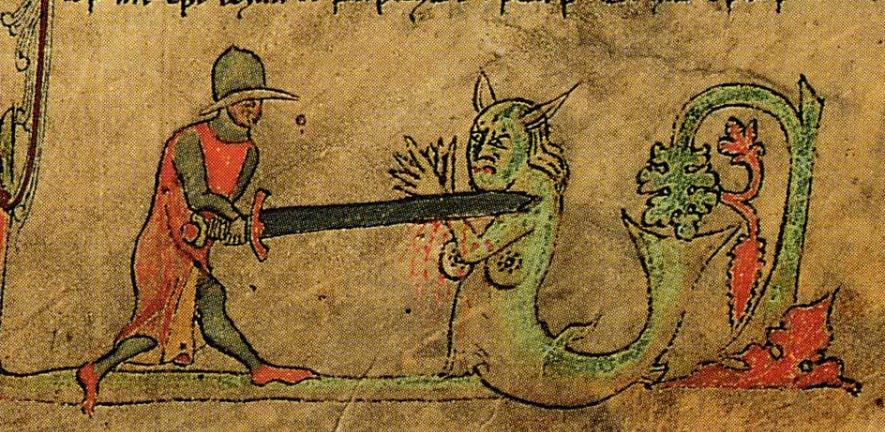 Don't miss the chance to learn about the rich cultures of the early British Isles in a series of free talks and readings at the Faculty of English, taking place this Saturday (3 November) as part of Cambridge University's Festival of Ideas.
Narratives built around dreams and nightmares are woven into the early cultures of the British Isles.
The Festival of Ideas (www.cam.ac.uk/festivalofideas/) is the UK's largest free festival celebrating the arts, humanities and social sciences. It runs this year from October 24-November 4 with a theme of 'Dream and Nightmares'.
Narratives built around dreams and nightmares are woven into the early cultures of the British Isles with blood-curdling descriptions of scary beasts – fire-breathing dragons, many-humped sea-monsters, composite creatures mutating before our eyes – whose forms decorate many of the precious manuscripts that survive to bring us gripping tales of heroes and outlaws.
An afternoon of talks and readings this Saturday (3 November) at the Faculty of English will explore the language and literature of early Britain and Ireland – the Anglo-Saxons, the Welsh, and the Irish – with a series of eminent speakers giving an accessible overview of their research for an audience of teenagers upwards. The Vikings, whose culture influenced those of Britain and Ireland in this period, will also make an appearance.
The sessions will start with a talk by Professor Paul Russell about dream narratives in Old Welsh and Old Irish. Professor Russell, head of Cambridge's Department of Anglo-Saxon, Norse, and Celtic, will introduce the audience to tales such as the Old Irish Aislinge Oenguso (The Dream of Oengus) and the medieval Welsh Breudwyt Ronabwy (The Dream of Ronabwy). The audience will also meet a Welsh monk who dreams of a beautiful girl. This talk will be followed by readings of Old Welsh and Old Irish given by current undergraduates of Anglo-Saxon, Norse and Celtic.
Dr Richard Dance will explore the origins of the words 'dream' and 'nightmare' with reference to his research into the history of the English language. He will then read an extract of the Old English poem The Dream of the Rood, an early Christian poem that describes the Crucifixion from the viewpoint of the Cross. 'This poem is an example of Old English verse at its most imaginative,' said Dr Dance.  "It brilliantly harnesses the vivid, weird metamorphosis of dreams to explain the inner meaning of this central Christian story."
Further readings of Old English and Old Norse by students will be followed by a talk on the monsters of Old English coinage by Dr Rory Naismith. He will refer in particular to a coin belonging to the Fitzwilliam Museum that bears the image of a creature that is half-dragon, half-wolf. It illustrates the way in which imagery from the pagan heritage of the English overlapped with Christian imagery as symbols of the power of rulers such as Penda and Offa of Mercia.
The afternoon will conclude with a talk on dreams in Old Norse by Dr Judy Quinn, who is known for her work on Old Norse poetry and Icelandic sagas. She will explore two different dream sequences recorded in Icelandic sagas, one set in the ancient pagan past (Gísla saga) and another during the politically tumultuous thirteenth century (Íslendinga saga). In both sagas, powerful 'dream women' visit saga figures to try to influence their behaviour, creating scenes that are shockingly vivid and rich in detail about the cultural value of dreams.
Dreams and nightmares in early Britain and Ireland will take place at the Judith Wilson Studio, Faculty of English, Sidgwick Site, University of Cambridge on Saturday 3 November from 2pm to 5pm. No need to book, no charge, suitable for ages 14 and over.
For full details of the sessions and all Festival of Ideas events go to www.cam.ac.uk/festivalofideas/.
---
This work is licensed under a Creative Commons Licence. If you use this content on your site please link back to this page.
---