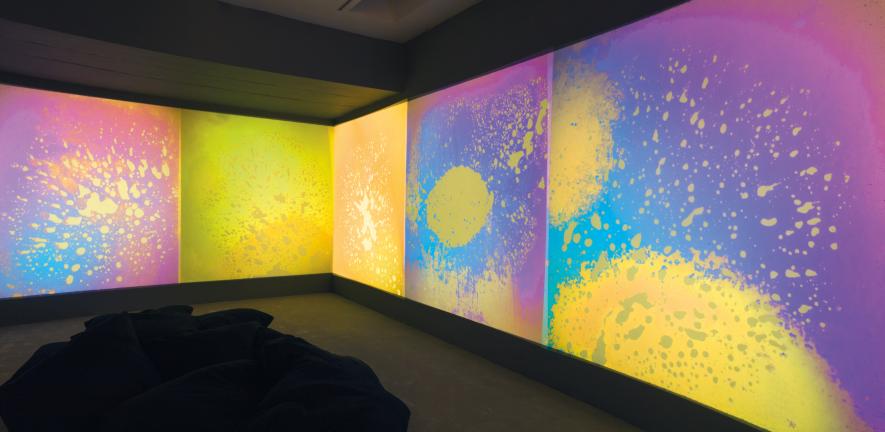 The relationships between art, science and society in the 1960s will be examined by Kettle's Yard this Saturday.
His two lectures in Cambridge in 1960 and 1965 were seen as landmarks in cultural history.

Bronac Ferran
Its 'WHITE HEAT' symposium will see key figures from the decade join speakers from the fields of art and cultural history, the history and philosophy of science, activism and popular culture to revisit one of the most intense periods of intellectual and cultural ferment.
The event takes place in the very Department of Engineering lecture theatre where Gustav Metzger gave his iconic 1965 lecture/demonstration 'The Chemical Revolution in Art'. 
In the lecture, Metzger discussed his ideas about movement, time and transformation in art and demonstrated for the first time Liquid Crystals.  Following the symposium there will be an evening opening of current exhibition Gustav Metzger: LIFT OFF! at Kettle's Yard, including his landmark piece Liquid Crystal Environment.
Writer, curator and researcher Bronac Ferran, who will chair one of Saturday's panel discussions, said: "His two lectures in Cambridge in 1960 and 1965 were highly significant events that are seen as landmarks in cultural history and inspired a whole generation of students living and working at that time. With his return to the city through the current exhibition, we celebrate the ongoing influence of Gustav's work and ideas that were formative in influencing many leading figures who will come together on the 26th to acknowledge this legacy.
"Gustav's involvement with science policy and founding membership of the Committee of 100 proved very prescient of today's preoccupation with interdisciplinarity and art-science agendas. It is in this context that WHITE HEAT has been organised; to hear from leading figures who were driving the revolutions and counterrevolutions half a century ago and to see what role Cambridge played as an intellectual and cultural incubator of social and political transformations."
Highlights of the programme include an introduction to Gustav Metzger's Chemical Revolution by curator Elizabeth Fisher with video contributions from Gustav Metzger. Other key figures of the 1960s art world presenting on this turbulent decade, include curator Jasia Reichardt, who will discuss her curatorial work during the 1960s on seminal exhibitions such as the first show of British Pop Art in London; Between Poetry and Painting.
Contemporary artist Neal White will discuss the continued legacy of 1960s research-based artistic practice, while talks on the publications Studio International and Leonardo Journal will further explore the interdisciplinary links between art and science in the 1960s. 
The day will also include a panel discussion on The British Society for Social Responsibility in Science (BSSRS), a 'radical science' movement launched in 1969. Supporters of BSSRS included Francis Crick and Bertrand Russell and the movement aimed to open up the politics of science to both scientific and public scrutiny through pub-based seminars and the Science for People magazine.
Born in 1926, Metzgar's career has spanned more than sixty years of art and political activism. Metzger began his artistic career at the Cambridge School of Art in 1945, and returned to deliver two seminal lecture/demonstrations at the University of Cambridge in 1960 and 1965. LIFT OFF! focuses on Metzger's auto-creative work bringing together installations, archive, film and sculptures.
For further details about the conference and exhibition, visit: http://www.kettlesyard.co.uk/
---
The text in this work is licensed under a Creative Commons Licence. If you use this content on your site please link back to this page. For image rights, please see the credits associated with each individual image.
---