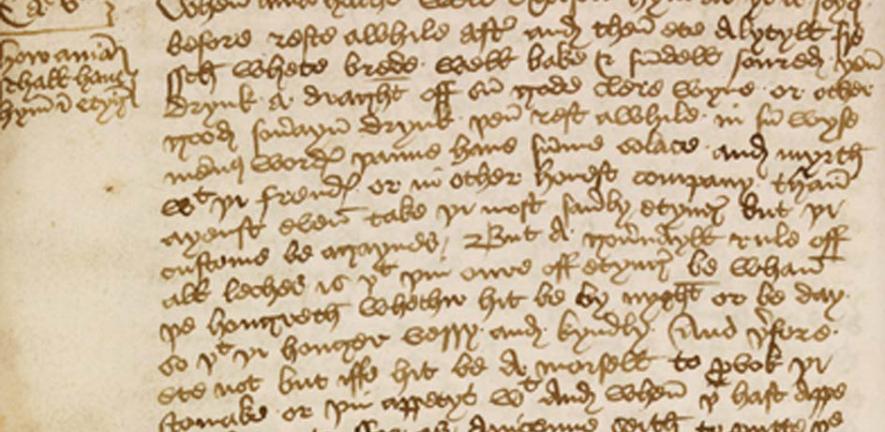 A digital archive of 500-year-old 'filofaxes' offers extraordinary insight into early thought and writing practices.
The keeping of such books was regular practice in the period, enabling their owners to record and remember what they had read, been told or overheard.
'Scriptorium' is the culmination of a three-year project in the Faculty of English to digitise and preserve a type of manuscript book well known in 15th- to 18th-century Europe: the commonplace book or manuscript miscellany. And at the heart of the project, which was funded by the Arts and Humanities Research Council (AHRC), lies an innovative tool that will help you to read them.
A literary phenomenon
Commonplace books were the personal organisers of their day. Learned men (and, more rarely, women) would compile books containing recipes, accounts, sonnets, quotes, prayers, songs, legal treatises and medical instructions. Sometimes passed from one owner to another and continued over decades, if not centuries, commonplace books would be filled with snippets of contemporary information and culture. The keeping of such books was regular practice in the period, enabling their owners to record and remember what they had read, been told or overheard. Each is a unique collection of knowledge: an intellectual scrapbook, the filofax of its time.
A total of 20 commonplace books and miscellanies forms the backbone of the Scriptorium project. These books have been sourced from Cambridge college libraries and the University Library, as well as from archives in country houses like Holkham Hall in Norfolk. Some have a known provenance, such as a 17th-century book of estate management written by William Heveningham, part of which was written during his 18-year incarceration in Windsor Castle for his role in Charles I's execution. The Glastonbury miscellany (c. 1450), a 114-page collection of literary texts in Latin and English, started life as a Glastonbury monk's accounts book and, after successive interventions by five more scribes, was still being added to a century later.
Daleks aid digitisation
Over the course of three years, the project team, led by Drs Richard Beadle, Raphael Lyne, Andrew Zurcher and Colin Burrow, adapted and developed painstaking techniques to minimise the risk of damage to texts during photography. 'Daleks', made from an aluminium bolt and two sewing needles, provided one means of safely applying adjustable levels of pressure on manuscript leaves, to lay them flat for photography. Project researchers, including Drs Christopher Burlinson, Angus Vine and Sebastiaan Verweij, also pioneered new descriptive methods and representational strategies for publishing rare manuscript materials online, including full and searchable analyses of each manuscript, and transcriptions of key selections.
Working in collaboration with the Centre for Applied Research in Educational Technologies (CARET), and IT developer Mariko Brittain, the team also developed an expansible, automated manuscript image database that will continue to function and grow beyond the life of the funded project. And with conservation in mind, high-resolution manuscript images have been securely dark-archived in DSpace@Cambridge, Cambridge University Library's digital repository.
Help with handwriting
The art of deciphering old handwriting, known as palaeography, is a difficult decoding process that can be complicated by factors such as the scribe's style, evolving letter-forms and unusual punctuation. Help in cracking this code is now available from the Scriptorium project's fully interactive online English Handwriting course. The course makes full use of the wide range of hands, styles and idiosyncratic habits represented by the Scriptorium project manuscripts, which were chosen with an eye to their palaeographical range and complexity. This and other resources within the Scriptorium project are dovetailing with teaching and research in the Faculty of English, opening up the literature, history, theology and philosophy of earlier periods to a new generation of students and scholars in Cambridge and across the world.
---
This work is licensed under a Creative Commons Licence. If you use this content on your site please link back to this page.
---