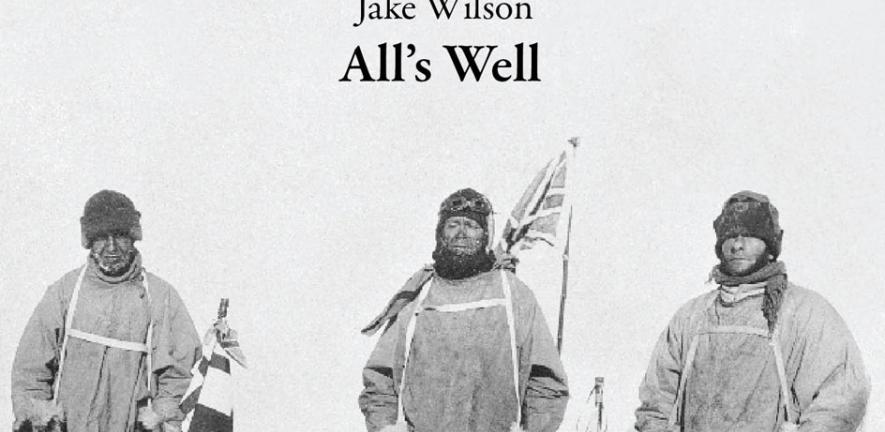 A cycle of songs imagining the final thoughts of Captain Scott and his polar party has been composed by Cambridge graduate Jake Wilson – with the help of the University's Scott Polar Research Institute.
These songs are one of the most evocative responses to the story of Scott to have come out of the centenary.

Heather Lane
Wilson has composed All's Well, a cycle of five songs, from the point of view of the men who died on their return journey from the South Pole 100 years ago: Edgar Evans, Lawrence Oates, Edward Wilson, Henry Bowers, and Captain Robert Scott himself. The songs aim to capture the different responses of these five men as they realise their deaths are inevitable, and are dedicated to the memory of Jake's mother, and his friend, the writer Russell Hoban, both of whom died while he was working on All's Well.
Jake's interest in Captain Scott's final Antarctic expedition was triggered when he discovered an edition of Scott's journals in his parents' house. After reading this gripping first-hand account of the expedition, he went on to immerse himself in the diaries, letters and biographies of Scott and the other members of the polar party.
But what started as an academic interest changed when Jake's mother was diagnosed with untreatable cancer.
He said: "Suddenly I was faced with the brutal reality of what Scott and his men must have gone through - my mother was also in a race against time, battling against her own body as it failed her. And her response was extremely similar – organising her affairs, writing letters to people who she felt needed to have heard from her, and facing death with dignity and courage."
Jake's determination to complete the songs after his mother's death was reinforced by support from his close friend, the author Russell Hoban.
"Russ encouraged me to write these songs from the start," said Jake. "I sent him draft lyrics to comment on and took my guitar to his house to play him work-in-progress. Even when he was in hospital he found the energy to listen to my demo recordings and give me advice about how to improve the songs."
Folk fiddle legend Dave Swarbrick, who has been collaborating with Jake since 2009, has also played a key role in the project. Swarbrick has described Jake as one of the finest guitarists and songwriters of his generation and has recently produced recordings of the songs. These will be released soon under the title All's Well, with the support of the Scott Polar Research Institute.
Heather Lane, Keeper of Collections at the Institute, said: "These songs are one of the most evocative responses to the story of Scott to have come out of the centenary. The Scott Polar Research Institute has been pleased to work with Jake Wilson on this project. His moving tribute to the men should have enormous popular appeal."
The songs have also met the approval of relatives of the team members in Scott's polar party. David Wilson, great-nephew of Edward Wilson, said: "With All's Well, Jake Wilson successfully recasts the South Pole story into a new genre. Evoking the distinct characters of each of the Pole Party in word and tune, he accomplishes in modern folk music what Beryl Bainbridge took an entire novel to achieve. A cultural masterpiece for the Scott centenary."
Jake will perform All's Well at the Polar Museum on March 27, alongside Cambridge poet Kiran Millwood Hargrave, who will be reading from her latest collection The Last March, also inspired by the story of Scott and his men. The poems will be published by Pindrop Press to mark the centenary of Scott's death.
---
This work is licensed under a Creative Commons Licence. If you use this content on your site please link back to this page.
---