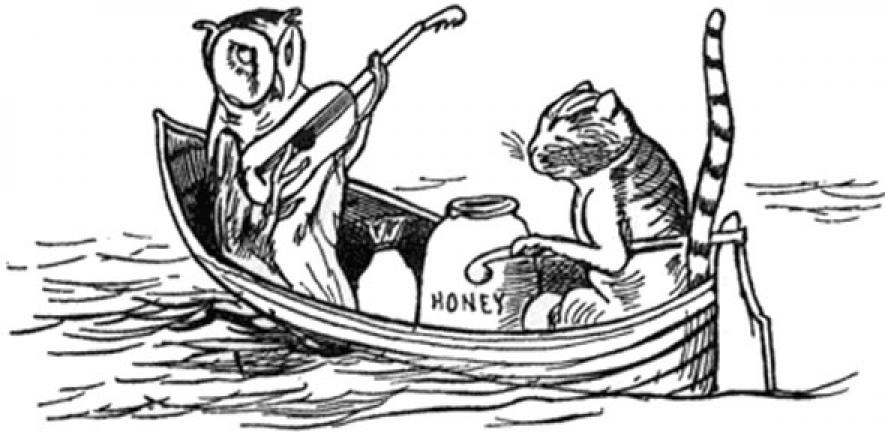 Most of us can quote snatches of poetry - but which poems can we recite in their entirety? In a survey of memorised poetry, Lear's The Owl and the Pussy-cat came top, and some people know all 143 verses of the Rime of the Ancient Mariner. There are remarkable benefits of having a poem in your head.
Hearing a poem without sight of the text can be a revelation. Putting the book down is a bit like taking the stabilisers off the bike.

Debbie Pullinger
Edward Lear's bizarre and beautiful poem, The Owl and the Pussy-cat, was first published in 1871. Featuring an unlikely romance, a wedding ring purchased from a pig and a marriage officiated by a turkey, it's been a favourite with people of all ages ever since. Who could fail to be charmed by an elegant fowl and a star-struck cat, dancing by the light of the moon?
In a survey that set out to find out what poems the British public are able to recall, The Owl and the Pussy-cat ranked top of 287 different poems submitted by more than 500 respondents. Second came Lewis Carroll's "Jabberwocky" with its deliciously resonant language. And on the heels of the whiffling Jabberwock was Shakespeare's romantic sonnet, "Shall I compare thee to a summer's day?"
The nation has already been quizzed for its poetry favourites. In 1995, a BBC poll famously placed Rudyard Kipling's If in prime position, and that was later trumped by Robert Frost's Stopping by Woods on a Snowy Evening. But the Poetry and Memory Project at Cambridge University's Faculty of Education delved deeper. As well as conducting the first survey to discover what poems people have actually learned, it aimed to find out about the effects of having poetry in our memory.
Collaborators Dr Debbie Pullinger and David Whitley explain: "We're interested in the ways in which poetry learnt by heart inhabits our inner worlds. Our project was based on two central research questions. Firstly, what is the distinctive value of the memorised poem? And secondly, what is the relationship between memorisation and understanding?"
The survey elicited a surprisingly large number of poems, including some the researchers had never come across. Whitley says, "We were thrilled by the quality of the responses, which came from a surprisingly wide band of age groups. Many people were deeply reflective about why that poem had stuck and what it had come to mean to them over time – sometimes over a lifetime. The most popular poems were drawn from quite a conservative tradition, and were nearly all by long-dead, canonical poets."
Most of the memorised poems had strong formal structures and rhyme schemes, which might be expected since these features make a poem easier to remember.
"It was interesting to see how humour and whimsy vied with more serious themes in the top rankings, and to see how both types can assume deep personal significance. Compared with the more earnest 'educational' canon taught in secondary school onwards, this more varied, informal canon may reflect a national sensibility in which humour is a vital ingredient," says Whitley.
Memorisation and recitation are back on the primary English curriculum
The requirement for school children to learn and recite poetry was dropped from the UK curriculum in 1944, and these practices fell from favour. And although poetry's roots are in the oral tradition, in modern times it has existed primarily on the printed page, where its rhythms and cadences fall silent. Stripped of its auditory pleasures, and often approached as a problem to be solved rather than a sensory and imaginative experience to be enjoyed, poetry came to be perceived as 'difficult'.
In 2012, however, memorisation and recitation were back as statutory requirements on the primary English curriculum. Today's school children, unlike most of their parents and teachers, are expected to learn verse. The move by Michael Gove, then Secretary of State for Education, met with a mixed reception from the teaching profession, say the researchers. Many teachers regard memorisation as an outdated and pointless exercise, and some feel it risks putting children off poetry for life.
As the Poetry and Memory Project confirmed, enforced learning by rote can have that undesirable effect. But, Pullinger explains, the picture is complicated. "While some people who have learned poems in a perfunctory way are put off, others come to understand and appreciate them over time. And there are many factors that influence our developing relationship with poetry," she says.
"The overarching conclusion of the project is that committing a poem to memory appears to have real benefits. Almost all respondents not only reported that memorisation is a positive experience, but also associated it with a wide range of positive effects."
The most universal benefit was a deeper appreciation of the poem itself, and this was closely followed by the poem's potential as an emotional resource. These findings were confirmed and illuminated in the second stage of the project, which followed up 38 people with in-depth interviews about their experience of learning poems and their relationship with poetry in general.
The emerging picture of the memorised poem is a multifaceted one. For many people, it forges a strong connection with a significant person. One participant realised how much poetry had meant to her late mother. "It might not have been the poetry I would've chosen because it was rather 'rumpty tumpty' stuff. But that was really part of her legacy to me." For others, a particular poem was a powerful mnemonic, strongly associated with a time or place – a classroom, a holiday, a first love.
The memorised poem can also become a container for thoughts and emotions, described by respondents as "a place to inhabit", "a temporary home while I was homeless" or "a place for your brain to be, if you're challenged by other things".
Responses suggested that once a poem is inside you, it can feel as if you are on on the inside of the poem. This sense of inhabiting may in turn open up a space in which understanding can unfold. As one interviewee said: "With some poems, I know the poem so well that I don't have to think about them, and then I can sort of play around inside them, and different shades and meanings come to you."
A memorised poem engages us with its sensory aspects
Having a poem installed, quite literally as part of our minds and bodies, engages us with its sensory aspects. "Although printed words are a necessary cue to performance, they can also act as a kind of interference," says Pullinger.
"Hearing a poem without sight of the text can be a revelation. Our mind is free to attend to tasks other than decoding and our mind's eye is free to roam. Putting the book down is a bit like taking the stabilisers off the bike. You may be a bit wobbly at first, but only then can you really feel the way the bike is moving over the surface; only then can you find your balance."
Although more than 70% of respondents had learned a poem as a child because a teacher required or suggested it, more than 85% had learned a poem as an adult for personal pleasure. Whitley says he, like many respondents, learned the odd poem in school, and went on to memorise poems that struck a chord with him at various points throughout his life. It's the poems memorised in adolescence and early adulthood that have really stayed with him.
Pullinger, on the other hand, says that she rediscovered the pleasures of poetry relatively late in life. She learned many poems as a child, all now largely forgotten. But, inspired by the stories of her interviewees, she has tried various memorisation techniques for herself and is now an enthusiastic advocate of poetry learning. "Yes, it does seem that there is something special about committing a poem to memory," she says."You've invested in it and made it yours. Learning, giving voice and understanding – these all go hand in hand."
The research evidence points strongly towards memorised poetry being a resource with the potential to enrich lives in many different ways over many years. Pullinger believes that the Poetry and Memory Project has staked out some fascinating and potentially important territory: "There is definitely more to learn about the way we experience poetry and poetic language," she says.
The Poetry and Memory Project was based in the Faculty of Education and funded by the Leverhulme Trust. www.poetryandmemory.com
---

The text in this work is licensed under a Creative Commons Attribution 4.0 International License. For image use please see separate credits above.
---