In two separate books, anthropologists Dr Franck Billé and Dr Christopher Kaplonski look at the identity of Mongolia, a country that stands at a cultural and political crossroads.  While Billé explores Mongolia's relationship with its powerful neighbours, Kaplonski revisits a dark period in the country's recent history.
In the west, we see Mongolia as part of Asia, its people and culture enmeshed with those of its neighbours. But this is not how the Mongolians see themselves. They draw a clear line between themselves and other Asians, particularly the Chinese.

Franck Billé
In the spring of 1991 Franck Billé sat in a north London cinema watching the movie Urga. Nikita Mikhalkov's award-winning film tells the story of the unlikely friendship that develops between a Russian truck driver and a Mongolian herder. Billé, a Russian language student at the University of Westminster, was captivated by the movie's narrative and the stunning landscapes. He decided that, instead of going to Moscow for the semester abroad required by his course, he would travel to Ulaanbaatar.
A few months later Billé flew in to Mongolia's capital city airport where he was met by the local family he was going to stay with. His knowledge of Mongolia, a country three times the size of France, was confined to what he had read in the Lonely Planet guidebook. "I spoke fluent Russian but only a few words of Mongolian which I'd picked up from an old conversation book," he says. All this was to change as he immersed himself in Mongolian culture, and began studying the language.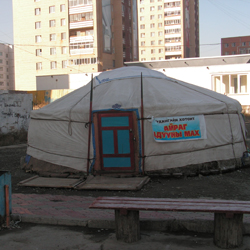 Today Billé is one of around a dozen researchers based in the Mongolia and Inner Asia Studies Unit (MIASU) at the University of Cambridge. Recently published books by Billé and his MIASU colleague Dr Christopher Kaplonski make important contributions to the scholarship that has emerged from MIASU since its establishment in 1986. Both books are the outcome of recent fieldwork in Mongolia and both deal with universal human issues that are deeply uncomfortable. A launch of the books takes place at Heffer's bookshop in Cambridge next Tuesday (3 March 2015).
In Sinophobia: Anxiety, Violence, and the Making of Mongolian Identity, Franck Billé explores the identity of a country that feels increasingly under pressure from its booming southern neighbour. The Lama Question: Violence, Sovereignty and Exception in Early Socialist Mongolia by Christopher Kaplonski challenges accepted narratives about the violent crushing of the Buddhist establishment in the 1930s as the monasteries that had dominated life for centuries were torn apart.
With a population of 2.8 million, Mongolia shares a border with two of the world's foremost powers which have long played a pivotal role in its identity. Russia, lying to Mongolia's north, is a declining player on the global stage. China, to its south, is a flourishing economy hungry for the resources that Mongolia possesses – notably coal, copper and gold.
From his first visit, Billé was fascinated by the politics of Mongolian nationalism and how this informs the country's relationships with its neighbours. His initial encounter with the country took place just eight years after its liberation from the Soviet Union. The Soviets had held the country in a tight grip for 70 years and had presided over the dismantlement of Mongolia's traditional nomadic society, a process that saw many thousands of deaths.
Primed by dire warnings in the pages of his guidebook, Billé was nervous that as a Russian-speaking stranger, he would be unwelcome. His fears were unfounded. Instead, he was struck by the lack of post-socialist resentment shown by the Mongolians he met, including the family with whom he lodged. Yet, as Buriads, a Mongolian ethnic group living mostly in the Russian Federation to the north of Mongolia, their community had suffered tremendously, particularly in the political purges of the 1930s. Many of those considered to be 'intellectuals' were Buriad and, as 'enemies of the people,' they were deported to Siberia, never to be seen again.
Why, wondered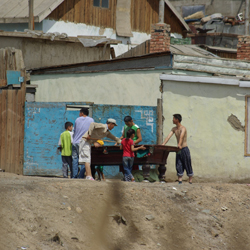 Billé, were the Mongolians so apparently accepting of their recent history as a nation until the control of an outside force?  "Russians have made mistakes but generally their presence was positive. They brought a lot of good things," he was told by his hosts in Ulaanbaatar. These good things included forms of 'high culture' (such as ballet, opera, urban living) and protection from Chinese territorial ambitions.
On each successive visit, Billé became increasingly aware of the striking differences in Mongolian attitudes to its neighbours – and modern Mongolia's discourses about China form the backbone of his book. Over the course of his fieldwork in Ulaanbaatar, he has built up a picture of a nation whose identity is contingent on a deeply-entrenched distrust and dislike of its Chinese neighbours – a phenomenon described as Sinophobia.
Since Mongolia's southern border reopened in the early 1990s, the Chinese have invested heavily in Mongolia, quickly becoming its main trade partner. Mongolia's coal resources were crucial to China's rapid growth. In turn, China has been able to supply household goods that are no longer available in Russia. While the Mongolians have undoubtedly benefited from their position on the border with China, they have remained deeply suspicious of their southern neighbour's intentions. China is suspected of sending men to reproduce with Mongolian women and dilute the gene pool. Chinese vegetables are said to be purposefully poisoned. It is even rumoured that China is biding its time to take over the country.
"In the west, we see Mongolia as part of Asia, its people and culture enmeshed with those of its neighbours. But this is not how the Mongolians see themselves. They draw a clear line between themselves and other Asians, particularly the Chinese. Because Mongolians are so keen to deny any cultural and ethnic overlap, to be called Chinese is perceived as a great insult," says Billé.
"It's common to hear derogatory statements about the Chinese and to see insulting graffiti. Hip hop songs, in particular, have been an important vector of national pride and anti-Chinese sentiments. Tourists visiting Mongolia may well return home with little idea of the level of anti-Chinese sentiments but anyone who can read and understand Mongolian will be immediately aware of the Sinophobia that pervades public discourse."
At its most extreme, Sinophobia takes the form of Dayaar Mongol (All Mongolia), a far-right nationalist group.  In 2009, Dayaar Mongol  signalled its disapproval of Sino-Mongolian relationships by posting a video of a woman with her hair shorn as punishment for the 'crime' of having sex with a Chinese man.
"These extreme groups do not enjoy widespread support and are generally seen as hooligans. But, for the vast majority of Mongolians, dislike of China isn't seen as racist. It is perceived primarily as self-defence. Voicing criticisms of the Chinese is functionally equivalent to a patriotic statement," says Billé.
"Many Mongolians will confide in private that they do not have anything against the Chinese. However, making such statements in public would render them suspect. They would be seen as unpatriotic and potentially traitors. And they would also be suspected of being part Chinese."
Christopher Kaplonski comes to the subject of his book, which explores the violence again Buddhist monks in Mongolia in the 1930s, culminating in genocide, as an anthropologist interested in the way in which nations and individuals build narratives around political violence and its aftermath.  Kaplonski was one of the first Western anthropologists to carry out fieldwork in Mongolia. He has worked on collective memory, political violence, identity, and coming to terms with the past. 
Kaplonksi's research covers the dynamics of political conflict, as well as the processes of social-political reconstruction in coming to terms with the past. In the turbulent period covered by his book, The Lama Question: Violence, Sovereignty and Exception in Early Socialist Mongolia, the newly-installed socialist government  sought to break the power of the Buddhist establishment, and establish Mongolia as the world's second socialist country, following the Soviet Union itself.
In doing so, the socialists waged a decade and a half long struggle from the early 1920s to the late 1930s to win the hearts and minds of the Mongolian populace, deploying a wide variety of measures, such as propaganda, punitive taxes and eventually mass killings.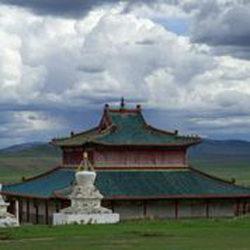 In particular, Kaplonski looks at the execution of approximately 18,000 Buddhist priests and how this dark episode has been absorbed into Mongolia's history. Most significantly, he complicates the accepted narrative that Joseph Stalin ordered the execution of lamas and that the Mongolian government and the Mongolian People's Revolutionary Party, as agents of a nation under the thumb of Choibalsan, had no choice but to carry out the directives of a Communist dictator.
The phrase 'the lama question' (lam naryn asuudal in Mongolian) is the term the socialist government itself used to signify the struggle between the socialist government and religious establishment of Mongolia.
Buddhism, in the shape of over 700 monasteries populated by some 80,000 lamas, had for centuries exerted an influence that extended deep into politics, economics and everyday life, rather in the same way that Roman Catholicism dominated pre-Reformation Europe. Often seen as backward and corrupt, even by reforming Buddhists, the Buddhist establishment represented an almost insurmountable challenge to the socialists determined to bring their vision of modernity and progress to Mongolia.
"One of the things that intrigued me most, from an academic point of view, was the fact that the violence took so long to erupt. Political violence is often seen as a tool of first resort for totalitarian governments the world over, but in Mongolia, it was a step they avoided taking for over a decade and a half. The book is an attempt to answer this question: why did it take so long," says Kaplonski.
In the space of just 18 months, between late 1937 and mid-1939, many thousands of lamas were sentenced to death and shot. All but a handful of the monasteries across the country were destroyed – and with them countless numbers of religious artefacts, books and culture were lost to future generations.  It is estimated that a further 18,000 people, many of them Buriads, were also killed during a period which is portrayed in both Mongolian and Western history as an episode sparked by Stalin's 'Great Terror'. 
A chance discovery in the Mongolian National Central Archives in Ulaanbaatar of a trial against leading Buddhist monks prompted Kaplonski to begin the painstaking task of piecing together a story that conflicts with the narrative that most Mongolians recount if they are asked about the repressions and mass killings of the 1930s.
Intrigued by what he read, Kaplonski set about improving his grasp of Mongol bichig (the classic Mongolian script in use at the time ) and from 2008 to 2011 he spent months sifting through documents held in the Central Archives in and other archives. He also visited some of the surviving monasteries, since restored, and interviewed a wide range of people, those who had lost relatives, had been monks themselves, or grew up next to the ruins of a monastery.
"Day after day, I sat under a window in the Central Archives and ploughed through piles of government resolutions and reports in what often seemed like a fruitless exercise, occasionally rewarded by the appearance of a document that provided a key piece of the puzzle – such as a letter between top officials wondering what to do with the monasteries now that they were all empty," says Kaplonski.
"The organisation of the archives is fairly rudimentary – for example, there is no cross-referencing of files. On top of that, the archives of the secret police, which hold the case files themselves, are closed to foreign, and most Mongolian, researchers."
Kaplonski's extraordinary determination bore fruit in 2008 when he was given permission to obtain copies of 'rehabilitation documents' from the secret police (known as the Dotood Yam) archives. His coup meant that he was able to add a small but important piece to the giant puzzle of the lama question.
A close reading of the 'rehabilitation' documents enabled Kaplonski to build a more detailed picture of the process by which people could apply to have their relatives cleared of the charges laid against them in the 1930s. This process, essentially a re-examination of the original case, not only brought closure to those who never knew what happened to their relatives, but the documents also provided key details to the bureaucracy and reasoning behind the mass killings.
The personal stories of the countless lamas who were killed, or fled into the countryside, will never fully be told.  "Monastic records for the 1930s simply do not exist," says Kaplonski. "Such documents were either destroyed by the state or by the monks themselves as their impending fate became evident.  Few Mongolians at this period wrote letters or kept diaries. Oral histories and reminiscences can give a personal account of a particular experience but not in the detail required to build a more comprehensive understanding of how and why what took place happened."
Most other scholars have simply portrayed the events of the 1930s as Stalin's Great Terror spilling over into Mongolia. Kaplonski has taken the inquiry still deeper into uncomfortable territory. His conclusion that the Mongolian secret police and government bureaucracies who carried out the monitoring and eventual killings of lamas, and others, had more agency than has been publically acknowledged will grate with popular Mongolian narratives for a period that, for many older citizens, falls within well living memory.
"Blaming Stalin allows unpleasant and potentially divisive issues of responsibility and guilt to be avoided.  Few Mongolians, or other academics have questioned this view. Difficult questions about the agency of Mongolians in the killings for the most part haven't really been asked," he says.
"Indeed, it is reported that the archives of the security services remain closed precisely because to open them up would be devastating in a country where social networks are tightly intertwined and where it would not be a surprising for a descendent of a repressed person to know the descendants of his or her repressors."
Sinophobia: Anxiety, Violence, and the Making of Mongolian Identity by Franck Billé and The Lama Question: Violence, Sovereignty, and Exception in Early Socialist Mongolia by Christopher Kaplonski are both published by University of Hawai'i Press. Both books will be launched at an event at Heffer's bookshop in Cambridge on 3 March 2015, 6.30-8.00pm. Booking not required but please RSVP to david.robinson@blackwells.co.uk.
MIASU was established in 1986 by the distinguished anthropologist Professor Caroline Humphrey. Ever since, it has played a pivotal role in the careers of researchers from all over the world seeking to understand this little known yet strategic region.
MIASU also facilitates visits from Mongolian and Tibetan scholars who typically stay in Cambridge for a few months, giving them the opportunity to access specialist and rare material in Cambridge University Library and discuss their research with colleagues at Cambridge.
Inset images: ger in Ulaanbaatar selling fermented mare's milk and horse meat (Franck Billé), street scene in Ulaanbaatar (Chris Kaplonski), anti-Chinese graffiti: Mongolians let's kill Chinese (Billé), Baruun Hüree, a Mongolian monastery in Övörhangai province, sutra (books) said to have been buried during socialism and later retrieved, two high-ranking lamas (foreground) on trial as counter-revolutionaries, 1937 (all Kaplonski).
---
The text in this work is licensed under a Creative Commons Licence. If you use this content on your site please link back to this page. For image rights, please see the credits associated with each individual image.
---