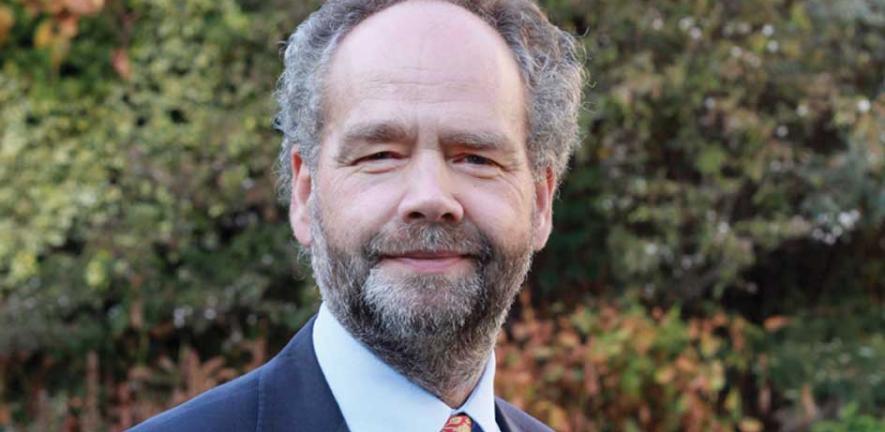 This month, the University of Cambridge will be profiling research that addresses biodiversity conservation. To begin, Dr Mike Rands, Executive Director of Cambridge Conservation Initiative, explains how a partnership of researchers, world-leading conservation practitioners and policy experts has a crucial role to play in this 21st-century challenge.
Innovative thinking can begin to transform the landscape of biodiversity conservation.

Dr Mike Rands
Life on Earth is at risk from an unprecedented rate of environmental change that threatens the natural resources on which humanity depends. Biodiversity – the genes, species and ecosystems that comprise nature – provides food, fuel, medicines and other vital 'ecosystem services', along with countless intangible benefits, for society.
But biodiversity is in steep decline, and its sustainable management is a major challenge for the 21st century. In response, University of Cambridge researchers from diverse disciplines, along with conservation practitioners and policy experts – all linked to global networks – created the Cambridge Conservation Initiative (CCI) in 2007.
Cambridge is famous as the centre of 'Silicon Fen' – the cluster of high-tech businesses drawn together geographically by the benefits of a world-leading research-intensive University and rich networking opportunities. Much less well known is the fact that Cambridge is home to one of the world's largest clusters of people and institutions working to understand and conserve global biodiversity.
As a partnership between the University and world-leading conservation organisations, CCI aims to help secure a sustainable future for biodiversity and humanity through interdisciplinary and innovative research, learning, leadership and action.
Many examples of collaboration between researchers and practitioners illustrate how this University Strategic Initiative is addressing global challenges. Achieving food security while conserving the raw materials provided by biodiversity, reducing carbon emissions and alleviating poverty through forest conservation, and measuring the benefits an area's biodiversity brings to society are but three of 14 projects supported through the CCI Collaborative Fund that offer solutions to real-world problems.
Similarly, we see how innovative thinking can begin to transform the landscape of biodiversity conservation. Studies that identify new emerging issues for biodiversity conservation, which explore whether computer gaming can reconnect people to nature, and which draw on disciplines as diverse as business, archaeology and English show how Cambridge offers a distinct and often novel approach to conservation.
Over the next three years, our vision is to create an interdisciplinary conservation campus at the heart of the University, bringing together over 500 professional conservationists from across organisations and University departments, in a centre of international conservation excellence. The campus will facilitate and sustain the flow of conservation research and practical solutions, enhance global conservation capacity and leadership, and help to transform public understanding of nature.
---
CCI: collaboration and funding
CCI is a collaboration between the University of Cambridge and nine internationally renowned conservation organisations in the Cambridge area committed to the study and protection of global biodiversity. The founder members of CCI are:
The University of Cambridge: six Departments – Zoology, Geography, Plant Sciences, Land Economy, Judge Business School and the Cambridge Programme for Sustainability Leadership – founded the Cambridge Conservation Initiative along with the partner organisations listed below. Each of these departments has a growing programme of research and teaching in conservation, and work closely together on interdisciplinary programmes as part of CCI.
United Nations Environment Programme World Conservation Monitoring Centre: a branch of the United Nations that undertakes synthesis, analysis and dissemination of global biodiversity knowledge for conventions, countries, organisations and companies.
Fauna and Flora International: acts to conserve threatened species and ecosystems worldwide, delivering global and regional programmes of conservation and community projects.
BirdLife International: is a strategic global partnership of conservation organisations in over 100 countries, working to conserve birds, their habitats and global biodiversity, and to promote sustainability in the use of natural resources.
Traffic International: is a global wildlife trade monitoring network that works to ensure that trade in wild plants and animals is not a threat to the conservation of nature.
International Union for Conservation of Nature:  is the world's largest professional global conservation network, and supports scientific research, manages field projects and unites conservationists to develop and implement policy, laws and best practice.
Tropical Biology Association: is dedicated to building the capacity and expertise of people and institutions to conserve and manage biodiversity in tropical regions.
Royal Society for the Protection of Birds (RSPB): is the largest wildlife conservation organisation in Europe, and works to secure the conservation of biodiversity – especially wild birds and their habitats – through research, education, habitat management and advocacy.
British Trust for Ornithology: is an independent scientific research trust specialising in impartial evidence-based knowledge and advice about populations, movements and ecology of birds and other wildlife.
Cambridge Conservation Forum: is a network that links the diverse Cambridge-based community of conservation practitioners and researchers working at local, national and international levels.
To deliver its ambitious programme CCI works closely with like-minded funding partners. CCI is particularly grateful to Arcadia, who has provided core support for the leadership of CCI and grants for the CCI Collaborative Fund, the Miriam Rothschild Programme for Conservation Leadership, the Miriam Rothschild Travel Bursaries for the Student Conference in Conservation Science and the Miriam Rothschild PhD Studentships. CCI is also deeply grateful to the MAVA Fondation pour la Nature for their support to establishment a unique MPhil in Conservation Leadership.
---
This work is licensed under a Creative Commons Licence. If you use this content on your site please link back to this page.
---