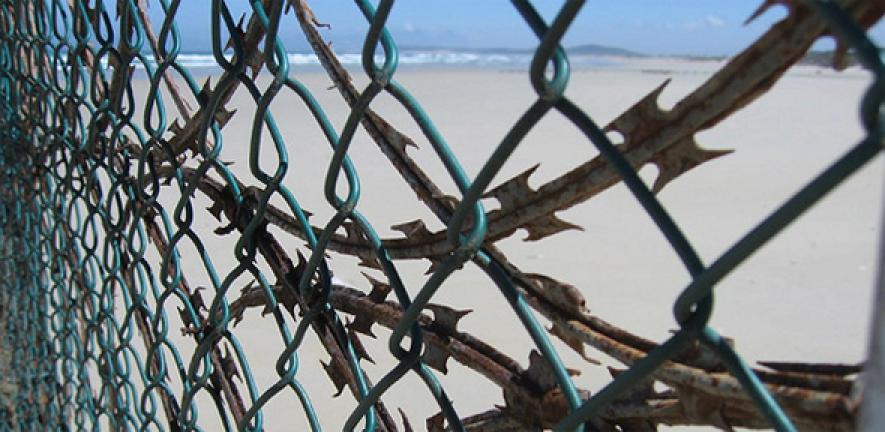 Amid high-profile, real-life murder investigations and growing concerns about public safety, a new breed of crime fiction is sweeping South Africa, as one of its leading writers will tell the University of Cambridge this week.
What kind of escapism is it, that takes you so close to your greatest fears, your horrors? If these novels are 'escapist', then escapism is clearly not a simple phenomenon

Christopher Warnes
Denmark has Sarah Lund, Sweden has Wallander, Norway has the alcoholic Harry Hole. Now, the South African fictional detective is coming into its own – and coming to Cambridge.
On Tuesday 21 May at the Faculty of English, Margie Orford, author of a bestselling series of novels featuring journalist-turned-psychological profiler Dr Clare Hart, will be discussing the South African crime-fiction wave and what it tells us about South Africa today.
Attention has been focused on crime and policing in South Africa through recent high-profile events. For some South Africans, however, a deep fear of crime is the stuff of daily life – even though the victims of violent crimes are, disproportionately, the vulnerable and the disaffected, despite the perceived extent of the spread of crime into the suburb.
Dr Christopher Warnes, Senior Lecturer in Postcolonial Literature at the University of Cambridge, believes that the phenomenal popularity of crime fiction in South Africa demands serious scholarly critical attention. In an article published in the latest issue of the influential Journal of Southern African Studies, he writes that "the number of crime novels written in and about post-apartheid South Africa is assuming the 'epidemic proportions' some believe characterise actual crime rates in that country."
In the wake of the "false certainties of apartheid", and as South Africans lose faith in the post-apartheid institutions and policies designed to protect them, "the detective," writes Warnes, "returns to South African literature with a vengeance."
The crime fiction that has been produced in such volume by mainly white South African writers since the country's first free election in 1994 has been regarded by critics as escapist and apolitical, where previously, as exemplified by Nobel Prize-winners J. M. Coetzee and Nadine Gordimer, the novel was charged with a sense of political mission.
But for a society so disturbed by violent crime, "what kind of escapism is it," asks Warnes, "that takes you so close to your greatest fears, your horrors? If these novels are 'escapist', then escapism is clearly not a simple phenomenon. I think that these books are providing some kind of benefit to their millions of readers."
Through the figure of the detective, the seemingly intractable issue of crime in general is distilled into one shocking case. "The detective then deciphers clues, signs, which open out onto a reading of society at large." Through this 'reading' of fraught situations, the case is solved, order is restored – and larger issues, by extension, are resolved, if only for the duration of the after-glow of a work of fiction.
Yet an explanation of this phenomenon purely in terms of the levels of crime in South Africa does not stand up: crime fiction flourishes in Scandinavia and Japan, which have relatively low crime levels. "These books are ultimately a response to a sense of threat rather than to danger," says Warnes. "If you were in actual danger, you probably wouldn't reach for a crime novel to protect you!" Threat is something more subjective, the product of beliefs and preconceptions, and this is where the politics come in, because these novels are about much more than just crime.
This paints a bleak picture of South Africa today, and there is bleakness in these books. Orford prefaces her second novel, Blood Rose, with a line from The Four Quartets by T S Eliot: 'Here is a place of disaffection'. Although it refers to the setting for the crimes – Walvis Bay in Namibia, it hangs over the novel like the desert dust that pervades the desolate port town.
But redemption and even catharsis are to be found from these books – which are, says Warnes, the product of "an essentially liberal society, seeking to come to terms with transition and flux." There are signs in these novels, as in post-apartheid fiction at large, that South African society hasn't yet given up on the sense of possibility and promise that was so much a feature of the Mandela years.
Warnes is struck by the ways in which, through their detective heroes, crime writers like Orford and Deon Meyer are increasingly addressing larger post-apartheid themes. Orford provides Dr Clare Hart with a PhD dissertation based on the hypothesis that 'because we averted a civil war in South Africa … [the] unspent violence was sublimated into a war against women'. And of Deon Meyer, he says: "in a genre that often embraces banal revenge fantasies, it is surprising to find a critique of the notion of vengeance. Meyer's damaged detectives find personal rehabilitation through protecting others."
South Africa's serious crime-writing squad is blurring some of the boundaries between the politically-conscious apartheid-era novel and the formulaic, popular crime book, as well as playing out the tension between a liberal approach to crime, and embattlement and revenge.
"There is no shortage of serious analysis of change in South Africa," according to Warnes. "But what is it like to live through it? How does it feel? How do you negotiate its tensions, contradictions and uncertainties, and deal with the sense of threat and indeed the sense of promise? It's all there, in the novel."
'Writing Crime' with Margie Orford and Dr Christopher Warnes Room GR-05, Faculty of English, West Road, Cambridge 5.00pm on Tuesday 21 May. Free event.
---
This work is licensed under a Creative Commons Licence. If you use this content on your site please link back to this page.
---