A black Ned Kelly?
A new book unmasks the truth about the infamous Australian bandit "Black Douglas"
The true identity and epic life story of a once infamous Australian criminal have finally come to light. Cambridge historian Dr Meg Foster has discovered that "Black Douglas" was born in Philadelphia in the USA and transported to Australia by Britain before becoming a notorious bushranger.
Foster (Newnham College) shatters the myth that Douglas murdered a white woman and tells the story of an intelligent survivor.
Nineteenth-century bushrangers such as Ned Kelly hold iconic status in Australia but they all share something in common: they were all white men. In a new book, Boundary Crossers, Meg Foster shatters this illusion by revealing that some of Australia's most feared bandits were African American, Chinese, Aboriginal and female.
Some of Foster's most remarkable discoveries concern a man known as "Black Douglas". While largely forgotten today, Douglas was renowned as the terror of the goldfields in 1850s Victoria and became one of Australia's best-known criminals in the golden age of bushranging, decades before Ned Kelly made his mark.
Bushrangers robbed, with at least the threat of violence, and evaded capture by hiding in the Australian bush. It was alleged that Douglas and his gang started to rob miners soon after gold was discovered in Victoria in 1851. That year, a military officer reported that this "notorious ruffian" had been "seen carrying on his shoulders the dead body of a man who doubtless was one of his victims".
The Black Forest that stood between Melbourne and the diggings at Bendigo and Mount Alexander was considered his favourite haunt. In 1855, the Geelong Advertiser reported that his gang had kept entire neighbourhoods "in a continual state of terror and apprehension" for several weeks.
On 6 May 1885, a large group of miners finally captured Douglas and his gang. Foster argues that the recent murder of a defenceless white woman at Avoca was the impetus for this vigilante action.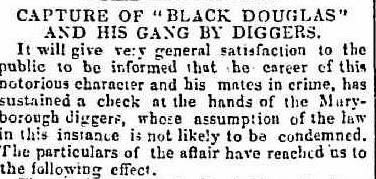 "Douglas' alleged guilt for this murder enhanced his notoriety and influenced his public persona for years to come. But there was only a sliver of truth to these stories," Foster says.
""Black Douglas" was largely a nightmare of settlers' own creation and until now, we've hardly known anything about him."
"Douglas has had no origin, no age, no occupation, no real name, no appearance beyond the colour of his skin and certainly no opinions or desires in the material kept about him. He was dehumanised."
Drawing on a range of sources, including a convict register from 1835, Foster reveals that William Douglas was originally from Philadelphia, USA, a Protestant who could read and write. He was 5ft 8in in height, with curly brown hair and brown eyes.
His complexion was recorded as 'mulatto' though he was pale enough for freckles to be seen on his skin. His nose was broad, and his breast covered in numerous scars. He had several tattoos including a half moon and three dots on his lower left arm, and an anchor on the back of his left hand.
A life stranger than fiction
Foster has found astonishing details about Douglas' life including the unfortunate circumstances surrounding his transportation to Australia.
"William Douglas was a convict, a sailor, a prize-fighter, a repeat reoffender, a phrenologist, a beggar and a bushranger," Foster says.
"The "Black Douglas" legend is just one small episode in his epic life story. He constantly refashioned himself, carving out a life between structures of oppression."
Foster reveals that Douglas was born in Philadelphia in 1817 into one of the first generations of black people in the state to be legally free from slavery and enforced labour. Before turning 18, he had become a sailor working as a cook but in January 1835, he stood trial for larceny in the English town of Rye.
Image: The Philadelphia of Douglas' youth was shaped by African-Americans including James Forten, a wealthy sail maker and abolitionist. This portrait, probably by Robert Douglass Jr, was painted c.1834.
Why, Oh Rye?
Having been working as a labourer, Douglas was arrested for stealing two coats. Together with another man, Douglas was sentenced to seven years' transportation. Elsewhere in England, this outcome would have been common but in Rye, Douglas was deeply unlucky. He was only one of seven men to be transported by the town between 1789 and 1867.
"Douglas was the victim of a sudden and dramatic shift in local government which triggered a clampdown on property theft," Foster says. "It didn't help that the man Douglas stole from was politically well-connected at a time when the mayor of Rye was trying to re-establish faith in the criminal justice system."
Convict life
After spending a week in Rye's gaol Douglas was transferred to the Fortitude prison hulk in Chatham. After two months he boarded a convict ship bound for New South Wales. Over the next six years, he endured 336 lashes, far more than was typical, and spent twelve months working in irons.
His misdemeanours, which increased in frequency and seriousness over time, included being absent without leave, highly disorderly conduct, insolence, neglect of work and assault. "Douglas clearly found the restrictions of convict life increasingly unbearable," Foster says.
In 1841, Douglas absconded and became a bushranger for the first and only time in his life. This was the kernel of truth behind the Black Douglas legend that would later emerge, but there was nothing spectacular about his bushranging career. He was quickly arrested after stealing blankets, tea, sugar and other items.
Douglas was sent to Van Diemen's Land to be reformed but over the next 9 years he was punished for 32 separate offences culminating in 'riotous' behaviour and two assaults. Douglas suffered eight bouts of solitary confinement and over 4 years hard labour. Despite this, he managed to become a famous prize-fighter known as 'Black Douglas'.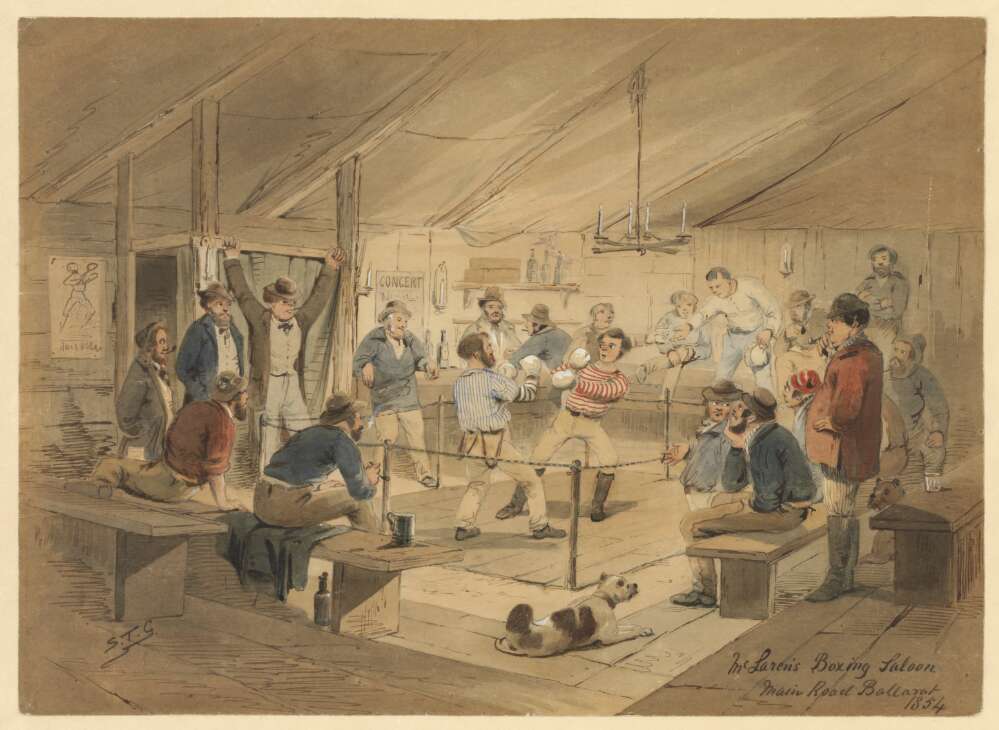 Foster unravels several myths associated with Douglas after he had left Tasmania and settled in Victoria in 1851.
She points out that Douglas was never convicted for theft, highway robbery or murder, the basis of his fearsome criminal status. Having been seized by miners in 1855, Douglas stood in court accused not of murdering a woman but unlawfully entering the tent of two Māori and was only sentenced under the Vagrant Act to two years' hard labour.
Not guilty
Foster shows that it was completely implausible that Douglas committed the murder. Of the two murders of white women on the diggings between March and early May 1855, the first was committed over 30 km away from the Avoca district where Douglas was supposed to have committed this crime. The second murder occurred on 29 April and the Government Gazette meticulously described the five mounted men responsible – none of them were described as black.
"Douglas' criminal record shows that he was a vagrant and a drunkard rather than a murderous, violent thief," Foster says. "Outside of goldfields gossip, there is no evidence that he murdered a woman at Avoca."
"The Black Douglas myth grew because it resonated with the white miners who spread and embellished it. The fiction that Douglas murdered a white woman allowed the miners to cast themselves as righteous avengers striving to protect their women."
"It was easier for colonists to obsess over one black man than to confront the fact that most criminals on the goldfields were white."
Douglas remained in Victoria until his death from 'old age and senile debility' in Bendigo Gaol in 1892. After his goldfield adventures in the 1850s, he was constantly in and out of gaol for vagrancy and drunk and disorderly conduct.
Douglas lived his life in prison, on the streets, in benevolent institutions, or in the pub where, late in life, he became a phrenologist, studying the size and shape of white people's skulls.
Foster says: "It's no accident that bushrangers of colour, like Douglas, have been written out of mainstream history in favour of white men like Ned Kelly.
"Our histories are saturated in the legacies of colonialism. To overcome this, it's important to bring these other bushrangers back into view on their own terms. If we try to fit them directly into the white bushranging story without being critical of it, we risk recolonising them."
Image: The Black Bush-ranger, a Halfpenny Marvel published in London in 1895. This character does not seem to have been inspired by Douglas.
Boundary Crossers
In her book, Meg Foster tells the astonishing stories of a number of other non-white bushrangers including Sam Poo, a Chinese man executed for murder and accused of bushranging in 1860s New South Wales; and Mary Ann Bugg, a Worimi Aboriginal woman who lived on the run with her white bushranging partner, Captain Thunderbolt.
Foster says: "They threatened colonial society. They had the authorities' attention, and the population's fascination and fear. Their actions challenged colonial Australians' ideas about racial and gendered hierarchies, law and order, not to mention settlers' own sense of their place in the world."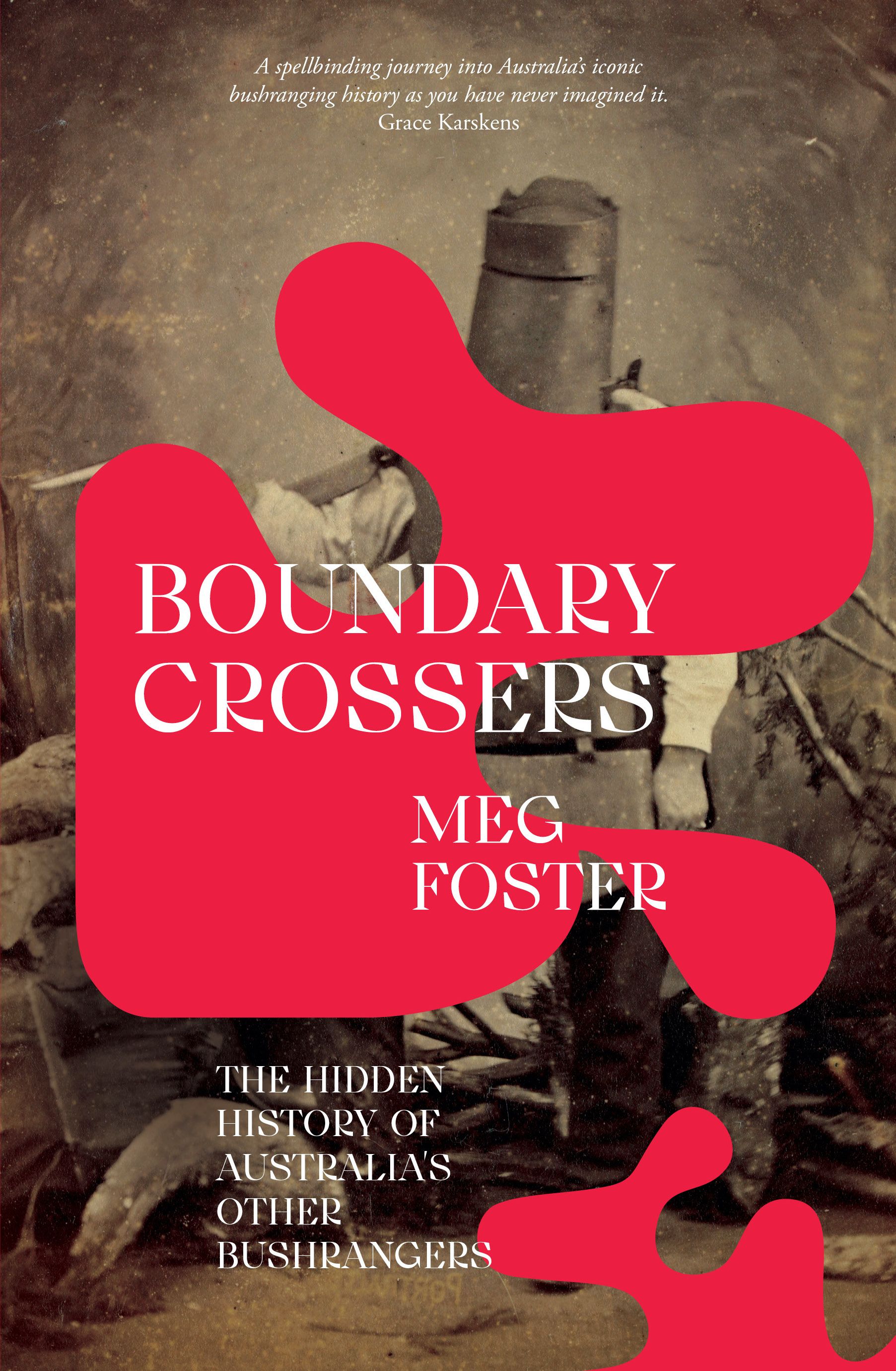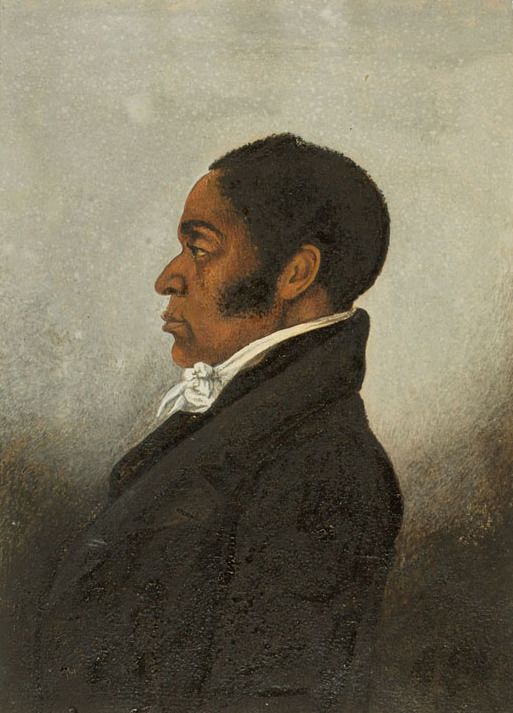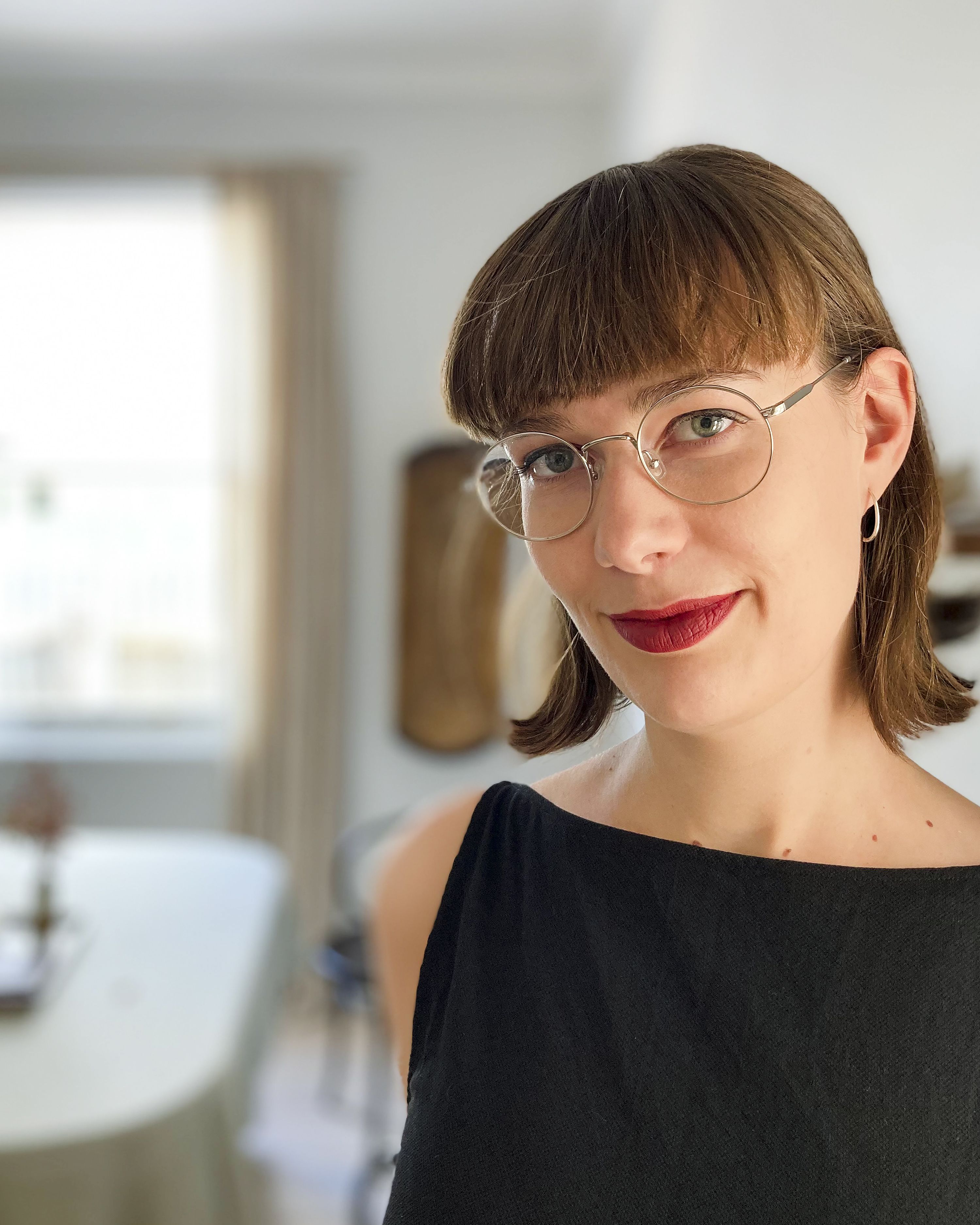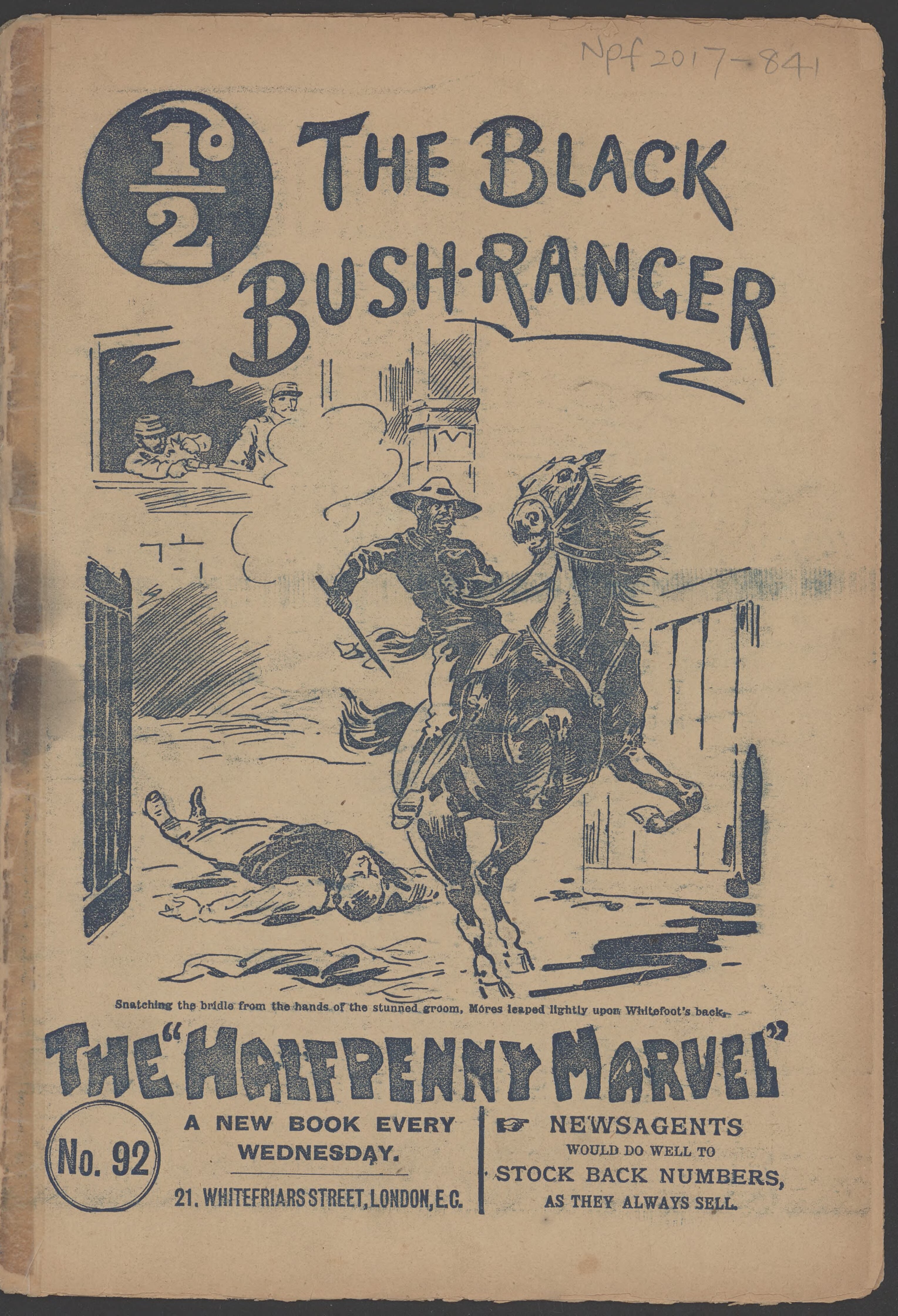 Image credits
Art Gallery of New South Wales: Bailed up (title image)
National Library of Australia: Newspaper articles; McLaren's boxing saloon, The Black bush-ranger
The Historical Society of Pennsylvania: James Forten
The National Gallery of Australia: An Australian Gold Diggings
David Nicholls via Flikr: Rye Town Hall
UNSW Press: Book front cover