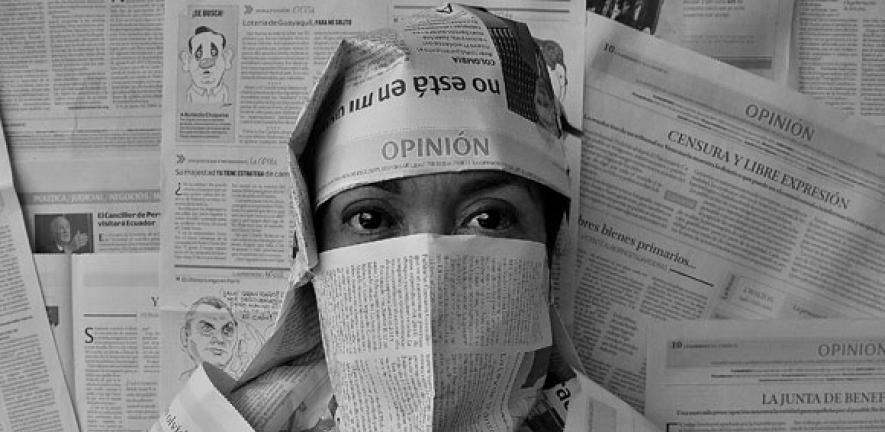 Mainstream media reporting about Muslim communities is contributing to an atmosphere of rising hostility towards Muslims in Britain, according to a University of Cambridge/ESRC Roundtable held at the House of Lords.
The attack on Charlie Hebdo brought into focus how vulnerable the relationship is between free speech and the security of the societies in which we live.

Roxane Farmanfarmaian
The findings, drawn from research developed across the University of Cambridge and presented to journalists, politicians and lawmakers, as well as representatives of faith communities, found Britain's Muslim communities – fragmented and often uncomfortable with the media – to be ill-equipped to counter negative narratives with more balanced reporting.
"Can we have freedom and security at the same time?" said Roxane Farmanfarmaian, lead scholar on the ESRC project and principal at the Centre of the International Studies of the Middle East and North Africa (CIRMENA). "And how do we balance the right to speak and think freely with the protections necessary for a life without fear?
"In January 2015, the attack on Charlie Hebdo brought into focus how vulnerable the relationship is between free speech and the security of the societies in which we live. Fulfilling its responsibilities to its citizens, the government enacted laws to suppress extremist activity, clamp down on radicalisation and protect British values. This included 'vocal opposition to British values'. Does this mean protecting a key universal right has in fact restricted it?"
The Rt Lord Ahmad of Wimbledon, Home Office Minister on the Counter-Extremism Strategy, highlighted the significance of the research for government and his intention to share it with officials across government, including immigration ministers and ministers within the Department of Media, Culture and Sport.
Roundtable attendees discussed ways to protect freedom of speech in religious contexts, promote integration, and further the successes of multiculturalism. The discussion developed ten points for joint action by policymakers and the media.  These range from appointing a celebrity role model as a Muslim Media Relations officer, to creating community relations reporters in minority communities (see below).
These points, and the findings, were reported as part of growing coverage on the worrying rise in media interpretations of Islamophobia, public disaffection and Islamic community isolation in The Independent  and al-Jazeera Online English.
The Roundtable was organized by CIRMENA, in partnership with Cambridge's the Woolf Institute and the Centre of Islamic Studies, and made possible through the support of an ESRC Impact Acceleration Action Programme Grant..
A Home Office network, as part of the Government's Counter-Extremism Strategy linking individuals and groups standing up to extremism in their communities, will draw on findings from this research.
Ten recommended action points:
To stem the slide toward an increasingly divided society, establish a consulting forum led by media and government to facilitate professional communications practices for mosque leaderships, neighbourhood centres, charities, schools and other minority group institutions. The goal:  to enable them effectively to promote, and publish more balanced narratives about their communities.
Appoint a well-recognized figure (for example, a celebrity role model) as a Muslim Media Relations Officer to encourage contextual awareness  and media education surrounding minority group issues and perspectives; the position would be responsible for representing the multiple viewpoints necessary to serve as an effective  spokesperson for the Muslim community as a whole. The Muslim Media Relations Officer would be a member of the consulting forum (see above).
Encourage media employment of 'community relations' reporters as specialist correspondents (much like political, financial and health editors), to improve the balance in reportage on faith and other minority affairs. The remit should include, 1. Improving domestic awareness of counter-narratives, 2. Bettering understanding of how global events shape British responses to local communities, 3. Enhancing comprehension of the connections between local (diaspora) communities and their countries of origin, including the sharing of discourses, entertainment preferences and ideological attitudes.
Build media resources within minority communities that actively encourage capacity building, and that can provide tools, such as media training programmes. The goal: to engage community members, especially youths, in developing skills for effective media planning, and interaction.
Encourage trusts, foundations and other civil society and mainstream opinion-forming organizations to partner with and include Muslim and other minority representatives, especially women.
Actively support all affirmative engagement with majority community values through positive role models the Muslim community can identify with.
Promote opportunities for Muslim role models to provide inspiration to minority groups, including youth and women.
Support British media productions (drama series, soap operas, documentaries, films, talk shows, game shows, reality TV and other entertainments) that feature minority figures and local minority group issues. The goal:  to raise the competitive edge of British output vis-à-vis the consumption needs of this audience, and increase the visibility of British, over country-of-origin, media offerings.
Encourage clear definitions of radicalisation (as terminology) to be circulated within the law enforcement and security agencies, and put in place guidelines to protect individuals from agency profiling.  
Assign minority group coverage to non-minority reporters and editors, so as to broaden awareness and avoid 'ghettoisation' of minority coverage. Develop and promote context-sensitive awareness and language use among staff. 
---

The text in this work is licensed under a Creative Commons Attribution 4.0 International License. For image use please see separate credits above.
---