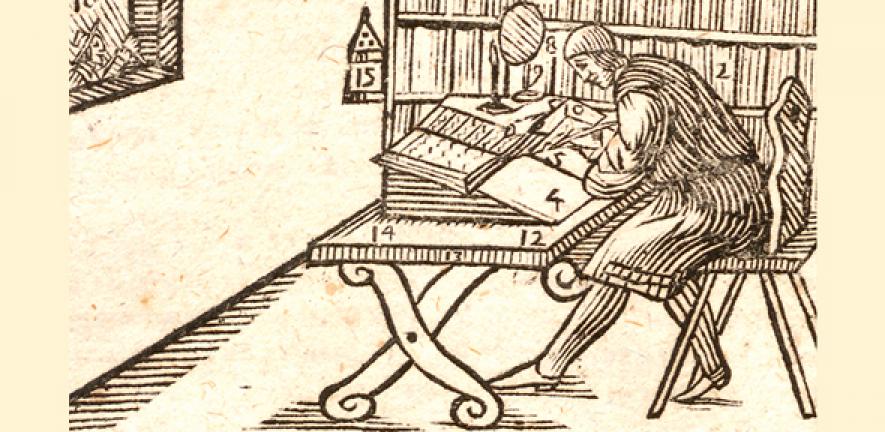 An examination of historic notebooks shows that physicians, and the families who called on their services, made consistent efforts to learn from their experiences at the bedside.  A conference beginning today will explore the contents of these notebooks and the ways in which they were organised, annotated and used. 
Notebooks are as important to the history of science and medicine as are laboratories.

Dr Lauren Kassell
One of the many treasures of the Wellcome Library is a medical recipe book compiled by Johanna St John in the late 17th century. On the inside cover the author has noted that "Cow Piss will cure a Dog of the mang washing ther with".  One of many entries for the treatment of ague (fever) reads: "Take 6 right civel oranges pare the outward rhind as thinn as possible and put it into a pint of true sherry sack give two spoonfuls night and mornings the well days & also the fitt days & an hower before the fitt this also is good for the wormes."
The early modern period (1450-1750) was awash with health-related information and Johanna St John suggests cures for a coughs, colds, cramps and 'colick' as well as a solution containing oak bark for treating "a Bulock that pisseth blood". Many are attributed to the friends, relations and doctors who had recommended them. Her notebook is one example of the preoccupation for recording recipes and remedies at a time when plague periodically swept through whole communities, prompting many households to create their own libraries of health-related knowledge.
At a conference starting at Cambridge University today, Dr Elaine Leong, from the Max Planck Institute for the History of Science in Berlin, will discuss the notebooks kept in the 17th century by three English families – the Boscawens, the St Johns and the Temples. She will explore the note-taking strategies that these wealthy, landed families adopted to manage their growing collections of material related to all kinds of topics, including the pressing matter of keeping sickness at bay and the household healthy. 
Titled 'Notebooks, Medicine and the Sciences in Early Modern Europe', the two-day conference will bring together some of the world's foremost scholars in the history of medicine, the sciences and the production of knowledge. They include Professor Anthony Grafton of Princeton University, who will talk about the surviving notebook kept by the Basel professor of Hebrew, ethnologist and censor Johann Buxtorf I (1564-1629), and Professor Richard Yeo of Griffith University, who will discuss the notebooks of physician and philosopher, John Locke (1632-1704).
The meeting is the first of a planned series of four conferences organised by the Notebooks Network, a virtual community of scholars brought together by Dr Leong in collaboration with Dr Lauren Kassell at the Department of History and Philosophy of Science, University of Cambridge.  The Notebooks Network is closely linked to the Casebooks Project, an initiative that Dr Kassell set up to make available the astrological records of Simon Forman and Richard Napier.
The sessions will explore not just the contents of early modern notebooks in relation to the burgeoning interest in science but also how, at the start of the early modern period, the growing availability of paper was contributed to transformations in how information was ordered and communicated. "This was the era of the scientific revolution and the rise of experimental knowledge," said Dr Kassell. "Notebooks are as important to the history of science and medicine as are laboratories."
The notebooks of the Boscawens (Devon Record Office), St Johns (Wellcome Library) and Temples (British Library) reveal some of the means by which information was exchanged. "Know-how was communicated during medical consultations with physicians and other medical practitioners, around dinner tables with friends and family, scribbled on little paper slips and sent with letters or tucked away in the pages of the myriad of printed medical books that were available in the 17th century," explained Dr Leong.
"The contents of these wonderful family treasuries range from recipes detailing how to make secret remedies to gardening tips for harvesting herbs. An in-depth study of the ways in which these materials were organised gives us a rare glimpse into practices of natural inquiry and knowledge management by people who were not professionals themselves but had a huge incentive to learn more about ailments and how to treat them."
Professor Michael Stolberg from the University of Würzburg will talk about the notebooks kept by 16th century physicians, focusing on the handwritten records kept by a Bohemian practitioner called Georg Handsch.  "Some of his entries offer a complete history of a patient's disease, sometimes on a day-to-day basis. Others are limited to brief, isolated observations.  These notebooks, which have been neglected by historians, were an important tool of knowledge production, and they reflect a vigorous and consistent effort to learn from personal experience at the bedside," said Professor Stolberg.
"In the notebooks of Handsch, we find physicians trying to establish general diagnostic and therapeutic rules, based on what they saw in individual patients. We find them questioning accepted medical knowledge – including that of Hippocrates – when it conflicted with their own observations. In Handsch's case there are various entries on 'errors' he thought he had made in certain cases and wished to avoid in the future. There are even records of experiments carried out to assess the effects of poisons and antidotes."
Many notebooks contain a mix of written material – some of it copied from other sources, some of it dictated to a scribe, some of it recorded first-hand by those who experienced it. Professor Ann Blair from Harvard University will look at early modern attitudes to delegating copying and note-taking. She explained: "Some early modern pedagogues recommended taking dictation and copying as a mental and physical discipline that sharpened attention and retention. On the other hand, copying was also described at the time as a mechanical process best delegated to helpers. In practice some scholars did a lot of writing themselves while others dictated and delegated copying to others."
Dr Adam Smyth, from Birkbeck, University of London, will take a tangential look at notebooks through the works of William Shakespeare, Ben Johnson and John Milton.  He will question the modern myth of disembodied literary creativity and ask what literary creativity means amid a culture of commonplace books and note-taking.  In a discussion of marginalia (annotations in the margins of books), Professor Bill Sherman, University of York, will show examples of books he has collected containing readers' marks that are graphic in some sense, whether doodles or fully fledged illustrations.
The popularity of the conference, which has attracted participants from all over the world and was oversubscribed within weeks of the call for participants, reflects the appetite among scholars to reflect on modes of reading and writing. Dr Kassell commented: 'As digital technologies transform how we work and think, we're reconsidering what it meant to live in a world where paper technologies were an innovation."
The conference 'Notebooks, Medicine and the Sciences in Early Modern Europe' takes place 12-13 July at the Department of the History and Philosophy of Science, University of Cambridge.  http://notebooks.hypotheses.org/workshops/notebooks-medicine-and-the-sci...
For more information on this story contact Alex Buxton, Office of Communications, University of Cambridge, amb206@admin.cam.ac.uk 01223 761673
Inset images taken from pages of a book of medical recipes recorded by Johanna St John in the late 17th century
---
This work is licensed under a Creative Commons Licence. If you use this content on your site please link back to this page.
---