A powerful life-logging tool which captures and stores memorable moments in people's lives is being developed by two researchers who argue that it could improve public well-being.
We want to empower people with complete evidence about their lifestyles.

Dirk Trossen
A "life-logging" tool which tracks users' behaviour through their smartphones and computers, then combines this to form an intricate, digital depiction of their day-to-day lives, has been devised by researchers.
The academics behind the software, called "Storica", say that their creation will enable people to capture moments they might otherwise forget, and at the same time monitor the influences which are having the biggest impact on their lives.
The researchers - Dirk Trossen, at the University of Cambridge, and Dana Pavel, at the University of Essex – are now planning to commercialize Storica with the help of the crowd-funding website, Kickstarter. Their aim is to refine the software and release it in time for people to start recording their lives over Christmas.
"Life-logging" is an increasingly popular concept, which capitalises on the fact that many smartphones have sensors which can record facets of peoples' behaviour – such as where they are, how fast they are moving, or how noisy their immediate environment is. In addition, fitness sensors can now be attached to phones, monitoring the owner's exercise and sleep patterns.
Until now, however, most lifelogging apps have monitored specific aspects of people's lives, such as their fitness, food intake, or mood. Storica will attempt to create a more complete picture, then play that back to users in fine detail, via a mind-boggling array of visual depictions.
The prototype gathers most of its information automatically, both from sensors in the user's smartphone, and from their desktop computer. The user can, however, make their own annotations, adding details about what they are doing and how they feel, as well as images, videos and sound recordings.
All of this data is kept on the Storica platform, which becomes a personal digital diary. Memorable moments, such as experiences on a holiday, can be turned into digital stories, highlighting events during the day using multimedia. The software can also create timelines, maps, and tagclouds, allowing people to retrieve an abundance of data about what they have been doing in more detail.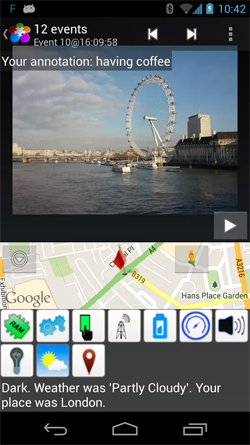 "On a simple level, it's often hard to remember what you were up to last week, let alone last year, and Storica will enable you to recall that," Trossen, who is based at the University of Cambridge Computer Lab, said.
"At a more profound level, however, the software can also record information about what prompts certain behaviours, or when we are at our most stressed out, or relaxed. Over time, it should enable users to improve their awareness of the factors which are shaping their lives, enabling them to analyse their lifestyles and hopefully improve them for the better."
Storica utilises an Android app called AIRS, which was released by Trossen and Pavel in 2011 and has so far had 12,000 downloads. When used on a smartphone, it can automatically capture information about where a person is, how light it is, the atmospheric pressure, who they are with, who they are calling or messaging, and how much they are using social media.
On a desktop computer, Storica gathers extra information as well – such as which applications are opened most often, and which web pages users have visited. At all times, however, users are in control of choosing what they want Storica to monitor, and what activity they would prefer the application to ignore.
Despite the privacy implications of such comprehensive data-gathering, none of the information that Storica records leaves the control of the end user, e.g., through saving on commercial servers. Instead, it is all saved to the user's own devices (mobile and/or desktop), and remains exclusively their property, not that of the researchers.
The digital stories which Storica creates, as well as the detailed data visualisations are, however, fully shareable on social media as short movies or images. In addition, the software is group-usable, so that a number of people can contribute to a single digital diary at once. For example, on a holiday, every member of a family could record their own experiences and photographs, then, through Storica, play the collective experience of everyone who was there back as a single digital story.
Trossen and Pavel are now hoping, through Kickstarter, to raise £50,000 to expand the system by, for example, improving the synchronisation of the data recordings, refining the system's overall look, and integrating some newly-released fitness devices. If successful, they will then aim to release the first commercial version of Storica in time for Christmas, so that people can record their winter holiday experiences.
"Unlike comparable systems, this isn't just about logging your life – it's about giving you the tools to better understand what makes your life the way it is," Trossen added. "We want to empower people with complete evidence about their lifestyles, while at the same time preserving the fun of recollecting memorable moments."
To find out more about Storica, and contribute to the Kickstarter appeal, click here.
For more information about this story, please contact Tom Kirk, Tel: 01223 332300, thomas.kirk@admin.cam.ac.uk
---
This work is licensed under a Creative Commons Licence. If you use this content on your site please link back to this page.
---