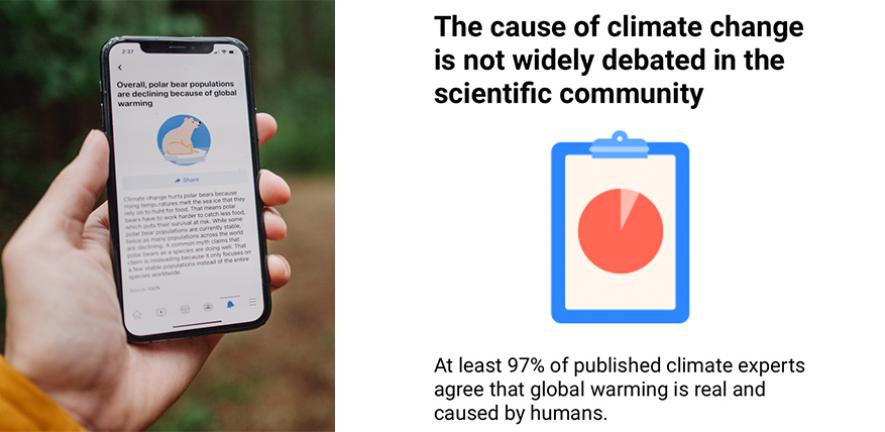 Social media giant turns to behaviour and communication expert Dr Sander van der Linden to help them tackle the dangerous anti-science myths that circulate online.  
Facebook is in a unique position to counter the circulation of online misinformation

Sander van der Linden
Facebook has sought the help of experts on anti-environment propaganda, including a Cambridge psychologist, to improve their Climate Science Information Centre and help more of the platform's almost three billion monthly users find the latest accurate climate science data.  
Dr Sander van der Linden is one of three experts on behaviour and communication to have been drafted in by the social media giant to advise on how best to debunk the toxic myths about global heating that spread like wildfire on digital platforms such as Facebook.
Along with academics from Yale and George Mason universities, Van der Linden has helped Facebook to expand their digital Centre, which connects its users with vetted, proven research from the world's leading climate change organisations, including the UN Environment programme.
Van der Linden and colleagues worked with teams at Facebook to design the most effective types of communication for the platform's misinformation debunking initiative, including a section that challenges damaging climate change myths, such as the belief that global warming is just part of a natural cycle of temperature fluctuation, and that more atmospheric carbon dioxide greens the planet.      
Already available in the US and parts of Europe, today also marks Facebook's expansion of their Climate Science Information Centre's availability to other major nations including Brazil, Canada, India, Indonesia, Nigeria and Spain.  
"Climate change is an existential threat, which makes misinformation about climate change an existential threat," said Van der Linden, Director of the Cambridge Social Decision-Making Lab at the University's Department of Psychology.
"The spread of damaging falsehoods endangers the level of international cooperation required to prevent catastrophic global warming. Facebook is in a unique position to counter the circulation of online misinformation, and the new climate 'mythbusting' section is an important step toward debunking dangerous falsehoods."
"We hope this collaboration will help people the world over to better discern fact from fiction," Van der Linden said.
In an article published to Facebook's Newsroom, the company contends that fighting climate change starts with 'fighting the misinformation around it'. 'We will keep working to expand the Climate Science Information Centre, providing trusted information from verifiable sources, and, we hope, inspiring people to take action in their community,' it states.
Dr Anthony Leiserowitz from the Yale Program on Climate Change Communication, who worked with Van der Linden and Dr John Cook from George Mason University, said that while misinformation about climate change long predates the internet, it has been "greatly amplified in our new digital world".
In an additional UK-specific trial, Facebook says it will automatically label posts containing climate change misinformation with one of several tags that not only direct users to the new Centre, but issue them with a short corrective message – such as the fact that 97% of the world's scientific community are in agreement about the threat of global heating.
Van der Linden has previously conducted research showing that presenting facts in the form of a statement about consensus can encourage agreement, and work right across the political spectrum to pull people's opinions closer to the truth.
He has even showed that facts about scientific consensus can be used to 'pre-bunk' – pre-emptively debunk – the public against climate misinformation, in a form of psychological 'inoculation'. More recently he has worked with colleagues and the UK Cabinet Office to adapt these techniques to tackle conspiracy theories about COVID-19.    
Facebook says that, in nations where its Climate Science Information Centre is yet to become available, the platform will direct people to the UN Environment Programme website. Nancy Groves from the United Nations said that it aims to continue working with Facebook "to dispel myths and to provide access to the latest science on the climate emergency."   
---

The text in this work is licensed under a Creative Commons Attribution 4.0 International License. Images, including our videos, are Copyright ©University of Cambridge and licensors/contributors as identified.  All rights reserved. We make our image and video content available in a number of ways – as here, on our main website under its Terms and conditions, and on a range of channels including social media that permit your use and sharing of our content under their respective Terms.
---