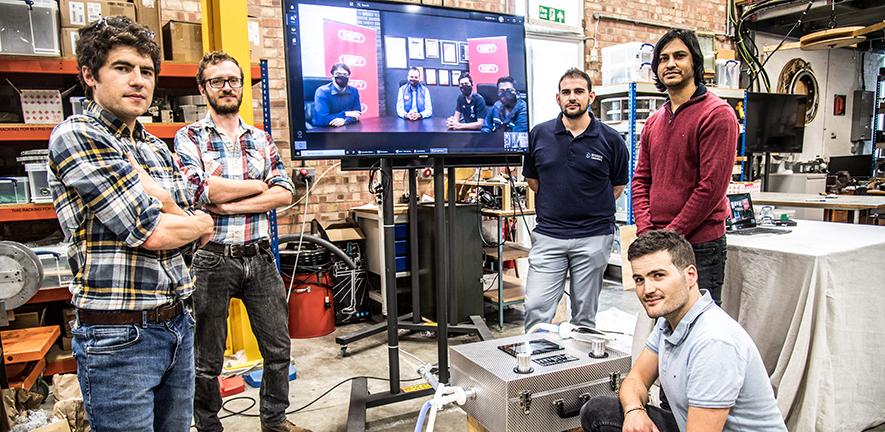 Two teams of Cambridge engineers have been recognised by the Royal Academy of Engineering for their work during the COVID-19 pandemic with the President's Special Award for Pandemic Service.
The engineers, from the Institute of Manufacturing and the Whittle Laboratory, are among the 19 winners announced today for exceptional engineering achievements in tackling COVID-19 in the UK. In addition, two Cambridge alumni, Dr Ravi Solanki and Raymond Siems, were recognised for their work with the HEROES charity. In less than two days, their team turned an idea into a platform with genuine impact: a secure website through which more than 543,000 items of much-needed support have been provided to NHS workers, from sustainable PPE to counselling services and child care.
The awards have been made to teams, organisations, individuals, collaborations and projects across all technical specialities, disciplines and career stages within the UK engineering community who have contributed to addressing the challenges of the COVID-19 pandemic.
Open Ventilator System Initiative
The team behind the Open Ventilator System Initiative was recognised for their development of a high-performance ventilator for manufacture in low and middle-income countries that became the first intensive care quality ventilator to be manufactured in Africa.
In March 2020, as Covid-19 infection rates were rising dramatically in Europe, the number of infections in many low- and medium-income countries remained low. However, it was predicted that towards the summer these rates would start to increase. This was especially worrying due to the low number of ventilators available in the developing world.
In response to these fears, a team at the University of Cambridge and a number of companies within the Cambridge cluster designed a high-performance intensive care ventilator for manufacture in low and middle-income countries. The aim was to develop a ventilator with a price point that was a factor of 10 lower than what was currently available, which could be manufactured from readily available components and which could be manufactured in-country. The result was the first clinical grade ventilator to be manufactured in Africa.
An engineering team led by Dr Tashiv Ramsander at Cambridge Aerothermal Ltd was quickly assembled at the Whittle Laboratory, and comprised people from several departments at the University of Cambridge and a range of local companies including Cambridge Aerothermal, Beko R&D, Cambridge Instrumentation and Interneuron.
Together, this multidisciplinary team was able to solve problems such as the design of a pressure relief valve, inspired by the mixing nozzles on the Rolls-Royce Trent 1000 aircraft engine. The design removed flow instabilities, resulting in a more stable operation than any commercially available valve.
The clinically driven design was developed with the help of two senior intensive care clinicians with experience of treating COVID-19. They argued that a design for developing countries needed to be more versatile than the UK government specification and the final design can operate in non-invasive, mandatory or patient-triggered ventilation modes.
For more than eight years the Whittle Laboratory has been developing a rapid technology development process for the aerospace and power generation sectors. During the pandemic this process was switched to develop a clinical grade ventilator within a week and allowing a rapid response to design changes driven by the pandemic, cost reduction and clinical demand.
The final Open Ventilator design can be manufactured mostly from standard parts, anywhere in the world that it is needed.
The reach and impact of COVID-19 in developing countries is not yet known, but this new design - the first intensive care quality ventilator to be manufactured in Africa - could prove to be a gamechanger when it comes to a host of conditions including pneumonia, as well as COVID-19. Childhood pneumonia killed 162,000 children in Nigeria alone in 2018.
There are very few ventilators in Africa, due to their high cost, inability to operate in harsh environments and a lack of local maintenance expertise. The team realised these problems could be solved by manufacturing the equipment in Africa. The Cambridge engineering team assembled a wider manufacturing team that includes Defy and Denel Land Systems in South Africa, Beko R&D and Prodrive in the UK and Arçelik in Turkey. This team delivered the first 20 preproduction ventilators in South Africa in June.
"The result is a design that will save countless lives in the developing world where ventilators are scarce and many that exist cannot achieve the quality of performance that the Open Ventilator offers," said Professor Richard Prager, head of the Department of Engineering. "It is a scalable solution. The high-performance open-source design will enable companies across the world to make systems wherever they are needed, and at a price that is compatible with the local healthcare systems."
Institute for Manufacturing
The IfM team helped local hospitals to make the best use of their resources, streamlining logistics for sourcing and storing vital PPE, informing decision-making on emergency demand, and developing a ventilator sharing system to be used in emergencies. 
As hospitals scrambled to make the necessary operational changes needed to accommodate COVID-19 patients, a team of staff and students from the Institute for Manufacturing (IfM) at the University of Cambridge was there to help. Working with clinicians and senior healthcare managers to assess the immediate and emerging operational challenges facing local hospitals, they identified where these could be addressed through the application of engineering capabilities and coordinated the roll-out of solutions.
The IfM team addressed three groups of tasks between March and May in the areas of hospital logistics, personal protective equipment (PPE) delivery and intensive care unit (ICU) equipment development.
In the hospital logistics area, the team applied industrial engineering approaches to COVID-related challenges including modelling in-hospital patient flows, redesigning COVID-19 testing procedures and managing oxygen supplies to the wards.
Understanding oxygen flow through the local hospital involved examining pipes and their layout, then analysing usage by ventilator type and patient need, as well as modelling supply and demand. The in-depth work of the IfM team enabled the hospital's clinical and estates teams to identify and address various bottlenecks and improve operational efficiency.
The team also looked at the design, setup and management of a temporary logistics hub for coordinating the delivery of millions of items of donated PPE and assessed the production capabilities of local manufacturers to increase flexibility of PPE supplies for local hospitals.
In conjunction with anaesthetists at Royal Papworth Hospital, they also devised an active ventilator sharing system in case there were not enough ventilators available during the COVID-19 outbreak. This involved the accelerated design, prototyping and in-hospital testing of an active ventilator sharing system in just four weeks.
Duncan McFarlane, Professor of Industrial Information Engineering at the IfM, led the team as they engaged with senior clinical and management teams within local hospitals to understand their needs and implement effective and collaborative ways of working. This involved joining the hospital's regular operations planning meetings and running daily project reviews with key hospital personnel during the peak COVID-19 surge, as well as working directly with clinicians in areas such as COVID-19 test processes, ward oxygen supply, and equipment design.
The IfM team helped local hospitals make the best use of their resources and streamlined logistics for sourcing and storing vital PPE and other issues, enabling healthcare providers who were already feeling the strain to address pressing operational challenges.
In addition, the IfM provided analytical approaches for informing decision making at Cambridge University Hospital (CUH) on emergency demand. The Trust is also using the team's findings to forecast changes to demand for beds, equipment and staff when social distancing measures are relaxed or modified further. The hospital said the engineers brought diversity of perspective and a joint CUH–IfM panel has been initiated so that the hospitals and the IfM can continue working together for mutual benefit after the pandemic.
"The team gave key support efficiently and skilfully when it was most needed, with no fuss and maximum impact: engineering at its best," said Professor Prager. "The team found a way to work with the clinicians without taking up too much clinical time. They found the problems that needed solving and got on with solving them. They stepped up when they were needed and made a real difference. For this, we should be proud of them."
Professor Tim Minshall, Dr John C Taylor Professor of Innovation and Head of the Institute for Manufacturing, said: "It makes me so proud to see the way in which our students and staff – academic, research and administrative – were able to rapidly understand and help address the operational challenges facing the amazing teams at Addenbrooke's and Royal Papworth during this crisis.
"We are also delighted that there is such enthusiasm from both CUH and the IfM to build upon this experience and to develop ongoing collaboration in applying industrial engineering capabilities to healthcare system needs."
How you can support Cambridge's COVID-19 research effort
---

The text in this work is licensed under a Creative Commons Attribution 4.0 International License. Images, including our videos, are Copyright ©University of Cambridge and licensors/contributors as identified.  All rights reserved. We make our image and video content available in a number of ways – as here, on our main website under its Terms and conditions, and on a range of channels including social media that permit your use and sharing of our content under their respective Terms.
---