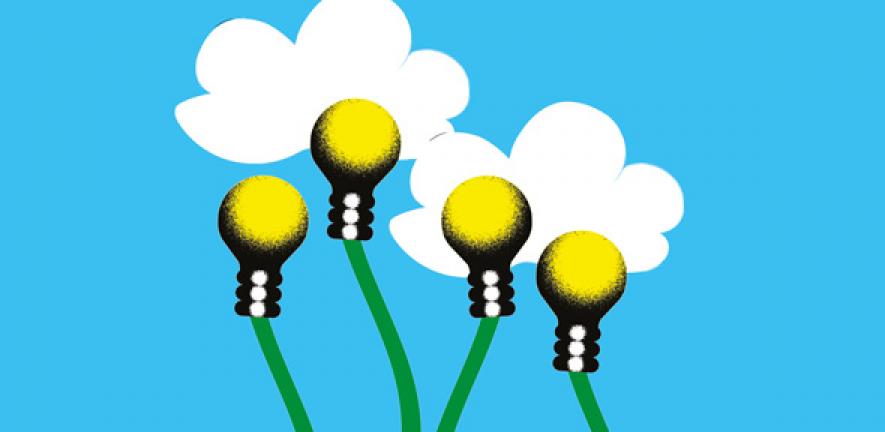 When it comes to starting social enterprises, Paul Tracey and Neil Stott would love "to see a thousand flowers bloom". But doing good for society isn't as straightforward as it sounds and even the best ideas can fail. Their research aims to understand the elements that are needed to help social ventures thrive.
We're excited because there's a real zeitgeist. Young people are as concerned today about making a difference as they are with making money. Social enterprises are taking off and we want to help them flourish.

Neil Stott
Oliver Armitage wants to make bionic limbs effective and affordable for amputees everywhere. Kate Nation wants to help young women gain confidence and self-esteem through work. Riaz Moola wants to tackle the educational inequalities he saw growing up in Africa by offering programming tuition online.
Oliver, Kate and Riaz are part of a movement of entrepreneurs that's been growing rapidly in the UK since the mid-1990s. United by a passion for addressing deep-rooted societal problems, they aren't looking to solve them with cash, instead they want to have a positive impact through business and enterprise. 
Social enterprises like the organisations that each of them runs (respectively Cambridge Bio-Augmentation Systems, Turtledove and Hyperion Development) are designed to improve people's lives. According to the UK's Department for International Trade, social enterprises also contribute £55 billion to the economy through jobs, goods, services and investing in local communities; no wonder it's been said that "when a social enterprise profits, society profits."
But, say Professor Paul Tracey and Dr Neil Stott, ensuring a social enterprise thrives is not always straightforward. "Doing good has increasingly been seen by government and others as the new game in town and investment and policies – including those launched by the UK government's 'Big Society' in 2010 – have swiftly followed," says Tracey, Professor of Innovation and Organisation at Cambridge Judge Business School. 
"Social investment in the UK is growing by 30%, and a report last year suggested the UK is leading the way globally in effective policy around social enterprise and social investment."
"This is of course excellent," says Stott, who with Tracey co-directs the Cambridge Centre for Social Innovation. "But we felt that there were a few problems – that the rhetoric of success and the reality were a long way apart. Social enterprises are often started with great intentions but a lack of understanding about what's needed to make them sustainable. Too many great ideas wither and die. Everyone – policy makers, academics, practitioners – think it's a good thing per se. We wanted to lift up the stones and see what's underneath.
 "Even though we'd like to see a thousand flowers bloom – lots of people being social entrepreneurs – if you want to make change in the world, having this passion is not enough," adds Stott. "The challenges can be both immense and unique to any particular social venture."
Stott cites Keystone Development Trust, a social enterprise he ran in a part of the UK that has experienced a significant influx of migrants. Keystone was one of the organisations in the area that offered a dedicated programme of support. What the organisers didn't expect was that some members of the established local population, many of whom also benefited from Keystone's activities, would ultimately stigmatise them.
In fact there was a positive outcome, he says, in that this withdrawal of support was compensated for by increased support from others who saw the organisation as representing a set of values they wanted to uphold.
Tracey and Stott realised that businesses could learn much from understanding both the failures and the successes of others, and so an integral part of the Cambridge Centre for Social Innovation's work now revolves around an incubator – Cambridge Social Ventures – which supports social entrepreneurs to start and grow a social venture.
We're not looking for entrepreneurs who happen to create benefit, as good as that is. We're looking for people who are passionate about social change and are designing their venture for that purpose.

Paul Tracey
Initially funded with £1m from the government, Cambridge Social Ventures began life as Social Incubator East, a partnership between Cambridge Judge Business School, Allia, Foundation East and Keystone Development Trust, and has since become embedded in Cambridge Judge Business School. Nearly 100 early-stage and well-established social entrepreneurs – including Oliver, Kate and Riaz – have now come through a 12-month mentoring and support system, and a further 500 have been helped through weekend programmes. 
"We're not looking for entrepreneurs who happen to create benefit, as good as that is," says Tracey. "We're looking for people who are passionate about social change and are designing their venture for that purpose. 
"We're helping them with business advice, and we're also studying them. We want to get a sense of motivation, ideas and practices, how – or if – social objectives are traded off with business objectives – and how all of this affects the way a social venture develops."
They describe it as a greenhouse – where the 'doing' of social enterprise feeds both research in the Centre and teaching on a new Master's course, which in turn is training future social innovators. "Our unofficial strapline is Think Teach Do," says Stott.
"Once people have identified as a social entrepreneur and are suddenly in a room with others, they learn and they forge partnerships," says Belinda Bell, Programme Director of Cambridge Social Ventures.
One example is Oliver Armitage and his team at Cambridge Bio-Augmentation Systems (see panel below) working with John Willis and his charity, Power2Inspire, which encourages people of all ages and abilities to take up sport together. 
Cambridge Bio-Augmentation Systems aims to make the most advanced bionic technology affordable and effective for anyone who needs it. After meeting Willis, who was born without fully formed arms or legs, Armitage and colleagues designed four different devices to attach to a prosthetic socket that would help him kayak, row and play archery and tennis as part of his successful challenge to take part in 34 Olympic and Paralympic sports. The designs for the devices are now freely available to download and print in 3D. 
Tracey and Stott say this is 'extrapreneurship' in action – the creation of novel solutions by partnerships that come about through support mechanisms like Cambridge Social Ventures. They realised that a new framework was needed to describe how social ventures work in practice. While 'extrapreneurship' is the building of support networks like the incubator, 'entrepreneurship' is the creating and growing of a venture, and 'intrapreneurship' is the embedding of social objectives in the activities of established companies.
"There are many different approaches that individuals and organisations can take when addressing social problems, and these may have relatively little in common with each other," says Tracey. "The result is researchers sometimes talk past each other and end up comparing apples with pears, which is a barrier to knowledge creation."
Their research has also suggested that social entrepreneurship in isolation is not enough: "If you want to make real change you have to involve the corporate sector and the public sector in business," explains Tracey. "The businesses that fail quickly are frequently operating at a small scale, in some of the most challenging areas of the country – places where regular businesses don't flourish because people don't have that much disposable income. Working with corporate and business sectors can provide security and sustainability."
"We're excited because there's a real zeitgeist – right place, right time," adds Stott. "Young people are as concerned today about making a difference as they are with making money. Social enterprises are taking off and we want to help them flourish."
Neil and Belinda were recent winners of a Vice Chancellor's Award for Public Engagement for their work in establishing Cambridge Social Ventures.
---
Bionic bodies: redefining the limits of the human body.
"When the team showed me their plans, it dawned on me that this could change my life," says James Young. "If I was offered a human arm and leg now I wouldn't want it."
Young is a double amputee and is describing when he first started working with the team of entrepreneurs, scientists, engineers and doctors behind Cambridge Bio-Augmentation Systems (CBAS).

CBAS is led by Cambridge alumni Oliver Armitage and Emil Hewage, who were undergraduates and postgraduates at the University. When they were engineering students, they discovered a mutual interest in how technology could be used to push the boundaries of what's possible in healthcare.
"My first idea was to make the best prosthetic arm or leg. But what is the best?" says Armitage. "It's a limb that's attached so well that there is complete control, where the hand moves without deliberate thought, where the machinery listens to muscles tensing, where the sensory feedback is complete. That's when I started thinking about the connector."
The connector is an interface. It's the boundary between man and machine that can enable an amputated limb to become fully functioning, or 'bionic'. The vision at CBAS is to make the technology affordable and available to as many as possible, and the best way to do this for amputees, they believe, is to develop standardised interfaces on which to build prosthetic devices.
"Integrated bionics unlocks a cheaper and far more effective model for treating chronic conditions," says Hewage. Amputees can suffer discomfort and limited functionality with conventional prostheses. Instead, CBAS is developing a permanent connection, a prosthetic interface device (PID), between bionic devices and neural and soft-tissue systems within the body of any amputee. "It's like a USB port," he adds. "The user would 'plug and play' whatever limb or device they need. They could even print the add-ons using a 3D printer at home."
The PID should not only lower the cost of artificial limbs by around 60% but also reduce the time-consuming adjusting and refitting of custom-made prostheses because any prosthetic limb can be designed to attach to the standardised interface. The implant also shifts the weight of the limb to the patient's skeletal system, reducing uncomfortable friction.
"There are growing numbers of amputees globally," adds Hewage. "Diabetes and cardiovascular disease cause a lot of planned amputations, and for patients with these conditions using this standardised approach reduces the cost."
CBAS hopes for a first in-human use of a fully neurally connected implant for an amputee in 2018. Armitage explains that their aim is for two-way brain communication: "Full control of the arm or leg with the brain, with pinpoint accuracy, and full sensory feedback to the brain. We want it to be possible to do something as complex as writing."
He and Hewage set up CBAS two years ago, at the same time that Hewage was working on his PhD in computational neuroscience in the Department of Engineering.
Ensuring that what they make is not only effective but also accessible and affordable was a goal from the start. "We're not interested in building a single product for a single condition," Armitage says. "We've seen the amazing things that can be done with amputees but it's always a research study costing millions that benefits just one person. We want to have a larger impact."
He describes this social enterprise aspect of CBAS as an 'impact venture'. "Wanting to run a company and have an impact – they aren't separate, they can't be," he explains. "If you have a piece of technology that you believe could have a huge positive impact on a large number of people, the only way to do this at scale is as a commercial venture."
"Many chronic conditions depend on long-term use of pharmaceuticals or devices," he adds. "We believe that innovative engineering could offer significant patient benefits in terms of avoiding side effects, increasing comfort and functionality, and reducing healthcare costs, whether it's in the form of a smart pacemaker, insulin dispenser or prosthetic limb."
What drives Armitage, as it did during his PhD research in Cambridge on the engineering of biological systems, is the desire to understand how nature might work better with the aid of technology. "Evolution is a progression and we're at a point in it," he says. "Let's see where we go."
Inset image: James Young; Credit: CBAS.
---

The text in this work is licensed under a Creative Commons Attribution 4.0 International License. For image use please see separate credits above.
---