Five hundred years ago the masons working on one of the world's most famous buildings completed the stonework of a chapel conceived some 70 years earlier. For several decades, King's College Chapel had stood partially built in the heart of Cambridge. The story of the chapel is told in riveting detail by John Saltmarsh, who died in 1974 before completing his magnum opus.
Saltmarsh's legacy to the college he loved is a book that brims over with snapshots of the achievements not only of the rich and powerful but also of the ordinary people
In the mid-1950s a fellow and archivist of King's College, Cambridge, was asked to write a 10,000-word history of the building closest to his heart. John Saltmarsh never tired of showing visitors around King's College Chapel, one of the world's finest examples of late perpendicular gothic architecture and a building ablaze with Tudor symbolism. Saltmarsh was the perfect man for the task: he was an economic historian with a particular interest in the medieval world; he was a meticulous researcher; and he was a gifted writer.
But Saltmarsh was also an eccentric. He exceeded his 10,000 word brief – or rather he totally ignored it. By the time he died, in September 1974, Saltmarsh had turned his extraordinarily detailed research in the King's College archives, or 'muniments' as he knew them, into a manuscript of approximately 220,000 words typed on a manual typewriter. There was yet another snag:  when cancer overtook Saltmarsh, he had still not completed his manuscript, which bore copious notes and handwritten corrections. Impressively, none of the facts that he marked with the word "check" have later been found to be incorrect.
Writing two months before he died, Saltmarsh expressed the hope that King's College Chapel: A History and Commentary would one day be finished: "This is a large book on which I have been engaged for many years, and on which many years' work remains to do. If I am unable to complete and publish it, I hope that a typescript copy will be kept in King's College Library for the use of future scholars." For four decades, several versions of Saltmarsh's manuscript lay safely in King's College archive while the college struggled with the problem of publication.
Meanwhile the chapel itself approached its 500th anniversary. It was in 1515 that the extraordinarily ambitious stonework, conceived by Henry VI and begun by the master mason Reginald Ely, was completed by workmen overseen by John Wastell. Beneath a timber roof, which was clad with lead to keep out the weather, teams of masons spent months perched on scaffolding to assemble the chapel's celebrated fan vaulting which ascends to the elaborate bosses punctuating the great spine of the building.
Last year, the decision was made to publish Saltmarsh's unfinished work in full, complete with his many notes. During its years unpublished in the archives, his manuscript had become something akin to a treasure in its own right as well as a precious resource for anyone interested in the making of a masterpiece. Wisely, the college concluded that to tamper with Saltmarsh's unfinished opus would be a mistake. His book was perhaps destined to remain forever a work in progress – and Saltmarsh himself was famously infuriated by the slightest editorial interference.
The chapel, too, was an ambitious project that spent a long time in gestation. Plans were first drawn up in the 1440s according to instructions from Henry VI, whose statue stands in the college's front court. Construction went in fits and starts as political upheaval depleted the royal coffers. The chapel's growing pains are clearly visible on its outward flanks where the stone changes from white magnesian limestone quarried in Yorkshire to oolitic limestone from Northamptonshire. Late in his reign, Henry VII came to the rescue, sending funds in two instalments (an oak chest on display in a side chapel contained £500) to fund the labour and materials to bring his predecessor's vision of an important building to fruition.
King's College Chapel exudes importance – worldly as well as spiritual. As Saltmarsh explains, its central location marked a bold departure from the sites chosen by earlier Cambridge colleges, which hunkered down among the narrow lanes, almost invisible to the passer-by. Under Henry VI's directions, a whole area of the town was purchased. Several hostels, a church and half a street were cleared to make way for a chapel of impressive dimensions, its supersize inspired by the King's visit to Winchester Cathedral – all this to serve a college with just 20 scholars.
The chapel is free-standing, as are many of the buildings around it. But the original plan was for the building to form one side of an enclosed court, keeping the College members in and the townspeople out. In early drawings, this front court, entered from King's Parade (then known as the High Street), led to a cloister and bell tower. Had the structures which the college's founder, King Henry VI, envisaged for the space between the chapel and the River Cam been built, the Backs would look very different today – and the most iconic view of Cambridge would simply not exist.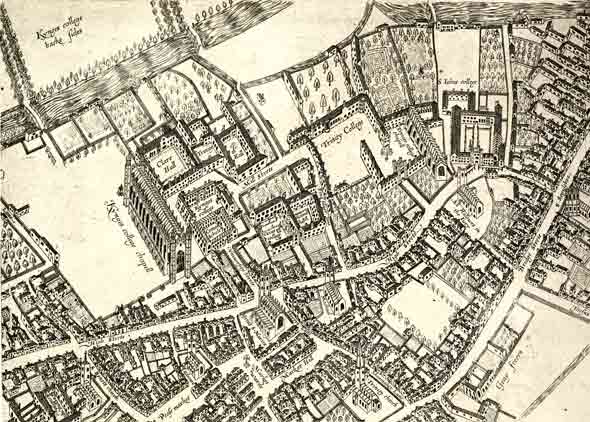 What makes the chapel interior so exceptional is its stonework. Its fan vaulting is the largest in Europe – sometimes described as one of the wonders of the world. Entering the building, the visitor is struck first by the upward reach of its fluted columns and then by the repeated armorials which bear the symbols of the most powerful, and only recently united, families in the land. Sinuous dragons are paired with sleek greyhounds to convey the bond between the houses of Tudor and Beaufort.
No-one knows how long Saltmarsh spent among the muniments, poring over medieval contracts and building accounts, and deciphering the handwriting of long-dead clerks of the works to unlock the chapel's secrets. His mind absorbed, and processed, the tiniest snippets of information. He recreates a world in which stone was transported down the waterways from Northampton, timber came from the woods at Ashdon Hales in Essex, and clunch (chalky limestone used as infill for the substantial walls) was hauled from the Cambridgeshire village of Barrington.
Saltmarsh was born into a family who can trace their ancestry back to the Normans. His father was a prosperous East Anglian farmer. Although educated at home by a governess and later at private schools, he spent much of his childhood among working people – in forges, farmyards and flour mills. His affinity for those responsible for growing, making and doing shines through. He discusses the craftsmen's techniques, backgrounds and seasonal work patterns, even, since many of them came from Bury St Edmunds, their probable Suffolk accents.
The cast of King's College Chapel runs into hundreds; many are mentioned by name. In 1508-9, a man named Edmund Cokerd supplied the college with '18 battering axes' while John Mondy was paid for '120 spikings' (large nails). Some key figures emerge: the individuals who steered the project forward, sometimes putting up their own money to cover costs. Saltmarsh paints vivid profiles of the master masons (the word architect had yet to emerge), Reginald Ely, Simon Clerk and John Wastell. Clerk, the less-known of the three, designed the fan vaulting.
It is thought that a number of carved faces, which appear in the ornamentation high up in the antechapel, might be portraits of some of the men who worked on the chapel. When the interior was cleaned in the 1960s, Saltmarsh was able to send photographers up the scaffolding to take pictures of these heads, hewn from stone and almost hidden from view in the detail of a series of tabernacles. These men are palpably real – stern, bearded, determined – their features chiselled into the fabric of the building.
Only one woman appears in the building records. Saltmarsh writes that Margaret Collens (or Colyeinson) "was in the rope and twine trade, and supplied the rope for the cart and the robinets, or hoisting tackle, and bottomed out the great sieves that were used for sifting lime". Typically, he adds: "Probably she was in business before as well as during her widowhood, for when she supplied ropes to the college in 1507-8 she was described in the Mundum Book [college accounts] as 'uxor Colynson' though in later years as 'relicta Colynson'." In Latin, uxor is wife while relicta is widow.
This charming detail is one of countless dozens: King's College Chapel is a mighty doorstop of a book. Lists and tables set out information gleaned from fortnightly accounts records of wages and payments for materials. The book's 95 plates were identified and sourced by its editors to match Saltmarsh's intentions. Despite his impulse to pursue, expand on and communicate the tiniest detail, Saltmarsh's text is not a difficult read. His sentences are short; his flow is admirably logical. The cadence of his prose is close to that of speech.
As a sought-after public speaker, Saltmarsh seldom turned down an invitation to talk to local groups.  But he was often unwell. At school, rather than taking part in games, he grew prize-winning sweet peas. His entire adult life was spent at King's where he was first an exceptional student and later archivist, librarian, lecturer and vice-provost. A dedicated scholar of local history, he took undergraduates on walks through Cambridge and out into the countryside, teaching them to observe and study their surroundings.
Saltmarsh's legacy to the college he loved is a book that brims over with snapshots of the achievements not only of the rich and powerful but also of the ordinary people. Against all the odds, they created a chapel that has for 500 years remained an integral part of the college and the wider community, not least on Christmas Eve when millions of people tune into the BBC to hear the treble voice of a chorister rising into the candle-lit space.
King's College Chapel: A History and Commentary by John Saltmarsh is published by Jarrold Publishing (2015). The book is edited by Peter Monteith, assistant archivist at King's College, and Dr Bert Vaux, linguistics specialist and fellow of King's. It is available from The Shop at King's.
Inset images: King's College Chapel: A History and Commentary by John Saltmarsh (Jarrold Publishing); A view of Cambridge including the chapel, drawn by John Hamond and dated 22 February 1592 (The Provost and Fellows of King's College, Cambridge); King's College Chapel (The Provost and Fellows of King's College, Cambridge).
---

The text in this work is licensed under a Creative Commons Attribution 4.0 International License. For image use please see separate credits above.
---