Research is combining film 'archaeology' with digital technology to create a new approach to 'sites of memory' for the London borough of Battersea.
It's a movie-rich area, as well as one that has been through – and about to go through – huge changes.

François Penz
In a disused railway arch, Richard Burton guns down the man who framed him before charging across overgrown scrubland with the law in pursuit.
Dereliction surrounds on all sides as the corrupt life of his character – gangster Vic Dakin – unravels. Residents peer over the balconies of grimy tower blocks to watch Dakin get cornered by police.
In 1971, the makers of Villain needed a suitably gritty location to shoot the dénouement of this now little remembered British thriller, so, like a number of similar films of the era, they chose the urban decay of the borough of Battersea – which 50 years prior had been a thriving centre of industry. 
Now, 40 years on from Burton's foray into the crime genre, this very spot is about to become the site of one of the largest regeneration projects in London's history, called Nine Elms, including an extension of the Northern Line.
Battersea is the subject of a new Arts and Humanities Research Council-funded research project from Cambridge's Department of Architecture, looking at how film – fiction, documentary and amateur footage – has, often inadvertently, captured the changing fortunes of this part of south London.
Sifting through hundreds of hours of footage, the project aims to create a cinematic "archaeology" of Battersea, by building layers of scenes and clips from films that depict precise areas of the borough at different points of the 20th century.
Researchers are investigating a hugely diverse range of film, from Ealing comedies to social realist drama, Pathe news, amateur super 8 right up to modern YouTube clips.
"The plan is to map for the first time a large number of movies onto a map of a city to chart its evolution in terms of the fabric, but also social change," said Professor François Penz, who is leading the Cinematic Geographies of Battersea project with colleagues from the Universities of Liverpool and Edinburgh as well as English Heritage.
The project came about through discussions between Penz, Professor Richard Koeck from the University of Liverpool and his former Cambridge colleague Professor Andrew Saint, who now heads up English Heritage's Survey of London.
The Survey was created in 1894, a year before the advent of cinema, with a mission to record every parish in London – one it still pursues today, with each parish taking between three and four years to survey.
"I kept in touch with Andrew, and we often talked about how film depicted sweeping changes in London, so we put together this pilot project," said Penz.
"At the time, he was working on Battersea, so we decided to start there, which has been great as it's a movie-rich area, as well as one that has been through – and about to go through – huge changes."
Penz notes that Battersea is a space where "a lot of the cinematic crime in British films was committed," and that south London in general is prone to dystopian depictions.
Key films, such as Ken Loach's sixties 'kitchen sink' drama Poor Cow, also reveal battles between classes, and contain moments of high architectural significance.
"In addition to 'longitudinal' century-wide study, we also engage in detailed 'cross-sectional' study – taking a few films and studying them scene by scene, even frame by frame."
Penz highlights a single cut in Poor Cow that takes the main character from Victorian terrace to 'brutalist' concrete: "Suddenly she's in the Winstanley Estate – an icon of modernism – then shiny and new, now sadly run down and high in crime."
"Many of the Victorian backstreets seen in such films were cleared to make way for estates, and now only exist in films."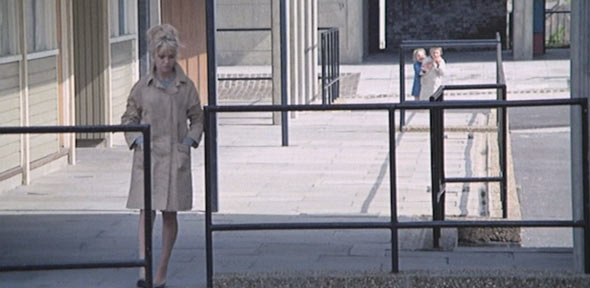 Screenshot from Ken Loach's Poor Cow
A key touchstone for the philosophy underpinning this research is the idea of the 'soft city', as set out by the writer Jonathan Raban in his 1974 book of the same name.
Raban describes "the city as we imagine it… soft city of illusion, myth, aspiration and nightmare" to be "as real, maybe more real, than the hard city on can locate on maps."
For Penz, this is the essence of the Battersea Project: "People experience space physically and emotionally, their perceptions influenced by representations in the culture they are exposed to."
"The 'soft city' of illusion is found in cinema. We aim to uncover this side of Battersea to complement the Survey of London's 'hard' documentation of streets, churches and so on – together providing a more holistic vision of what an area is and has been."
One of the main goals of the project is to use the layers of film history to provide a living 'lieu de memoire' – or site of memory – that the community can both share in and contribute to.
To do this, the team are using digital techniques to both "triangulate" the locations these cinematic fragments were filmed in, then pin the historical layers of film to the site on modern digital maps using geo-tagging, technology familiar to most users of Google Maps.
All this information is being built into a smartphone app, along with the Survey of London records, so that the public can experience both the 'soft' and 'hard' sides of their neighbourhood "in situ"- and eventually even add footage themselves.
The team plans to launch the app later in the year, combining it with screenings of some of the films – in surprisingly relevant locations.

"We want to resurrect the ghost cinemas of Battersea," said Penz. "Can you believe that Battersea doesn't have any cinemas anymore! At one time, there were around 25 – as described in the Survey of London – often 'shopfront' cinemas, with back rooms holding maybe 40 seats."
"For example, one is now a bank, and its current manager remembers going to see movies there as a child. We hope to project films with key local scenes that were shown in some of these old cinemas."
Penz aims to combine the film clips in the app with details of former cinemas and even, when possible, the programmes of the day: "The app could tell you that the scene of a certain film was shot where you stand, show you the clip, then tell you it was shown at this ghost cinema that stood a mile, say, in that direction, on this date and what else was on there at the time." 
While Penz admits it's difficult to research, the team are working closely with the British Film Institute and other local organisations. He says this level of detail would "unlock moments in history, and help to crystallise common local memories that can connect communities."
While the Battersea project is a pilot, Penz can see the methodology being replicated, and is considering extending to further afield, and not just north of the Thames.
"We've created a research platform with Nanjing University in China. We want to look at how this translates to other cultures. How can this be applied in a Chinese context where differences in spatial understanding and variations in screen language may result in a double translation effect? The effects of globalisation on how 'sites of memory' form in localities is, I think, a fascinating possible direction for this research."
The final act of the Cinematic Geographies of Battersea will be a conference at CRASSH on 3 and 4 October 2013 on the theme of Cinematic Urban Geographies.
---
This work is licensed under a Creative Commons Licence. If you use this content on your site please link back to this page.
---