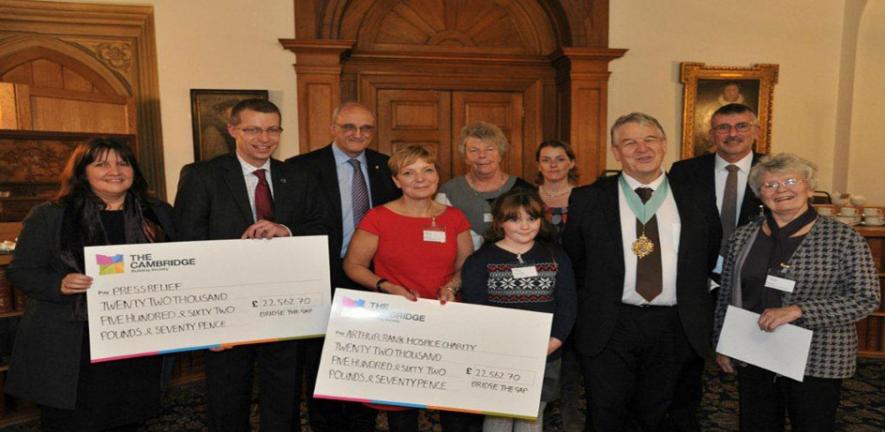 Local charities have been awarded more than £45,000 in a prize giving ceremony held at the University of Cambridge.
Arthur Rank Hospice Charity and Press Relief, the community fund of Cambridge News, each received £22,562 as beneficiaries of the Bridge the Gap charity walk. 
Bridge the Gap takes place each September on the Sunday of Open Cambridge weekend.  The walk, a scenic five-mile route through nine Colleges, takes in some of Cambridge's most spectacular architecture. This year saw a 2,700-strong turnout of walkers, many of whom participated as families, groups of friends or teams of co-workers. 
Bridge the Gap is organised by partners from Cambridge News, Arthur Rank Hospice Charity, Rotary of Cambridge, Cambridge University Press, and the University of Cambridge.  The University provides organisation of the route through the colleges and co-ordination of route stewards, recruited from University departments, the Cambridgeshire Army Cadet Force, Netherhall and Parkside Schools. Blue Badge Guides stationed throughout the route provide information about College history and grounds, and a University museum serves as a halfway checkpoint for walkers.  This year's headline sponsor was The Cambridge Building Society; additional support came from Cambridge Assessment and The Technology Partnership (TTP). 
In 2011, Bridge the Gap participants walked through the grounds of Magdalene, Lucy Cavendish, St. John's, Clare, Selwyn, Pembroke, Emmanuel, Christ's and Jesus Colleges, and explored the Zoology Museum, which served as this year's checkpoint.  This year's walk benefited from the assistance of about 150 volunteers, in addition to support from staff at the Zoology Museum and the Porter's Lodges at the nine Colleges visited.
On Tuesday 22 November, the University's Vice-Chancellor, Professor Sir Leszek Borysiewicz, hosted the ceremony, with Graham Ayres, Chair of Press Relief.  Members of participating and sponsoring organisations were present, in addition to the prize winners and the Mayor, Ian Nimmo-Smith.
Freda Kirchen of the Cambridge Chamber of Commerce headed up the top corporate fundraising team, winning a silver salver donated by Munro Building Services.
The Top Adult Fundraiser, Bob Pain of Milton, raised £765 in addition to matching funding from Barclays, and won a meal for two at the Quy Mill Motel.
The prize for the Top Club Fundraiser went to Avril Dring of the Cambridge Hard of Hearing Club, which was awarded a £50 book token donated by Cambridge University Press Bookshop.
The Sunflower Girls, represented by Val Moulding of Trumpington, received the Top Social Club Fundraiser award, winning a Suffolk Tea for four at the Quy Mill Hotel.
Clare Tunstall of Cambridge University Press was awarded Top Photograph for the second year in a row, winning a silver 4GB iPod Nano.
At a children's prize giving event at Cambridge News the following day, seven-year-old Alfie Pearl of Royston, the Top Child Fundraiser, was presented with a new bicycle donated by Light Blue Cycles. Since 2008, Alfie has raised more than £1,200 for Bridge the Gap, including bringing in £428 in 2011. Prizes were also awarded for notable fundraising by Abi Coulson, 13, of Impington; Harry Farr, 10, of Bar Hill; and Lucha Partington, 8, of Milton.
Dr Lynn Morgan, Chief Executive of the Arthur Rank Hospice Charity, said: "This year Arthur Rank will use the £22,500 raised by Bridge the Gap on its Hospice at Home Service. The Charity spends several hundred thousand pounds a year on this vital service, all of which must be fundraised. Hospice at Home provides care for people who want to stay in their own home, whether that is their own house, flat or even a care home that they have come to regard as home.
"Caring for someone in the last stages of their life can be daunting and sometimes very lonely, but the Arthur Rank Hospice at Home service can provide support and care during the night when it is needed.  This often prevents patients, their families or their carers from feeling anxious or unable to cope.  The £22,500 raised will provide about 100 nights of this very important service. Every recipient of this care would say that to them the service is invaluable."
Press Relief, the Cambridge News community fund, awards grants to a variety of local causes with the aim to relieve poverty and advance the education, health and social welfare of the people of Cambridgeshire. Grants have recently been made to: Deafblind UK, Classworks Theatre, Opportunities Without Limit, CLAPA Cambridge and Magpas.
The next Bridge the Gap Charity Walk will take place on Sunday, 9 September, 2012. For more information please visit: www.bridgethegapwalk.org.
---
This work is licensed under a Creative Commons Licence. If you use this content on your site please link back to this page.
---