Let's get fixable
From toasters that won't pop to farmers hacking their own tractors, we ask why the
right to repair

is important for people and for the planet.
Maureen with her repaired toaster
Maureen with her repaired toaster
"Am I your first toaster?"
Maureen has been having trouble. "The toaster won't pop the toast," she explains. "To be honest, the toaster didn't cost much, but I'm reluctant to throw anything away."
"You are my first toaster," admits John, a volunteer repairer. "Most things are fairly straightforward. Not the air fryer though. I had to work out how to get inside before I could start to look at what was wrong. But I'm quite happy with toasters. I think."
Maureen is visiting the Repair Café, a pop-up in St Ives, Cambridgeshire, run by community-led climate action group St Ives EcoAction. Repair Cafés like this match people who need stuff fixed with people who like fixing things. They offer free access to skills, saving people money, and reducing waste and emissions by extending the life of items.
But as John discovered with the air fryer, fixing stuff isn't always easy. Many manufacturers have made it harder to repair items, keen that customers throw away and replace with new.
There's a principle at stake here, says Professor John Naughton from Cambridge's Minderoo Centre for Technology and Democracy: "we are being denied a right to repair at a moment in time when the environmental impact of technology is having huge planetary consequences."
"It's time to take back control of what we own"
Modern life is defined by our electrical equipment – from smartphones and laptops to washing machines and vacuum cleaners.
But disposing of these items also represents one of the fastest-growing waste streams in the world. More than 50 million metric tons of e-waste are generated globally every year. That's about 7kg of e-waste per person.
Each discarded piece of equipment exacts an environmental cost to the planet, whether it's through wasting the precious resources used to manufacture it, or the 'embodied' CO2 emissions from mining, processing, manufacturing and transportation.
There's clearly a strong case for repairing and reusing, so why don't we do it more often? "Because companies have made it so hard for customers to fix things," says Naughton.
"I have a beautiful old iPod Classic, one of the original ones. It's my favourite thing; it has all my songs on it. When the battery died, that was effectively the end of it because I couldn't open the device. I could get a new iPod but I couldn't repair the one I wanted to keep. Apple is an astute practitioner of planned obsolescence as a way of nudging people towards the upgrade."
Planned obsolescence is a marketing strategy that's been around since the 1950s. It describes the practice of building end-of life into a product so that people are forced to replace it with another. Items are factory-sealed or their replacement parts are impossible to source. How many times have we tried to repair something to be faced with the advice that it will cost more to repair than to buy another?
It seems that manufacturers exert power over our devices long after we buy them.
"Take John Deere tractors," says Naughton. "These are very sophisticated, electronically controlled machines. You can't ask your local garage to service or repair the tractor without invalidating your warranty. These tractors are no longer purely mechanical devices, they depend on their electronic control units, and only John Deere has access to the computer code. Farmers would have to hack their own tractors to get through the digital locks."
"You think you own your tractor? Actually, you don't. You think you own your iPhone? Well no. There's an invisible thread that goes from your iPhone to where Apple is."
In June last year, Naughton wrote in his regular column in The Observer of "one of the few pieces of cheery news to emerge from the war in Ukraine" when Russian looters stole 27 pieces of John Deere farm equipment from a dealership in Melitopol and shipped them to Chechnya. "Their shiny new vehicles had, overnight, become the world's heaviest paperweights: the dealership from which they had been stolen had 'bricked' them remotely, using an inbuilt 'kill-switch'."
To fix his dead iPod, Naughton found a website with free 'how-to' instructions and, with the help of his grandson, took it apart and replaced the battery. "This wonderful object was restored to life."
The Right to Repair
Naughton and colleagues at the Minderoo Centre are asking how we can radically rethink the connection between digital technology, society and our planet.
"The accumulation of power by technology companies has both an environmental impact and a democratic one. People should be allowed to choose how they want to maintain and repair things rather than being forced to rely solely on manufacturers or authorised repair centres."
"Digital technology has transformed our world; yes, absolutely it has. The challenge is how to reclaim it for civil society."
The Right to Repair is a growing global movement. It campaigns for the right of people to repair their own electronic devices without being hindered by restrictive policies and practices of manufacturers.
A new law came into effect in the UK in 2021 to encourage manufactures to design their products to be more repairable, compelling them to keep spare parts available for a decade after production. But so far the legislation only covers washing machines, dishwashers and refrigerators, not smart devices.
It's not just about electronics, though. The right to repair should cover almost everything we make, says Naughton. He describes being in a sports shop years ago and hearing the shop assistant saying to a customer "you want to re-sole your trainers? Nobody does that. You buy trainers, you wear them out and then you throw them away."
He will be chairing a panel discussion at the Cambridge Festival on the Right to Repair on 28 March 2023. "I want to alert people to the possibilities of repair, that it's more feasible than the industries pretend and that it's really important to restore this control to the customer. I'd like people to see that it's possible to do things differently from the way we have been doing them."
Tom Poskitt, one of the organisers of the St Ives Repair Café, also volunteers as a repairer along with colleagues from engineering consultancy 42 Technology
Tom Poskitt, one of the organisers of the St Ives Repair Café, also volunteers as a repairer along with colleagues from engineering consultancy 42 Technology
The rise of the fixers
Meanwhile, back at the Repair Café in St Ives, 14 expert repairers are cheerfully taking apart a base guitar, jewellery box, electric radiator, desk lamp, vacuum cleaner, bicycle wheel, computer, binoculars, clocks and all manner of items.
Helen Dye, Founder and Coordinator of St Ives Eco Action, explains that one of the main features of Repair Cafés, as was set in place by Repair Café International, the Netherlands-based 'mother' organisation, is that they are as much about skills sharing and learning, and the community working together, as they are about items being fixed.
"We find that people say afterwards 'I now know what to look up on the internet if something like this happens again', or, 'I've gained the confidence and skills to fix this myself next time'."
"These events are about putting people at the heart of change – helping them do something productive to be sustainable, and creating opportunities to share concerns about the environment. Even the tea and homemade cakes on offer are important for community building – it's one of those 'whole is greater than the sum of its parts' things, and everyone can play a role."
She adds: "we have a great volunteer team and all sorts of repairers here. There's a group over there repairing textiles and jewellery, some young engineers from a local company looking at electronic items, and here's Clive, a retired surgeon who repairs clocks, ceramics, instruments and so on. We joke that he can even mend a broken heart, we're just not insured for that!"
Clive performs keyhole surgery on a cuckoo clock
Volunteer repairer Clive Quick is a retired Consultant vascular surgeon. He worked at Addenbrooke's Hospital in Cambridge and Hinchingbrooke Hospital in Huntingdon, as well as an associate lecturer at the University of Cambridge. Clive says there's a similarity between mending broken things and mending bodies.
"When you're mending anything you have to make a diagnosis. In surgery, various scans give you detailed information, but you still rely on your hands and your eyes to make the final diagnosis. As a volunteer repairer, I know that I have a good chance of being able to fix something if I've started with the right diagnosis.
This clock has been a bit of a challenge. There was no way into the mechanism without breaking it open. So I used long instruments and worked through a hole in the side.
I'm here today helping out because I like to fix broken things. After I get the hands back on the clock face, I'll move on to the broken crockery.
But the environmental side of repairing is important to me too. I hate putting stuff in landfill and places like the Repair Café help people to continue to use their things."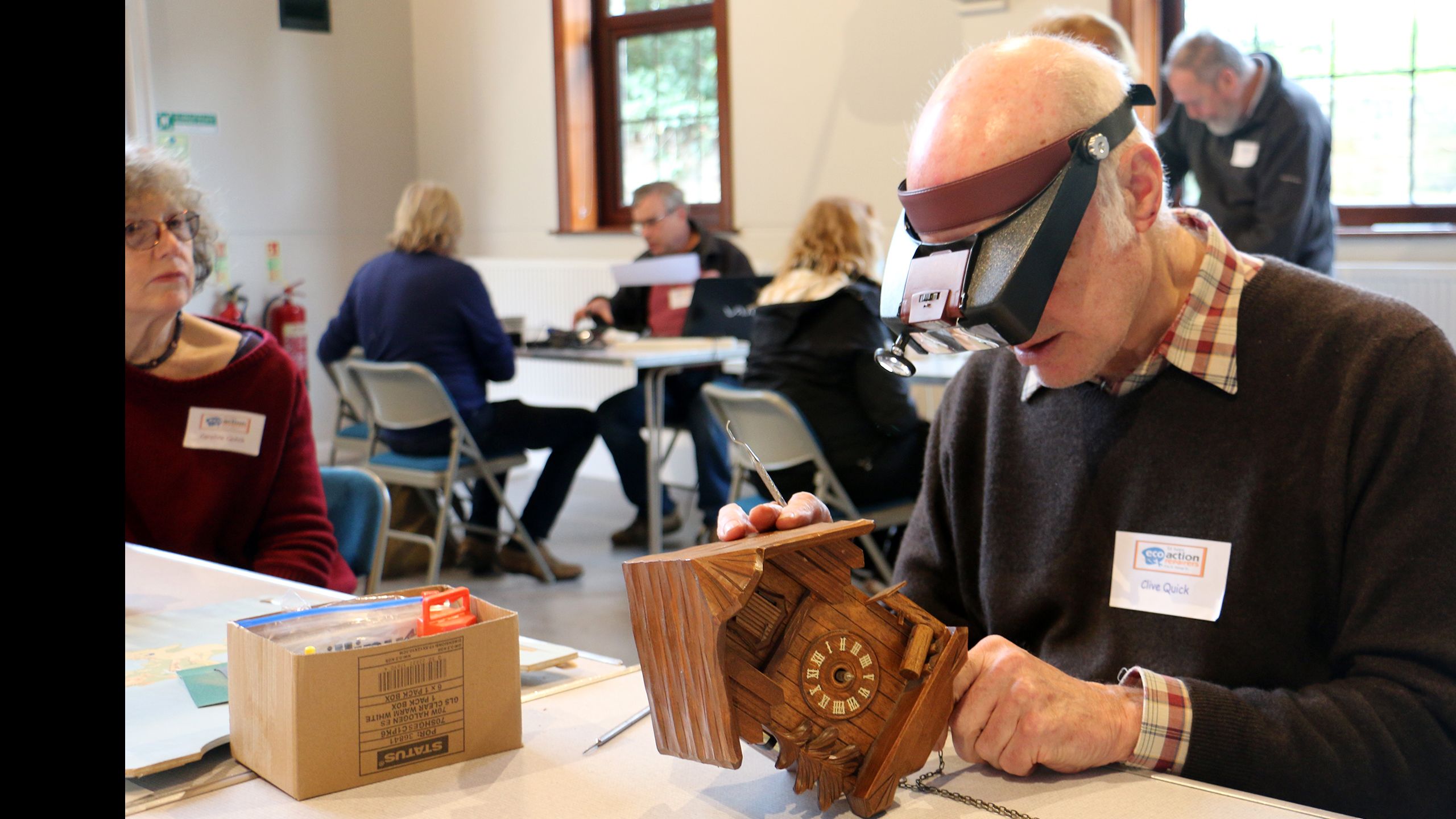 Making it easier for people to fix not fling
The Repair Café in St Ives is supported by the Cambridgeshire Repair Cafe Network (CRCN), a partnership between Cambridge Carbon Footprint, Transition Cambridge and South Cambridgeshire District Council. It started with just two Cafés in 2016 and now has a network of 26 active Café. The events are so popular that CRCN holds regular 'How to run a Repair Café in your community' training sessions and lends out tools to help grow the phenomenon.
Charlie Barty-King went along to a recent training session. After finishing his PhD a year ago in Cambridge's Institute for Manufacturing, he currently divides his work time between Cambridge Zero, where he coordinates a support programme for the Green Officers from the University's 31 Colleges, and leads Wolfson College's Interdisciplinary Research Hub on Sustainability & Conservation.
"We live in a single-use, disposable world and Repair Cafés obviously try to reverse this thinking," he says. "Not only do they draw on local skills in the community but they also encourage people to be involved in the repair and even learn how to tackle it themselves."
After meeting a bunch of like-minded individuals at the training event, he and a small team have been planning their first Repair Café in Trumpington.
"If Repair Cafés can engage people in wider discussions around sustainability and decarbonisation, either professionally or personally, then that's a very valuable thing that's worth supporting," he says.
"I believe that the hardest part of most things is often starting. So if you can make things easier for others to start down a road they wouldn't have otherwise – like having things fixed instead of thrown – then that's a way to immediately have more impact for yourself and those around you."
Join John Naughton and a panel of experts at the Cambridge Festival for a discussion of why it's important to take back control of things we own: Reserve a spot for the free event on Tuesday 28 March 2023, 17:30–19:00 BST, Lee Hall, Wolfson College, Barton Road, Cambridge.
Book in your item to be fixed at the Repair Café in Trumpington on Saturday 15 April 2023, 14:00–17:00 BST, Trumpington Pavilion, Trumpington, Cambridge.
Or find an upcoming Repair Café in Cambridgeshire through the Cambridgeshire Repair Café Network.