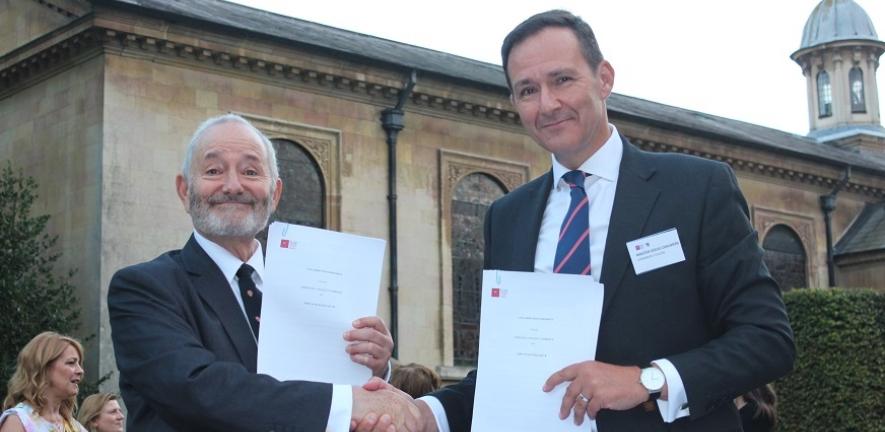 Care experienced children in Cambridgeshire are to receive significant support with their education and pastoral needs through a new partnership between Emmanuel College and the charity First Star Scholars UK. It will offer young care experienced people first-hand experience of a College environment to help them develop academically, personally and emotionally from Year 9 through to Year 13, helping them fulfil their potential and work towards entering higher education.
This is about us playing our part in helping the social environment that is around us

Doug Chalmers
The children will be offered mentoring and will be able to visit the College on Saturdays for extra tuition in English and Maths plus extra-curricular activities. The College will also host a 3 week summer school next year (2024) with a focus on academic, as well as personal, development. In addition to the academic focus, the programme will also teach valuable life skills such as cooking and nutrition, emotional regulation and self-advocacy.
Film producer, Peter Samuelson, is the Chair and Founder of First Star Scholars UK. He was the first in his family to go to university, arriving at Emmanuel in the late 1960s. He says those in care feel they don't have a voice and are often passed around like "cardboard boxes". He is keen to raise expectations: "You may be carrying trauma, horrible things may have happened to you, but 'it takes a village to raise a child' and the scholars will find a village at Emmanuel College. There are role models, there are mentors, there are tutors, there's a community that prizes critical thinking, exploration and personal growth. That's for you too and it's a ladder that can help you lift yourselves up."
The partnership will show care experienced children what it is like to live and study within a 'Russell Group' institution, where care leavers make up only 0.4% of the total undergraduate population, and inspire them to continue pursuing their studies in order to make the essential step from care into higher education.
Master of Emmanuel College, Lieutenant General Doug Chalmers, says "A lot of children in care simply don't think they can get into higher education so this partnership is about giving these children, across Cambridgeshire, a platform from which they can aspire to go to universities like Cambridge. This isn't about recruiting students for Emmanuel…this is about us playing our part in helping the social environment that is around us. When I was in the military, whether you were garrisoned or camped, you worked out what your local environment was like and then assessed whether you could engage with it and add value or not…we're doing a similar thing at this College."
A joint report by First Star Scholars UK and the independent think tank, Civitas, found that only 14% of care leavers under 19 started a university course in 2021–22 compared with 47% of non-care leavers (based on Department for Education (DfE) data). There are currently 65 care experienced students at the University of Cambridge but it's hoped this figure will rise as a result of targeted outreach programmes and more scholarships being made available. Through its Realise project, the University runs a series of events throughout the year for young people with experience of care. 
---


The text in this work is licensed under a Creative Commons Attribution-NonCommercial-ShareAlike 4.0 International License. Images, including our videos, are Copyright ©University of Cambridge and licensors/contributors as identified.  All rights reserved. We make our image and video content available in a number of ways – as here, on our main website under its Terms and conditions, and on a range of channels including social media that permit your use and sharing of our content under their respective Terms.
---