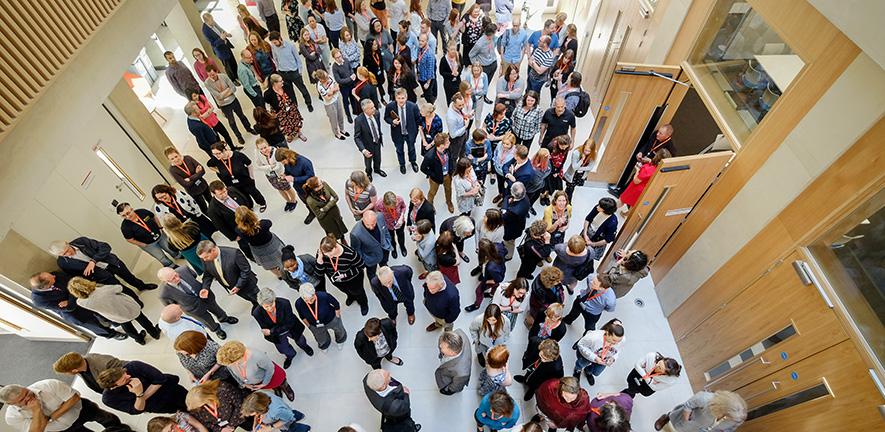 Business partnerships: making great things happen
We work with organisations of all shapes and sizes in all sorts of different ways, helping to develop world-class businesses, technologies and people.
Become a Cambridge research partner
Fruitful collaborations are built on mutual understanding and shared values. By working together, we can turn new ideas into truly groundbreaking commercial realities which make a difference to all our lives. Our long-term, multidisciplinary programmes give our partners access to research across the University, and to novel technologies, labs and facilities as well as to joint applications for public funding. These programmes are managed by our Business Relations Team.
There are also many other ways you can benefit from our world-leading research, including:
Individual research projects focused on one topic
By sponsoring a three or four-year PhD in a particular topic
By joining one of our industry-academic consortia in which non-competing firms work together with Cambridge researchers to address complex business challenges
Short, focused, high-impact projects with researchers or students.
---
Find a consultant
Our researchers are world leaders in their fields. Many help companies solve specific business problems on a consultancy basis.
If you know who you're looking for, you can contact any of our researchers directly through our departmental web pages. If you're not sure where to start, we can help connect you with the right person. And to make sure project expectations are properly understood and all parties are protected, our commercialisation arm, Cambridge Enterprise, provides a professional consultancy support service.
---
Join one of our networks or industry clubs
Tackle the big challenges that no one organisation can solve alone by joining one of our networks. They bring businesses, government, and academics together to develop new ideas and practical solutions to complex problems, from profitability to sustainability. We can help you find the right fit for your business.
---
Hire new talent
Every year, the University of Cambridge produces a new generation of leaders. Recruiting a Cambridge graduate secures that expertise for your business and there are plenty of ways you can showcase the career opportunities you can offer them. 
And there are other ways to bring these passionate, inquisitive minds into your organisation. You can also host student internships, projects, and placements - and benefit from their talents while fostering relationships with tomorrow's rising stars.
---
Develop your organisation's skills and capabilities
Expand horizons for your people and your business through our executive and professional education programmes, taking advantage of some of the best teaching in the world.
The University runs a wide range of open and customised courses and programmes to embed Cambridge thinking into your organisation's DNA.
---
Invest in University spin-outs
Cambridge Enterprise invests the University's seed funds in new companies started by academics, researchers, staff, and students, building a bridge between research and commercial development. There are many opportunities to invest and Cambridge Enterprise is keen to speak with venture capital firms, business angel networks and other investors looking to invest in early stage opportunities.
---
License new technologies and research tools
Cambridge Enterprise facilitates licence agreements for a wide range of technologies and research tools that are ready for commercialisation, from biosciences to engineering.
---
Host a meeting or conference in Cambridge
MeetCambridge will help you find the perfect venue and help you plan the event.
---
Talk to us
Or, if you think you might be interested in working with Cambridge but aren't sure where to start, get in touch with our Business Relations team. We are here to help.