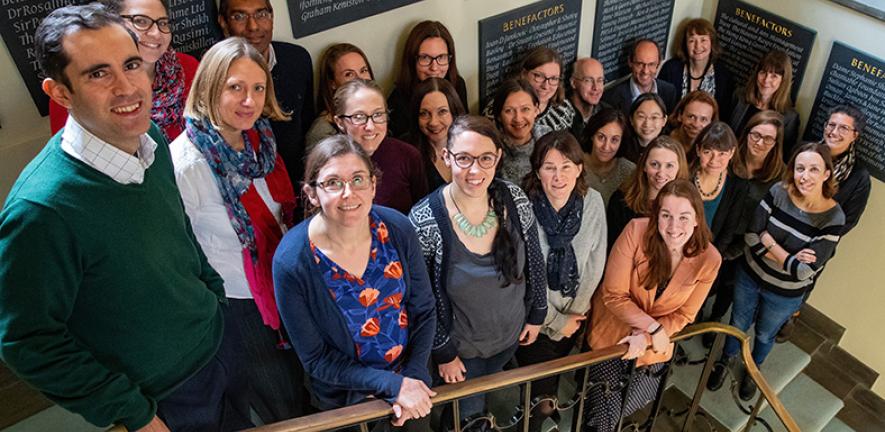 Get in touch
There's a lot going on at Cambridge and lots of different ways organisations can work with us.
Meet the Business Partnerships team

Catherine Hasted, Head of Business Partnerships
Catherine leads the Business Partnerships team based in the University's Strategic Partnerships Office, working with business partners and colleagues from across the University to cultivate high impact partnerships.
Previously, Catherine worked in senior leadership roles in commercial and not for-profit organisations and has founded two successful companies. Catherine holds a PhD and maintains an active research interest in catalysing learning between universities and industry.

Simon Daly, Business Partnerships Manager
Simon has responsibility for helping new and existing corporate partners establish a rewarding relationship with the University. He has a longstanding track-record of successful business management experience in the academic, charity and commercial sectors and a passion for entrepreneurship within the university sector.
Simon is a graduate of the University of Cambridge and the London School of Economics and has extensive experience of creating and developing successful knowledge exchange partnerships between academia and a broad range of industrial/corporate partners.

Manar Alsaif, Business Partnerships Manager (Energy)
Manar's role is to manage existing and develop new strategic business partnerships in the energy sector.
Previously, she worked as a geologist at Schlumberger, where her career in the energy sector spanned the full science and technology cycle, from research, to technology to operations and training. Manar holds a PhD in Earth Science and her expertise lies in structural geology and geodynamics.
Tammy Dougan, Business Partnerships Manager (Life Sciences)
Tammy manages the strategic partnerships within the life sciences and healthcare sector, working closely with University academics, senior business leaders and other Cambridge industry-facing initiatives to identify potential areas of collaboration. Tammy also manages the University's partnership with GSK.
Tammy holds an MSc (Kings College, London) and PhD (JCU, Australia) in Immunology and has worked for over 25 years in research, strategy and programme management in the area of healthcare, life science and biotech.

Mark Hayes, Business Partnerships Manager (Digital and AI) 
Mark manages the University's partnership with Aviva which is centred on data science. He also provides oversight, coordination and advice for the University's key industry partnerships across the digital sector.
Mark has worked in IT systems and project management since 1995. He has built sensor networks for air quality monitoring, data management systems for radiotherapy treatment of cancer and studied how to measure data quality.

Tyler Shores, ThinkLab Programme Manager
Tyler manages the University of Cambridge ThinkLab Programme which connects researchers with public and private sector organisations to produce research impact at scale.  
He is completing his PhD in Education at Cambridge, where his research focuses upon reading habits, social media and the impact of digital technology in everyday life. Tyler received his Master's Degree at the University of Oxford, and has previously worked at Google, running the Authors@Google program, one of the world's largest collections of online lectures. He has also served as director of digital content at an international education non-profit organisation and worked at the Stanford University online high school programme.
Hannah Baker, Decarbonisation Network Coordinator
Hannah coordinates the University of Cambridge Decarbonisation Network. The Network provides a forum for academics, industry and the public sector to identify accelerated routes to decarbonisation through Special Interest Groups to spark potential new collaborative efforts in key sectors where decarbonisation technologies will have significant impact. The Network works across the collegiate University, is supported by the Strategic Partnerships Office and operates in collaboration with Cambridge Zero and the Energy Interdisciplinary Research Centre.
Hannah completed her PhD in the Engineering Department at Cambridge, where her research focused on decisions to demolish or adapt existing buildings. Before joining the Network, she worked as a Research Associate at the Centre for Research in the Arts, Social Sciences and Humanities (CRASSH).

Asha Carpenter, Research Analyst
Asha works across all sectors, facilitating and providing support for current and emerging partnerships.
Prior to joining the Strategic Partnerships Office, Asha worked for a policy research institute in the area of innovation, health and science. She holds a BSc in Molecular Biology and Biochemistry from Durham University and a PhD from the Institute of Metabolic Science, University of Cambridge.

Sarah Fell, Communications Manager
Sarah's role is to showcase the many different ways in which businesses can work with the University of Cambridge.
She was previously a senior executive at Cambridge University Press, led on marketing and communications for the University's Institute for Manufacturing and ran her own successful communications business.