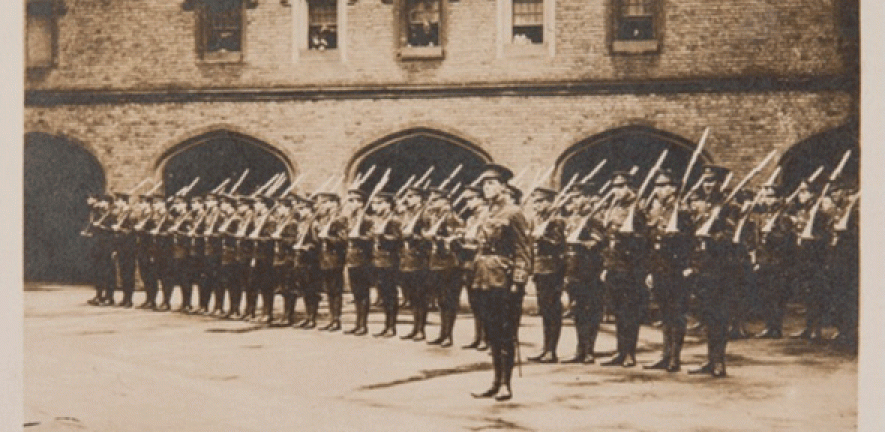 On the centenary of the death of Rupert Brooke, King's College announces the acquisition of a major collection of materials relating to one of the nation's best-loved poets. The collection will join the existing Rupert Brooke archive at King's to make the world's leading resource.
He is certainly more interesting and, in some ways more difficult, than the heroic image portrayed at the time of his death

Peter Jones
The First World War poet Rupert Brooke died 100 years ago (23 April 1915) on his way to fight at Gallipoli. An extensive collection of Brooke's papers is held by King's College where Brooke was an undergraduate and later a Fellow. It was his time at Cambridge that inspired some of Brooke's most famous poems.
An award of £430,000 from the National Heritage Memorial Fund (NHMF) will now enable King's College to acquire the last great collection of Rupert Brooke manuscripts still in private hands, the John Schroder Collection.
The Schroder Collection contains writings by Brooke, hundreds of letters between Brooke and others, the records of his extraordinary publication history, as well as reports from eyewitnesses of his death and his burial on the Greek island of Skyros.  John Schroder was a passionate collector of Brooke materials.
The acquisition will complement King's existing collection of Brooke papers and provide a rich source of previously unseen material for writers and researchers. It will also be of great interest to the public and exhibitions based on the collection are planned.
"Thanks to this generous award of £430,000 from the National Heritage Memorial Fund towards the £500,000 price of the manuscripts, we will be able to maintain the integrity of the Schroder Collection and allow future researchers to gain a better understanding of the man and his times.  The centenary of Brooke's death on the 23 April 2015 makes this announcement particularly auspicious," said Peter Jones, King's College Fellow Librarian.
"It is hard to realise today just how significant Brooke's impact was 100 years ago. In the early 20th century as a poet you were fortunate to sell 200-300 copies of your work. Just after his death, Brooke's close friend and patron Eddie Marsh published 1914 and Other Poems. The first edition of 1,000 sold out immediately and, in all, 160,000 copies were sold of various impressions. It was a huge literary event, fuelled by the timing and circumstances of Brooke's death."
A cult was created by Winston Churchill and other admirers who turned Brooke into a mythical figure of youthful hero-soldier-poet.  In 1918 Eddie Marsh published a memoir about Brooke with his Collected Poems and this also sold more than 100,000 copies.
Jones said: "Some of Rupert Brooke's family and closest friends, the ones who knew him the best, resented the fact that he was turned into this kind of national icon. They thought the picture of Brooke that emerged from this heroic story was not true to the man."
In one of the letters that form part of the Schroder Collection, written on 8 August 1915, Brooke's mother states firmly that it is her "final wish" for Marsh not to publish the memoir and adds that "I don't think that you knew more than a small part of Rupert".  She later relented and allowed the memoir to be published.
Jones continued: "A much more complicated and rounded picture emerges when you can look at the manuscripts already at King's alongside the Schroder Collection.  Brought together, the two collections will tell a rather different story than we have so far. We now know much more about Brooke as a person and he is certainly more interesting and, in some ways more difficult, than the heroic image portrayed at the time of his death. He was a conflicted individual. He had a major breakdown in 1912 and had disastrous relationships with the women who loved him."
The Schroder Collection contains 170 documents by Brooke himself and many hundreds of letters from connected parties. 
John Schroder's passion for collecting began as a schoolboy when he bought a copy of Rupert Brooke's Collected Poems and by the 1950s he was a deeply committed collector of all things Brooke. His most significant purchase was that of the Marsh/Brooke papers.  He also met and spoke with the people who had been significant in Brooke's life and acquired their correspondence.
The papers express the feelings of those on the edge of the abyss. Cathleen Nesbitt, an actress and romantic interest of Brooke's wrote cathartic letters to Marsh with poignant memories of their time together. In one letter she wrote that "when I talked of all things coming to an end he would always laugh and say 'Hush – there's never any end when things are perfect'".
The intensity of emotion generated by war is exemplified by letters from Brooke's close friend, W Denis Browne, the composer and King's scholar, who travelled with him to the Mediterranean and died at Gallipoli just a few weeks after the poet. Browne's letter describes Brooke's burial in Skyros, "one of the loveliest places on this earth, with grey-green olives round him, one weeping above his head: the ground covered with flowering sage, bluish grey & smelling more delicious than any other flower I know".
Browne's account of waiting for the bombardment of the Dardanelles straits to finish, so that the British forces could land, was sent to Eddie Marsh in 1915.  Browne wrote: "This battle is the most wonderful thing there ever was. As heroic by land as it is wonderful by sea … there's much of this that I'm glad Rupert did not see: and yet if only he cd have seen it all. It is wonderful when you are away: when you are in it war is hateful and utterly horrible."
The inclusion of a wide range and sources and perspectives – and also originals of texts that were later edited for public consumption – makes the Schroder Collection a valuable resource for researchers.
Time has not reduced the interest in Rupert Brooke. Together the King's College and Schroder Collections will represent the world's most significant archive of Rupert Brooke material, accessible for the first time, not just to scholars but to the interested public. A special section on the King's College website and an exhibition in the Chapel are planned for later this year.
King's College is now actively seeking the remaining funds needed to complete the purchase. http://www.kings.cam.ac.uk/library/munby-fund/how-donate.html
---

The text in this work is licensed under a Creative Commons Attribution 4.0 International License. For image use please see separate credits above.
---