In a talk on Monday (10 March, 2014) Sophie McGeevor (Faculty of History) will explain how her research into a collection of autobiographies by working class women is helping to fill a gap in our knowledge of the occupational structure of 19th century Britain. 
It's no coincidence that laundry features in so many of these women's stories. Taking in washing, or going out to other people's houses to do washing .... could be planned to fit around women's work at home and childcare responsibilities

Sophie McGeevor
Alice Foley was born in 1891 and was so poorly that she was baptised soon afterwards; it was assumed she would die. The night of her birth, her parents did a moonlight flit from their accommodation as her father had lost his job and poor relief was denied. The family settled in Bolton where her mother took in washing to make ends meet, at the same time ensuring that her own small house was spick and span.
Looking back on her early life with five older siblings, and a father who was frequently absent or inebriated, Alice described in her autobiography, A Bolton Childhood, how her mother supported the family: "We were brought up mainly out of her washtub earnings. Frequently I accompanied her to various better-off houses and sitting on the floor amongst a pile of dirty clothes played games and prattled aloud whilst she silently scrubbed shirts and mangled sheets."
Foley's autobiography and other memoirs written by working class women in the long 19th century is the subject of a talk by Sophie McGeevor, a PhD candidate in the Faculty of History, on Monday March 10. In her presentation, she will show how this niche literary genre can help to shine a light on millions of women's lives and, in particular, illustrate how their time was spent in a mix of paid and unpaid roles, in the home and in the workplace.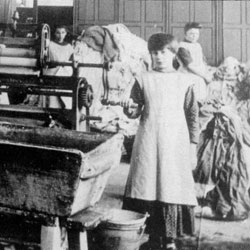 She will argue that women's roles as paid workers was largely determined by their unpaid work as mothers, and that access to childcare or the lack of it determined what paid work they could do. Without relatives to look after their children, women who lacked the money to pay for childcare were limited in the choice of paid work. Alice's mother could bring Alice to her employer's home, other mothers sought work which could be done from their own homes, or which could fit in around school hours – characteristics of flexible working that parents of young children today will recognise.
McGeevor is a member of a 30-strong research group – the Cambridge Group for the History of Population and Social Structure - which links the Faculty of History and Department of Geography. She is part of a project which is mapping the occupational structure of Britain from 1379 to 1911. In her presentation, she will explore the ways in which autobiographies can answer the seemingly straightforward question: how did working class women in the 19th century spend their time? 
"In the 21st century, government statisticians and social scientists routinely collect data on how men and women divide their time between paid work, unpaid work and leisure. This data is seen as crucial for understanding the economic role of the household, and individual household members, within the wider formal economy. However, with the exception of domestic servants, we know remarkably little about time-use before the 20th century," said McGeever.
"This lack of information creates a big gap in our knowledge because a large proportion of the goods and services consumed and used by a single household may have been produced by the unpaid labour within that same household, typically the labour of women and children. Examples are goods such as hand-made clothes and home-cooked food and services such as the care of children, the sick and the elderly. These goods and services are completely invisible in historic estimates of GDP and this absence has significant consequences for our understanding of living standards in the past."
One of the key sources for historians studying patterns of paid work is the census, first taken in 1801 in England and Wales and carried out every ten years since. While individual adult male occupations were first recorded in the 1831 census, it was not until 1851 that household heads were instructed to record married women's occupations and only then, the instructions from 1851-1881 stated, if they were deemed to be 'regularly employed'. This rule means that the part-time, seasonal and 'odd jobs' which may have constituted much of women's work would not have been captured by the census. From the 1891 census onwards, the distinction between the recording of male and female occupations was apparently removed altogether; the householder's instructions merely asked that 'the occupations of women and children, if any, are to be stated as well as those of men'. However, the belief that the irregular paid work of women was not akin to an 'occupation' may have remained.
In a quest to fill this gap, McGeevor is examining 50 published autobiographies written by women born before 1900 and held by the British Library, that tell, in a variety of styles and viewpoints, the stories of women whose voices are seldom heard. Many were written as memoirs towards the end of their authors' lives in order to tell the next generations what life was like. Over the course of the 19th century the British reading public was increasingly avid consumers of fictional and to a lesser extent non-fictional, tales of the life of the working poor, as demonstrated by the wide appeal of Charles Dickens's novels and Henry Mayhew's journalistic account, London Labour and the London Poor.
"There were lots of reasons why female autobiographers were greatly outnumbered by male autobiographers," said McGeevor. "Women were less likely to be literate which meant that they represented a smaller proportion of the reading public and it was assumed that men wouldn't want to read about women's lives. Perhaps most importantly, male autobiographers were often men who had risen from humble origins to public roles in politics and wider society. Working class women had fewer opportunities to do this."
The picture that emerges from the autobiographies McGeevor is studying challenges many of our preconceptions about class and the way people lived – and also charts the radical changes that took place in the course of the century in terms of the ways in which women (and their families) organised their lives.
Details of life in London recorded by Mary Ann Ashford, born in 1787, makes surprising reading today. At only four months old she was sent to Camberwell to live with a nurse called Mrs Long. It was common at this time among families who lived in cities, and had the means to pay, to have their children looked after by women who lived in what was seen to be the relatively healthful air of the countryside and suburbs. Mary Anne's parents jointly owned an inn in the City of London, and while Mary Ann stayed with Mrs Long they only saw her on evening visits and in the holidays.
For her parents, and particularly her mother, not having to care for the young Mary Ann on a day-to-day basis meant that she could be an active partner in the family business. However, for Mary Ann the consequences seem far from ideal; she noted that Mrs Long ensured that she looked clean and tidy when her parents were expected but otherwise sent her charge to school in "an unwashed and slovenly manner". McGeevor notes that: "Noticeably absent in Mary Ann's account of her mother is a sense of emotionally intensive parenting, a phenomena which appears to emerge only in the later 19th-century autobiographies. Of course, the vast majority of mothers loved and cared for their children, but they did not seem to think their presence was necessary for what we would now call their psychological wellbeing."
For Mrs Long perhaps the cleanliness of her boarders was overlooked in the midst of her additional work. Mrs Long took in washing as well as child boarders – and wash days were busy. Mary Ann writes: "As she had the whole of the washing from the City Arms, she requested that my governess to let me bring my dinner and stop with her on busy days." In the popular imagination, governesses are associated with the upper classes so it's disconcerting to read references to Mary Ann's "governess", who was in fact her day-school teacher.
"It's no coincidence that laundry features in so many of these women's stories. Taking in washing, or going out to other people's houses to do washing, required a great deal of strength but a minimum of skill or expensive tools or materials not already owned by women – and it could be planned to fit around women's work at home and childcare responsibilities. Working class women had to be flexible and they had to multi-task, they had to be resilient and resourceful – all qualities that are valuable for working women today, particularly in developing economies," said McGeevor.
There are a number of developments in 19th-century society which had many positive benefits for the wider population while conversely increasing the burden of unpaid work for women.  As standards of hygiene improved, medical advances were made and urban infrastructure grew, child mortality rates fell and women found themselves caring for ever larger families. Mass manufacturing enabled the less well-off to buy cheap household goods and clothing. More consumer goods meant more things to look after – clothes to keep clean, food to be cooked at home on a stove rather than purchased ready-made or eaten cold.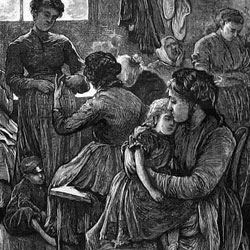 McGeevor commented: "There are two key stories emerging from my research. The first is that the paid work which women did was constrained by their access to childcare – childcare and work had to be either combined or childcare had to be outsourced. The second is that children's living standards and development were determined not just by the paid work of their fathers, but also by the paid, and crucially the unpaid, work of their mothers. While men's wages were rarely elastic – and did not increase each time there was a new mouth to feed – women's time, within the limits of the 24 hour day, typically came increasingly under pressure as they took on more paid work or spent more time, cooking, cleaning and caring for their families."
In a seminar on Monday 10 March, 1pm in Seminar Room 5 at the Faculty of History, Sophie McGeevor will explore the question: 'What can autobiographies tell us about women's time-use in 19th century England?' All welcome.
For more information about this story contact Alexandra Buxton, Office of Communications, University of Cambridge amb206@admin.cam.ac.uk 01223 761673
Inset images: Magdalen Laundry, Ireland, early 20th century; Cook with Red Apron by Léon Bonvin, Walters Art Museum; The Butter Churn by Ralph Hedley, Bonhams; Old Lodging House in St Giles by Hubert von Herkomer, 1872 (all Wikipedia Commons)
 
---
This work is licensed under a Creative Commons Licence. If you use this content on your site please link back to this page.
---