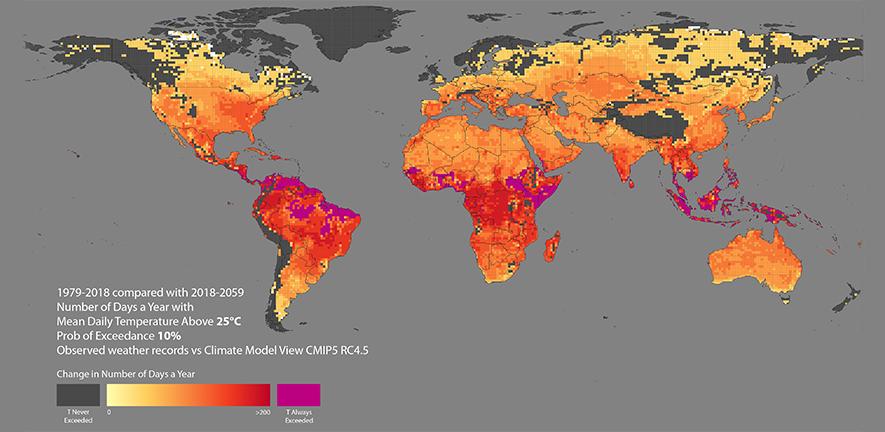 Climate change could add around 20% to the global cost of extreme weather events by 2040, according to early findings from Cambridge researchers, who are urging businesses to evaluate their own exposures to the growing risk to improve their resilience and sustainability.
The findings come from the Cambridge Climate Change Business Risk Index, a new component of the Cambridge Global Risk Index. The index is developed by the Centre for Risk Studies, with Cambridge Zero and British Antarctic Survey. The initial results will be announced today at an event for business leaders and climate scientists at Cambridge Judge Business School.
The index incorporates climate model outputs to analyse and quantify the increasing risks of extreme weather events, and their potential to disrupt business operations and supply chains globally. Today's event is designed to provide a platform for climate scientists to consult with the business community and ensure that final outputs meet business needs.
For example, the index shows that, by 2040, businesses in Chicago can expect a 50% chance of having an additional 20 days a year where average temperatures will exceed 25ºC and an additional week of days above 30ºC. It is expected that climate change will add around 20% to the global cost of extreme weather events, such as storms, floods, heatwaves and droughts. It is estimated that extreme weather events will increase from reported losses at present running at an average of around $195 billion a year in direct costs to $234 billion by 2040, an increase of $39 billion a year at today's values.
If the indirect costs from supply chain disruption and other knock-on economic consequences are factored in, it is possible that climate change could add over $100 billion of loss each year to the global economy.
Accurately quantifying this kind of information on business-relevant timescales will help businesses plan for their increased exposure to heatwaves and other climate-related risks.
Climate change is a growing concern for businesses. Many corporations are trying to understand how it is likely to affect them, the actions that they may need to undertake for sustainability as well as commercial and competitive reasons, and the regulatory requirements or other liabilities they may face.
"Companies are struggling to reconcile the long-range forecasts of the consequences of a warmer planet in several decades' time, with weather changes that are already impacting their businesses in various ways, and how their business will be affected by the transitions that society is making today towards a low-carbon economy," said Dr Andrew Coburn, Chief Scientist at the Centre for Risk Studies.
The University of Cambridge has recently launched Cambridge Zero, which brings together its research, policy, and private sector engagement activities on climate change and zero-carbon solutions.
"Cambridge Zero provides an opportunity for the University's research expertise to contribute information and tools for use by businesses, as well as policymakers and other stakeholders," said Dr Emily Shuckburgh, Director of Cambridge Zero.
Today's event brings together business executives with climate scientists to help improve the dialogue between the two, with the aim of allowing businesses to articulate what they need from the science to aid their business decisions, and for scientists to help businesses understand the risks that they face and to provide information and data in formats that businesses can readily consume.
The event is hosted by the Cambridge Centre for Risk Studies, in collaboration with Cambridge Zero, British Antarctic Survey, Cambridge Institute for Sustainability Leadership, Hughes Hall Centre for Climate Change Engagement, and Chapter Zero.
---

The text in this work is licensed under a Creative Commons Attribution 4.0 International License. Images, including our videos, are Copyright ©University of Cambridge and licensors/contributors as identified.  All rights reserved. We make our image and video content available in a number of ways – as here, on our main website under its Terms and conditions, and on a range of channels including social media that permit your use and sharing of our content under their respective Terms.
---