On 22nd March 2020, Cambridge University Botanic Garden closed its gates to protect visitors and staff during the global coronavirus pandemic. Coinciding almost exactly with the start of Spring, this felt like a particularly cruel blow. 
The emergence of new life in Spring can be really uplifting, and we want to share this with everyone

Beverley Glover
But the Garden staff remain committed to sharing the beauty of springtime, and encouraging gardening activities in whatever space people may have available at home.
"In this challenging time we're more aware than ever of the importance of nature. The emergence of new life in Spring can be really uplifting, giving people an important psychological boost, and we want to share this with everyone, whatever their situation," said Professor Beverley Glover, the Garden's Director.
The skeleton team of horticultural staff now looking after the collections will bring the Garden into our homes through weekly 'Wellness Wanders'. With short videos they will be sharing the sights, colours and sounds of the unfolding Spring with those who are self-isolating or don't have immediate access to nature. They will also be posting 'BitesizeBotanics', short videos and pictures of the springtime beauty, on the Garden's website and social media channels.
At this time of year, Horticultural Learning Coordinator Sandie Cain would normally be in the Botanic Garden's dedicated Schools' Garden, teaching primary school children how to grow vegetables from seed, and hosting 'Meet the Vegetable Gardener' sessions. Instead, she has filmed herself in her own garden sharing valuable tips and advice for the novice gardener, young and old.
Over the next 10-12 weeks Sandie will be posting regular videos with information on what we can all do at home to grow our own veg, whether in a garden or on a sunny windowsill. And although garden centres may be closed, Sandie has some great tips for improvised equipment and materials. 
Other members of the Learning Team will also contribute to the series, sharing advice on how to encourage garden wildlife, and how to create art with kids in the garden. And for those wishing to test their plant knowledge, the team is posting a daily quiz on the Garden's Twitter and Facebook channels based on popular plants in the collection. Do you know how many bananas the average person in the UK eats in a year, or what people used to believe would happen if they pulled up a mandrake? Answers are revealed the following day.
The Garden will remain closed over Easter weekend, but fortunately filming has already taken place for Heavenly Gardens, a two-part programme with former chorister Alexander Armstrong and garden designer Arit Anderson.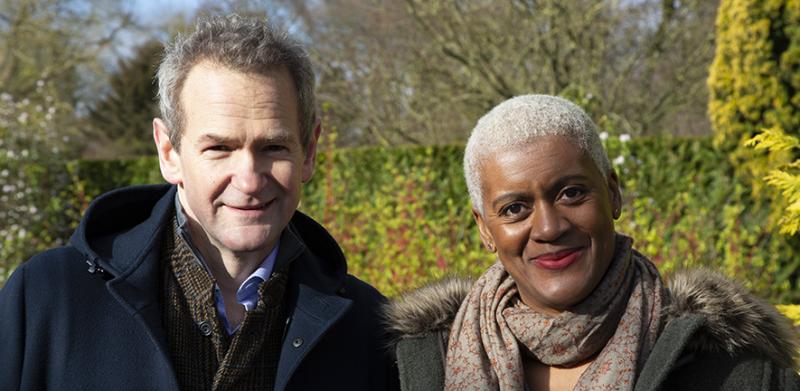 Image credit: Tern
The first part, to be broadcast on Good Friday on BBC One, will showcase Cambridge University Botanic Garden as an 'outdoor laboratory' used for scientific research as well as a spiritual place representing hope, expectation and joy.
A growing body of evidence shows that we need nature for our physical health and mental wellbeing. In this time of great uncertainty, finding a way to connect with the living world seems more important than ever. 

For more information and to watch the films created by Garden staff, visit the Botanic Garden website: 
To test yourself with the daily quiz, follow #CUBGplantquiz or to send your gardening questions to the team go to:
How you can support Cambridge's COVID-19 research effort
Donate to support COVID-19 research at Cambridge
---

The text in this work is licensed under a Creative Commons Attribution 4.0 International License. Images, including our videos, are Copyright ©University of Cambridge and licensors/contributors as identified.  All rights reserved. We make our image and video content available in a number of ways – as here, on our main website under its Terms and conditions, and on a range of channels including social media that permit your use and sharing of our content under their respective Terms.
---