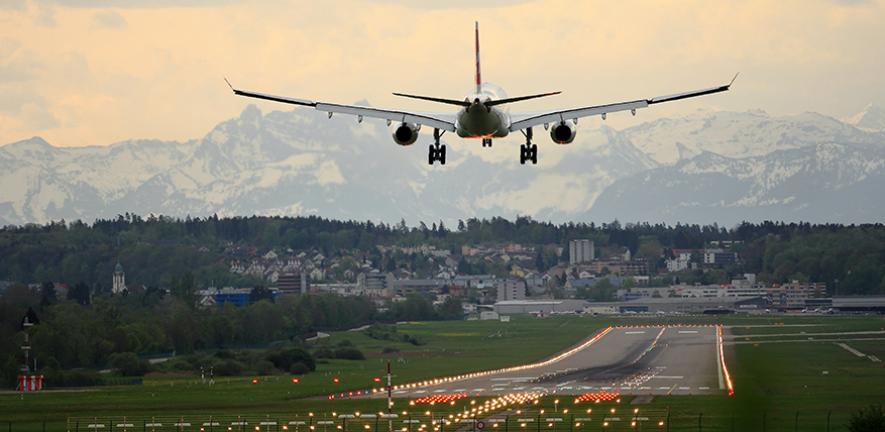 University announces launch of Aviation Impact Accelerator (AIA) – a team of experts in aerospace, economics, policy, and climate science, who are building an interactive simulator to help achieve net zero flight.
Achieving an aviation sector with no climate impact is one of society's biggest challenges: solving it will require a complex combination of technology, business, human behaviour and policy

Rob Miller
The simulator will capture the whole aviation sector, from the sources of renewable electricity and raw materials to the production and transport of fuel, and the introduction of new aircraft technologies and operations. Leaders in industry and government will gain an understanding of the potential for change and the trade-offs between decisions. The simulator will guide innovation, investment and policy action, and provide educational benefits.
The AIA is led by the Whittle Laboratory and the Cambridge Institute for Sustainability Leadership (CISL). "Achieving an aviation sector with no climate impact is one of society's biggest challenges," said Professor Rob Miller, Director of the Whittle Laboratory and co-lead of the project. "Solving it will require a complex combination of technology, business, human behaviour and policy. We have assembled a world-class team of academics and industry experts to take on this challenge."
Users of the simulator will be able to simulate future scenarios to 2050 and calculate the resource requirements, such as renewable electricity and land use, the climate impact, both CO₂ and non-CO₂, and the cost of flying.
Options include the type of energy used, such as hydrogen, batteries and a range of sustainable aviation fuels, the type of aircraft and aircraft technologies, the way in which aircraft are operated, and the value judgments made by the public and government. The simulator will take a whole system approach – from the source of the electricity to the methods of fuel production and transport – to the passenger journey.
"International travel helps people and societies connect," said Clare Shine, Director of CISL. "To retain this opportunity for future generations, we must urgently address aviation's environmental impact as part of systemic decarbonisation of the economy. This calls for imaginative and inclusive innovation, which is why the Aviation Impact Accelerator brings together insight from industry, policy and civil society."
The AIA team also includes the Air Transportation Systems Lab at University College London and the Melbourne Energy Institute at the University of Melbourne. The AIA is in partnership with HRH The Prince of Wales's Sustainable Markets Initiative, The World Economic Forum, Cambridge Zero, MathWorks and SATAVIA, and is supported by industry advisors Rolls-Royce, Boeing, BP, Heathrow and Siemens Energy.
"The transition to a zero-carbon future requires a bold response to climate change," said Dr Emily Shuckburgh, Director of Cambridge Zero. "The Aviation Impact Accelerator is such a bold response, bringing together multidisciplinary expertise to inform decision making and enable meaningful change."
The simulator was conceived in early 2020 at a roundtable hosted by HRH The Prince of Wales and attended by senior industry leaders, government and academia.
"The Aviation Impact Accelerator will play a vital role in highlighting the action required to achieve net zero aviation and support Heathrow to ensure 2019 is our year of 'peak carbon'," said John Holland-Kaye, CEO of Heathrow Airport. "The first priority is accelerated use of sustainable aviation fuel. Government can act to unlock SAF through a mandate stimulating supply, plus incentives to drive demand. The prize is a new British growth industry and UK leadership in the race to net zero."
The official launch of the Aviation Impact Accelerator will take place at COP26 in November. 
Adapted from a CISL news story.
---

The text in this work is licensed under a Creative Commons Attribution 4.0 International License. Images, including our videos, are Copyright ©University of Cambridge and licensors/contributors as identified.  All rights reserved. We make our image and video content available in a number of ways – as here, on our main website under its Terms and conditions, and on a range of channels including social media that permit your use and sharing of our content under their respective Terms.
---