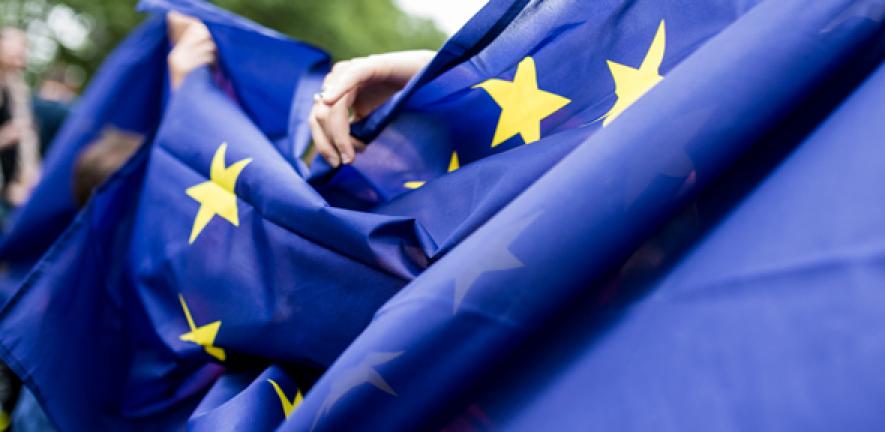 Listen to some of the talks that were given as part of the University's 'Brexit Week' series, which took place from 18 - 22 October.  
The University of Cambridge recently held a week-long series of Brexit talks and discussions, featuring senior experts in law, politics, history, science and economics from Cambridge and beyond.
The aim was to engage both University students and the local community in debates on how Britain moves towards departure from the European Union in the wake of June's referendum.
You can listen to some of the talks below, or download from iTunesU here.
How Did We Get Here?
Tuesday 18th October
Robert Tombs, Professor of Modern European History at Cambridge's Faculty of History
Robert Tombs is the author of a recent epic history of England, and a renowned expert on nineteenth-century French political history and the relationship between the French and the British. During the EU Referendum campaign, he was a signatory on a letter produced by 'Historians for Britain', which supported a Leave vote, and has written about the future of the UK post-Brexit.
Dr Victoria Bateman, Fellow and College Lecturer in Economics at Gonville & Caius College, Cambridge
Victoria Bateman is an economic historian at Cambridge, and a Fellow at the Legatum Institute think tank. Her current research focuses on the European economy from early-modern times to the present. Victoria has called for a sexual revolution in economics due to a lack of women in the discipline, and wrote articles in favour of a Remain vote in the run-up to the EU Referendum. She tweets at @vnbateman.
Dr Chris Bickerton, University Lecturer in Politics at POLIS and Official Fellow at Queens' College, Cambridge
Chris Bickerton's research focuses on the dynamics of state transformation and the challenges facing representative democracy in Europe. He has written a recently published book called The European Union: A Citizen's Guide. During the run-up to the EU Referendum, Chris wrote in favour of a Leave vote, making the left-wing case for Brexit. He tweets at @cjbickerton.
Key Issues for the UK and EU Post-Brexit
Wednesday 19th October
Coen Teulings, Professor of Labour Economics and Industrial Relations at Cambridge's Faculty of Economics
As well as holding the Montague Burton Chair at Cambridge, Coen Teulings is a Professor of Economics at the University of Amsterdam. He has written extensively about wages and income inequality, and spent seven years as the Director of the Central Planning Bureau — the Netherlands' official economic forecasting agency. He has talked publicly about the risks posed by Brexit to free trade.
Athene Donald, Professor of Experimental Physics at Cambridge's Cavendish Laboratory and Master of Churchill College
Athene Donald has served on the University's Council and as its gender equality champion. She was appointed a Dame Commander of the British Empire in 2010, and Master of Churchill College in 2013. Athene wrote and talked extensively on the dangers that a Leave vote posed for UK science during the run-up to the EU Referendum. She is a regular blogger, and tweets at @AtheneDonald.
Charles Clarke, former Home Secretary
Charles Clarke is a Visiting Professor at the Policy Institute of Kings College London. He was MP for Norwich South from 1997 to 2010, and served as Home Secretary between 2004 and 2006 in Tony Blair's Labour Government. During the run-up to the EU Referendum, Charles co-authored a report warning that intelligence relationships would be damaged by a Leave vote.
Process and Politics of the UK Leaving the EU
Thursday 20th October
David Runciman, Professor of Politics and Head of Department at POLIS and Fellow at Trinity Hall, Cambridge
David Runciman's current research projects include the Leverhulme-funded Conspiracy and Democracy project and Future of Intelligence centre. In 2013, he published the book The Confidence Trap, a history of democratic crises since WWI. David hosts the weekly podcast Talking Politics from his Cambridge office, and has written that the Referendum vote shone a light on the education divide in democracy.
Mark Elliott, Professor of Public Law at the Faculty of Law, and Fellow at St Catharine's College, Cambridge
Mark Elliott has written a number of books on public law, and is Legal Adviser to the House of Lords Constitution Committee. Mark writes a highly regarded blog called Public Law for Everyone, on which he analyses many of the legal issues surrounding the triggering of Article 50 and Theresa May's Great Repeal Bill. Mark tweets at @ProfMarkElliott, and the slides from this talk are available at his blog. 
Global Britain? The Future of British Trade after Brexit
Thursday 20th October
The Rt. Hon. Greg Hands MP, Minister of State in the Department for International Trade, delivered this year's Alcuin Lecture at Cambridge's Department of Politics and International Studies (POLIS). Greg was appointed to his current position by Theresa May in July 2016, where he serves as number two to Secretary of State Liam Fox. He tweets at @GregHands.
The UK and Brexit: How, Why and Where Now?
Friday 21st October
Matthew Elliott, Head of Vote Leave
Matthew Elliott is the former Chief Executive of the Vote Leave campaign. He is now Editor-at-Large of BrexitCentral, recently launched with the aim of "promoting a positive vision of Britain after Brexit". He was a founder and former Chief Executive of the political think tank The TaxPayers' Alliance. Matthew tweets at @matthew_elliott.
Catherine Barnard, Professor of European Union Law and Employment Law at the Faculty of Law, and Fellow of Trinity College, Cambridge
Catherine Barnard is a leading expert on EU internal markets and employment law, publishing extensively in these fields. She is a Senior Fellow of the ESRC's UK in a Changing Europe initiative, and is jointly leading the EU Migrant Worker research project. Catherine regularly commented in the media during and after the EU Referendum. She has recently written that there could be free movement of workers in any Brexit deal. Catherine tweets at @CSBarnard24.
Jonathan Portes, Principal Research Fellow at the National Institute of Economic and Social Research
In addition to his role at the NIESR, Jonathan Portes is also a Senior Fellow of the UK in a Changing Europe initiative. Previously, he served as Chief Economist at the Cabinet Office. Jonathan's new book, 50 Capitalism Ideas You Really Need to Know, has just been published. During the run-up to the EU Referendum, he wrote on the misrepresentation of migration by sections of the media. Jonathan tweets at @jdportes.
Anand Menon, Professor of European Politics and Foreign Affairs at King's College London
Anand Menon is the Director of the UK in a Changing Europe initiative, and has written widely on many aspects of EU politics and policy and on UK-EU relations. As part of the initiative, he recently led on a report suggesting that "Brexit has the potential to test the UK's constitutional settlement, legal framework, political process and bureaucratic capacities to their limits". Anand tweets at @anandMenon1.
---

The text in this work is licensed under a Creative Commons Attribution 4.0 International License. For image use please see separate credits above.
---