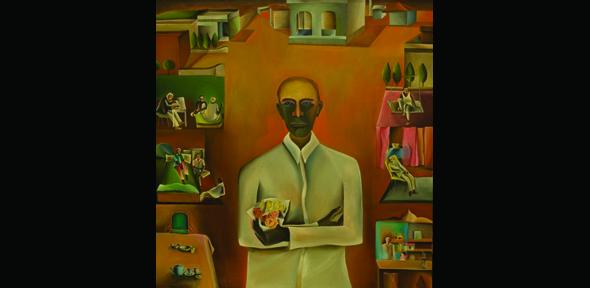 Almost 40 years have passed since Bhupen Khakhar painted one of the most iconic paintings in the history of Indian modern art. Dr Devika Singh offers fresh insights into a generation of Indian artists whose work reflects the politics and social turmoil of a fascinating era.
The late 1960s and 1970s was a fascinating period for Indian art which reflected the huge societal upheavals taking place

Devika Singh
Bhupen Khakhar's portrait of a man holding a bunch of roses belongs to the collection of the National Gallery of Modern Art in Delhi. The painting, titled Man with a Bouquet of Plastic Flowers, captures a keen sense of solitude: the figures and objects it portrays are defined by their separation. The man at its centre, dressed in a plain white shirt, looks straight at the viewer, his face shaded and mouth downcast. His crossed arms suggest a containment of emotion. Even the flowers, perhaps a gift, are clasped tight to his body.
Dr Devika Singh, Smuts Research Fellow at the Centre of South Asian Studies, is a specialist in Indian modern and contemporary art and architecture. Her recent research looks at Indian artists who worked post-independence and pays attention, among others, to those who, like Khakhar, attended the art school at the University of Baroda, an institution that sparked a flowering of new talent. These artists drew on a range of artistic currents and, in creating a language that was uniquely theirs, forged their names on an international stage.
Painted in 1976, Khakhar's portrait of the man with the plastic flowers borrows elements of Indian popular culture and creates something that is quite startling in its juxtaposition of low and high art. "The man portrayed is anonymous but holds centre stage. The setting in which Khakhar places him is taken from so-called calendar prints which often feature famous politicians with scenes telling their life stories. Khakhar upends this visual convention," says Singh. "The episodes in Khakhar's painting are under-stated rather than dramatic. They speak of domestic intimacy but also of tension and loneliness. There's an emptiness to the interiors and the small figures are shown as languid in a way that suggests that they're disengaged from the outside world."
The 1960s and 1970s marked a critical juncture in Indian art. After the first phase of post-independence nation-building, these decades prompted a crisis as the country wrestled with the multiple and often clashing influences that permeated society. As in other postcolonial states, Indian intellectuals began to reflect on the shortcomings of the first generation of Indian political leaders. In this context, the late 1960s saw the emergence of the Baroda school, a loosely-knit group named after the university's Faculty of Arts, where the painter and teacher KG Subramanyan had a lasting influence.
Trained at Santiniketan's Visva Bharati, the university set up by Rabindranath Tagore, Subramanyan was briefly imprisoned as a young man for his support of Gandhi's anti-colonial struggle. He later went to work in New York on a Rockefeller fellowship before returning to India to resume his teaching at Baroda. During Subramanyan's stay in the USA, the renowned American art critic Clement Greenberg visited his exhibition at Chemould Gallery. Greenberg was involved in a landmark exhibition organised by New York's Museum of Modern Art titled 'Two Decades of American Painting' that came to India in 1967 and on whose heated reception Singh has written.
Singh says: "The late 1960s and 1970s was a fascinating period for Indian art which reflected the huge societal upheavals taking place. Irony and individualism seeped into the work of contemporary artists – both are apparent in Man with a Bouquet of Plastic Flowers. The politics of the time had a big impact whether it was the countercultural movements or the anti-Vietnam protests, and also took on specific garbs with the rise of the Maoist rebellion known as the Naxalite movement. In addition, the development of Indian art should also be conceived internationally. Indian artists travelled to the USA, UK and beyond, and western artists travelled to India. The result was a two-way exchange of ideas."
Brought up in Bombay, Khakhar trained as an accountant before changing career and finding a voice as a painter. His relatively modest background, and most importantly his unique personality, meant that he was in touch with the vitality of popular culture. At the same time, he was engaged with the high art that was making waves on a global scale. In 1981 he came out as openly homosexual, one of the first well-known figures to do so. From then onwards until his death in 2003, his work spoke explicitly of his sexuality. He and his contemporaries challenged the status quo and found new ways to live and work in a country in which anti-pluralist currents have led to violence and self-censorship.
"Khakhar defies the frameworks that art historians and curators, like me, often use to place artists within a particular context. Some commentators have suggested that he's a pop artist – but he's much more. The strength of his work, and one of the reasons that it remains significant, is that it's disruptive and provokes deep questions about society. For instance, he developed new ways of showing the body as a domestic and public object," says Singh. "His pictures also draw influences from far and wide – from the naïve paintings of Henri Rousseau to Mughal and Italian Renaissance painting. The works of the 1970s debunk many nationalist myths, while his later works invite a consideration on the fragility of the human body."
Friends and colleagues of Khakhar who went on to make their names, include Vivan Sundaram, Mrinalini Mukherjee and Nalini Malani. Their work addresses matters of political, communal and gender identity. Half a century on, these artists have been recognised outside India for their contribution to the unfolding story of 20th-century art. Malani's work has long been exhibited internationally, including at Documenta in 2012. Yet, the work of Mukherjee, focus this year of a retrospective at Delhi's National Gallery of Modern Art, deserves to be better known abroad.
In spring 2016, Tate Modern will hold a solo exhibition of Bhupen Khakhar's work and Singh will contribute to its catalogue. In June she will co-convene a conference, at the Paul Mellon Centre for Studies in British Art and at Tate Modern, on the history of exhibitions of South Asian art in Britain. Khakhar, whose work was promoted in the UK from the 1980s, contributed to this dynamic history. Says Singh: "This was not a one-way traffic. Influences came not only from Britain to India but also from India to Britain. In the late 1960s and 1970s there were countless alliances between London's left wing intellectuals and their international counterparts.
By virtue of her academic studies in Paris (Lycée Condorcet), Cambridge (King's College and Trinity College) and London (Courtauld Institute), and her close connections with India, Singh has met and interviewed many artists and actors of the post-independence art world, some of whom are in their 80s and 90s. In many cases, she has been given access to their personal archives, art collections and correspondence.
Drawing on these experiences, she is writing a book on artistic creation in post-independence India for Reaktion Books. Her research also underpins an exhibition on the history of photography in India that she is co-curating at the Media Space of the Science Museum in London. The exhibition will be an unprecedented survey of photography in India from the arrival of the medium in India in the 1840s until today.
"Analysing the creative narrative of 20th-century India is a complex enterprise, as the work of artists is both transnational and deeply embedded in the national politics of the time," she says. "But it's certainly an extremely enriching project that attests to the vibrancy of artistic creation in India."
Inset image: Dr Devika Singh.
---

The text in this work is licensed under a Creative Commons Attribution 4.0 International License. For image use please see separate credits above.
---