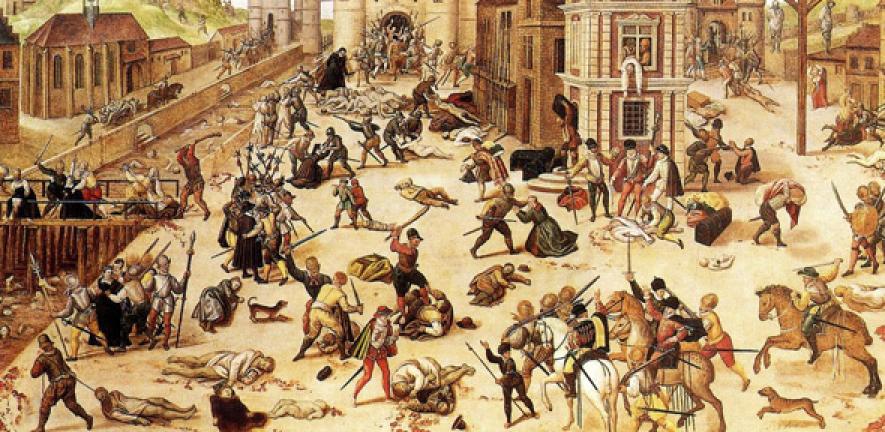 The journals and scrapbooks of Pierre de L'Estoile have for generations provided a vivid picture of France in a time of religious upheaval. Now Cambridge historian Tom Hamilton has written the first book devoted to the life of L'Estoile as a diarist, collector and man about town. 
Hamilton's book examines a life both ordinary and extraordinary. He uses the diarist's writing and collecting to rethink the complex flavours and textures of a world disrupted by religious and political conflict.
Pierre de L'Estoile has been described as France's Samuel Pepys. Like Pepys, he lived in singularly interesting times. Like Pepys, he documented in his journals both the inner world of his household and the wider world of politics and gossip. He also compiled scrapbooks of the partisan and often scurrilous broadsheets that circulated in his Paris neighbourhood as rival factions in a religious upheaval sought to discredit each other as heretics, unbelievers or opportunists.
Born in 1546, L'Estoile lived through the eight civil wars that became known as France's Wars of Religion, a succession of violent struggles between Catholics and Protestants that drew in all of the great powers of Reformation Europe. The troubles began with the massacre of Protestants worshipping at the village of Vassy on 1 March 1562 and the advance of the Protestant armies that followed. Ten years later, thousands of Protestants lay dead on the streets of Paris, slaughtered by Catholic militia in the infamous St Bartholomew's Day massacre. Only with the Edict of Nantes in 1598 did rival parties unite behind the Catholic convert, King Henri IV, and establish a fragile peace.
Edited extracts of L'Estoile's journals were published following his death. Ever since, historians have scoured his records for unparalleled first-hand accounts of events that range from political scandals to everyday criminality and wondrous portents in the sky. Meanwhile, the diarist himself has appeared solely in the footnotes of histories devoted to the period. In Pierre de L'Estoille and his World in the Wars of Religion, historian Tom Hamilton places this remarkable Parisian centre stage of a narrative that sheds new light on a fascinating and turbulent period of French history.
The Wars of Religion are conventionally framed as a conflict sharply divided between Catholics and Protestants, and driven by the political ambition of powerful noble families. Hamilton's meticulous archival research into L'Estoile's life as head of a large household (his two marriages produced 18 children, nine of whom survived to maturity), and holder of important positions in the royal bureaucracy, looks instead at the impact of the civil wars on everyday life. He reveals a society marked by ambiguous religious allegiances and conflicting political solidarities that could split families apart.
Hamilton's book, the first in any language to concentrate on L'Estoile, examines a life that is both ordinary and extraordinary. He uses the diarist's writing and collecting to rethink the complex flavours and textures of a world disrupted by religious and political conflict.
L'Estoile came from a wealthy Catholic family of royal office-holders. Yet his father chose a Protestant scholar as tutor and protector for his young son. The diarist recalled that his father's instructions, given on his deathbed, were that his son ("one of the most precious gifts that God has given me") was to be raised a pious and god-fearing Catholic. Tellingly, however, the boy was not to be nourished in "the abuses and superstitions of the Church".
Years later, L'Estoile was to pass on his father's moderate religious legacy to his own children, only to see his eldest son rebel and join the armies of the zealous Catholic League, dying tragically less than a year after reconciling with his family.
The religious choice of the L'Estoile family, argues Hamilton, offers a new perspective on the history of Catholicism. It reveals how French (Gallican) Catholics could be familiar with Protestants, who were critical of Rome and what L'Estoile called "the rotten trunk of the papacy", and at the same time give their allegiance to the "most Christian king" of France as the head of a national church, a distinctively French branch of Catholicism.
Social status gave L'Estoile privileged access to information and a means to sustain his family during the day-to-day struggle of life through the civil wars. Not only was L'Estoile a landowner (although he seldom visited his estates and mishandled his financial affairs), he also held positions as a royal secretary and officer in the Paris Chancery. During the final civil war, L'Estoile was privy to seditious correspondence between factions, and to add to his collection he "copied it at that very moment on one of the desks in the Chancery". He also had a role in print licensing and got to know the printers of the rue Saint Jacques. Many became friends for life and one, at least, "printed nothing, however secret, about which he did not inform me".
L'Estoile's house in the neighbourhood of Saint-André-des-Arts, on the Left Bank of the River Seine, was just a few minutes' walk from his workplace on the Île de la Cité. He lived surrounded by family and colleagues, a courtyard away from his mother. His house had been the scene of the murder of a previous occupant: he purchased it for a knockdown sum and never mentioned its grim history in his diaries. An inventory of L'Estoile's worldly goods made on his death offers clues about the man he was. He owned few clothes, and those he did possess were shabby. Neither was there anything exceptional about the family's accoutrements, although he differed from his neighbours in not displaying devotional paintings of the Virgin Mary or saints.
Located at the top of the house, L'Estoile's study and cabinet of curiosities tell another story.  In a space out of bounds to the rest of his family, L'Estoile amassed one of the largest libraries and painting collections in Paris. Here he wrote and edited his journals, organised his collections, and met with scholarly friends. In this respect he engaged with men of his class across Europe caught up in the growing mania for collecting. Some – including English and German diplomats – went out of their way to visit him.
While other collectors gathered learned manuscripts or items of natural history to prove their erudition, L'Estoile collected printed ephemera which he had made into volumes he called his 'drolleries' (trifles), mocking their risible exaggerations. The scale of these drolleries was far from trifling. By 1589, L'Estoile had collected more than 500 different publications that documented the twists and turns of the civil wars. At his death in 1611, his collection had swelled to contain thousands of volumes.
Meanwhile, L'Estoile's journals offer a glimpse of some of the terrible privations suffered by poor Parisians as food supplies were disrupted and prices escalated. During the Siege of Paris in 1590, when the French royal army surrounded a city taken over by the Catholic League, he describes taking a walk with two relatives and spotting a desperate woman eating the skin of a dog. So shocked are the men by this sight that L'Estoile's brother-in-law undertakes to record it himself, lest L'Estoile's account later be dismissed as fabricated.
Remaining in Paris during a period when many moderate Catholics sought safety elsewhere, L'Estoile put his own life on the line. In 1591 the Catholic League drew up lists of people known to oppose its views, marking their names with the letters P for pendu (hanged), D for dagué (knifed) or C for chassé (exiled). L'Estoile was shown this list and saw his name marked D and those of several of his relatives marked P.  Fortunately for L'Estoile and family, the League's soldiers refused to carry out its orders.
L'Estoile's political affiliations were avowedly royalist. He believed that only a strong king could bring peace. In his collecting, however, he amassed literature of every political hue, confessing that his collecting impulse overrode any sense of prudence. At a time of intermittent print censorship, people caught possessing or disseminating defamatory material were in danger of execution. L'Estoile himself wrote of anti-royalist prints in his collection that he "should have thrown them into the fire, as they deserved".
Fortuitously for future historians, L'Estoile was stubbornly fixated on collecting. As a Chancery official charged with book licensing, and a cousin of the Parisian criminal lieutenant in charge of the book burnings, he claimed he was keeping exemplary copies for posterity, to preserve memories of the wickedness and confusion of his times.
Tom Hamilton is a Junior Research Fellow at Trinity College, Cambridge. Pierre de L'Estoile and his World in the Wars of Religion is published by Oxford University Press.
---

The text in this work is licensed under a Creative Commons Attribution 4.0 International License. For image use please see separate credits above.
---