Research into differences between chimpanzees and bonobos in 'preparation' for tool use reveals intriguing sex bias in object manipulation in young chimpanzees – one that is partly mirrored in human children.
We found that male chimpanzees showed higher object manipulation rates than females, but their object manipulation was dominated by play

Kathelijne Koops
New research shows a difference between the sexes in immature chimpanzees when it comes to preparing for adulthood by practising object manipulation – considered 'preparation' for tool use in later life. 
Researchers studying the difference in tool use between our closest living relatives, chimpanzees and bonobos, found that immature bonobos have low rates of object manipulation, in keeping with previous work showing bonobos use few tools and none in foraging.
Chimpanzees, however, are the most diverse tool-users among non-human primates, and the researchers found high rates of a wide range of object manipulation among the young chimpanzees they studied.
While in adult wild chimpanzees it is females that are more avid and competent tool users, in juvenile chimpanzees the researchers conversely found it was the young males that spent more time manipulating objects, seemingly in preparation for adult tool use.
"In numerous mammalian species, sex differences in immatures foreshadow sex differences in the behaviour of adults, a phenomenon known as 'preparation'," said Dr Kathelijne Koops, who conducted the work at the University of Cambridge's Division of Biological Anthropology, as well as at the Anthropological Institute and Museum at Zurich University.
Much of the time young male chimpanzees spent manipulating objects was dominated by 'play': with no apparent immediate goal, and often associated with a 'play face' – a relaxed expression of laughing or covering of upper teeth.
The sex bias for object manipulation the researchers found in juvenile chimpanzees is also found in human children. "The finding that in immature chimpanzees, like humans, object-oriented play is biased towards males may reflect a shared evolutionary history for this trait dating back to our last common ancestor," write the researchers from Cambridge, Zurich and Kyoto, who studied communities of wild chimpanzees and bonobos in Uganda and Congo for several months, cataloguing not just all tool use, but all object manipulation. 
Immature females, on the other hand, showed lower rates of object manipulation, especially in play, but displayed a much greater diversity of manipulation types than males – such as biting, breaking or carrying objects – rather than the play-based repetition seen in the object manipulation of immature males.
This seems to prepare the females better for future tool use. In an earlier study at Gombe (Tanzania), immature female chimpanzees were also observed to pay closer attention to their mothers using tools and became proficient tool users at an earlier age than males.
"Immature females seem to focus their attention on relevant tool use related tasks and thus learn quicker, whereas males seem to do more undirected exploration in play," write the researchers.  
They say they believe the findings show that not all object manipulation in juvenile chimpanzees is preparation for tool use, and the different types of object manipulation need to be considered.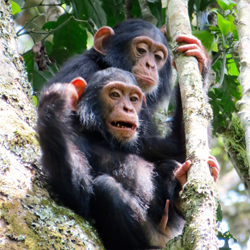 The researchers say that the apparent similarity between human children and young chimpanzees in the observed male bias in object manipulation, and manipulation during play in particular, may suggest that object play functions as motor skill practice for male-specific behaviours such as dominance displays, which sometimes involve the aimed throwing of objects, rather than purely to develop tool use skills.
However, the researchers also point out that further work is needed to disentangle possible functions of object manipulation during development.
"We found that young chimpanzees showed higher rates and, importantly, more diverse types of object manipulation than bonobos. Despite being so closely related on the evolutionary tree, as well as to us, these species differ hugely in the way they use tools, and clues about the origins of human tool mastery could lie in the gulf between chimpanzees and bonobos," Koops said.
"We found that male chimpanzees showed higher object manipulation rates than females, but their object manipulation was dominated by play. Young female chimpanzees showed much more diverse object manipulation types," she said.
"We suggest that the observed male bias in young chimpanzees may reflect motor skill practice for male-specific behaviours, such as dominance displays, rather than for tool use skills. It seems that not all object manipulation in immatures prepares for subsistence tool use. It is important to take the types of manipulation into consideration."  
The researchers also found that in chimpanzees, but not bonobos, the types of objects manipulated became more tool-like as the apes age. "As young chimpanzees get older they switch to manipulating predominantly sticks, which in this community is the tool type used by adults to harvest army ants," Koops explained.
This practice of ant 'dipping', when chimpanzees lure streams of insects onto a stick, then scoop them up by running a hand along the stick and into the mouth, provides a quick source of protein.
Koops added: "Given the close evolutionary relationship between chimpanzees, bonobos and humans, insights into species and sex differences in 'preparation' for tool use between chimpanzees and bonobos can help us shed light on the functions of the highly debated gender differences among children."
The research is published today in the journal PLOS ONE.
---

The text in this work is licensed under a Creative Commons Attribution 4.0 International License. For image use please see separate credits above.
---