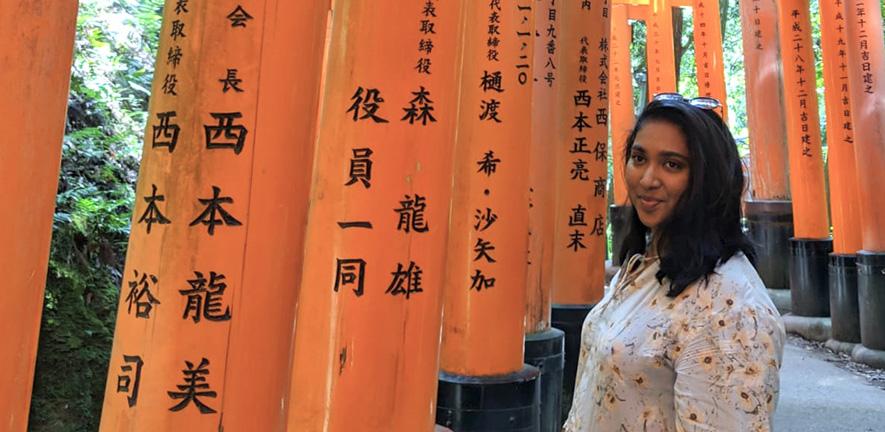 Sheen Gurrib is a PhD candidate in the Department of Materials Science and Metallurgy, where she is researching ways to improve chronic lower back pain. Here, she tells us about working with refugees to help them get into Cambridge, the importance of collaboration, and why her research has involved searching through butcher shops.
I am originally from Mauritius and I completed my undergraduate degree with an MEng in Materials Science from Oxford. I'm now finishing my third year of my PhD in the Cambridge Centre for Medical Materials, where I'm aiming to improve diagnosis and treatment of chronic low back pain.
My project started with me going around butcher shops looking for sheep spines to dissect and image. My main focus is the vertebral end plates, a section of the spine that is responsible for the nutrition of intervertebral discs but highly overlooked when it comes to disorders of the spine, so I'm looking into imaging and quantifying the vascular network in the end plates. My study also involves samples from patients undergoing spinal surgeries and their MRI scans which is the new aspect of this research, enabling the correlation between lab-based observation and clinical observations.
I spend most days dissecting spines which sometimes requires visits to the Vet School. The main technique I use is micro-CT, a non-invasive imaging technique which gives me beautiful scans of bone samples which I then analyse using different software. I also use finite element modelling to simulate blood flow in the vascular network seen in the scans. My collaborators are based in Exeter and I had to make a few trips there to inject dyes in cow tails to image the vascular network in the spine of cows. I also observed one of the surgeries in Ipswich Hospital to collect my samples.
I had a Eureka moment earlier this year when I realised that an experiment I discarded in my first year because it did not fulfil its purpose turned out to solve the biggest question of my PhD! I have been trying to image how the blood vessels end near the disc and an experiment I did in first year trying to image the disc itself was not successful but it did dye the ending of the vessels!
The aim of my research is to equip surgeons with a better understanding of what can be seen on an MRI scan when a patient suffers from back pain, so that diagnosis and treatment are targeted, improving quality of life of patients.
Cambridge has a great science community with lots of inter-departmental collaboration. Help is readily available, for example the Vet School just across the road from my lab trained me to use their bone saw to prepare my samples. Researchers from different labs will happily respond to questions via email, and expertise on different subjects is always available: surgeons have helped me understand the spine better, for instance. Additionally our own lab is well-equipped with three functioning micro-CT scanners, freeze-driers, blade saws as well as our own Tissue Culture Lab. I've also had the opportunity to present my work at conferences in Belgium, Netherlands, Germany and Japan with the support of my College, Hughes Hall.
Cambridge has equipped me with all the necessary skills as a leader and a scientist but also with a sense of fulfilment from playing my part in the betterment of society. I have been involved in outreach events including Making Materials Matter organised by Oxbridge and The Ironmongers Association, the Cambridge Science Festival, Women in Physics and school visits by Hughes Hall. I've also been involved in an i-teams project organised by the Cambridge Centre for Global Equality where I was part of a team working on the commercialisation of biodegradable wound dressings, developed by researchers in Chemical Engineering, for use in the Gambia and India. I was the editor of a global health think tank managed by Polyegia which resulted in the publication of a policy brief addressing the mental health of refugees in the UK. Together with Project Access, I founded Project Access for Refugees, offering free mentoring to students of a refugee background apply and get into Cambridge and Oxford. I was humbled to be in the finalists for the Vice-Chancellor's Social Impact award and for being awarded Global Shaper by the World Economic Forum.
My advice to other young women considering a career in STEM is to never be afraid to take a leadership position. Apply for things, shoot high and do not underestimate yourself. It is often hard, but if you work hard and do the best you can, it will work out. Your path might not be the same as you expected or hoped, but keep going! We need to keep on inspiring the next generation of aspiring female scientists.
---

The text in this work is licensed under a Creative Commons Attribution 4.0 International License. Images, including our videos, are Copyright ©University of Cambridge and licensors/contributors as identified.  All rights reserved. We make our image and video content available in a number of ways – as here, on our main website under its Terms and conditions, and on a range of channels including social media that permit your use and sharing of our content under their respective Terms.
---