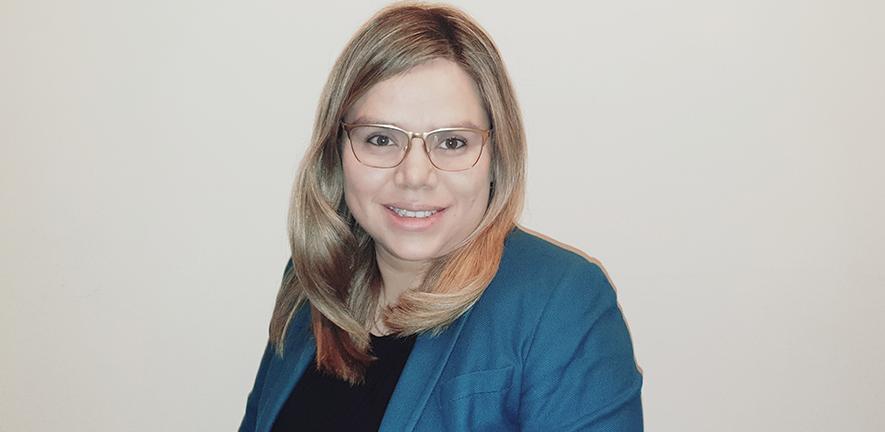 Dr Karen Pinilla is a clinical research fellow at the Cancer Research UK Cambridge Centre. She worked as a clinician in the breast unit at Addenbrooke's Hospital before starting her fellowship in October 2019. She is now based in both Addenbrooke's Hospital and the Cancer Research UK Cambridge Institute.
A better understanding of breast cancer biology has led to the identification of more effective treatments, and an increased cure rate in some breast cancer subgroups. However, some patients who are considered 'high risk' often receive intensified treatments that are associated with increased toxicity and which unfortunately don't always mean better survival rates. 
My research aims to identify characteristics that can accurately predict the efficacy of different therapies. I focus on patients diagnosed with triple negative breast cancer (TNBC) and patients that carry inherited alterations in BRCA genes (gBRCA). We hope our results will support the development of more personalised treatments, with biomarkers accurately directing patients to receive therapies that are more likely to be beneficial for them.
My research involves comprehensive analysis of data obtained from two of the core projects currently running in the Breast Cancer Programme at the Cancer Research UK Cambridge Centre: the Personalised Breast Cancer Programme (PBCP) and the PARTNER trial. In PBCP, whole-genome sequencing and RNA sequencing are obtained from patient's tumour and blood samples. This study is currently running at Addenbrooke's Hospital in Cambridge and will soon open in multiple sites across the UK. The PARTNER trial is a randomised clinical trial that aims to establish whether the addition of a new treatment (Olaparib) to standard chemotherapy improves outcomes in patients with TNBC and/or gBRCA. It is open in 28 sites across the UK and two international sites are in active set up.
I use cutting edge computational approaches to integrate high quality clinical and genomic data from both studies. I work with the bioinformatics team within Professor Carlos Caldas' group at the Cancer Research UK Cambridge Institute, and collaborate with other computational teams across the Cancer Research UK Cambridge Centre.
Every time I am able to provide genomic data that helps better personalise a patient's management, that day becomes a new 'most interesting' day. As a doctor and a researcher, that's the best example of how our efforts in research can be translated into every patient care. I can't think of a better definition of true scientific motivation. 
My research aims to generate a powerful tool to guide and help health professionals to personalise treatment in patients diagnosed with early breast cancer who have a poor prognosis. I hope that this will help to speed up the identification of more effective treatments that will ultimately lead to more cured patients in a shorter period of time.
Cambridge is an exceptional environment for young researchers. It not only gives us the opportunity to work with some of the most outstanding and recognised leaders in cancer research but also to work side by side with fantastic experts in other fields. In my particular case, using highly advanced computational work to answer a purely clinical question would not be possible in a different context. Exchanging ideas with and bringing together experts from other fields is strongly encouraged in Cambridge. It is highly motivating to be surrounded by incredible people and great minds.
I have been especially fortunate in terms of mentors. Professor Carlos Caldas and Dr Jean Abraham have allowed me to engage with two exceptional projects. Their expertise and the quality of people in their teams have been vital to my development as a scientist.
I believe teamwork is the key for a successful career in science, medicine and life in general. Human beings are meant to grow and develop as part of a group. We are meant to be together and help each other as a team.
As women, we need to recognise our strengths and make sure our ideas are shared and used appropriately. There are no excuses for not doing it. To increase the chances of that happening, make sure you have good supporters around you. It can be members of your family, your partner, your mentors or workmates. Nobody is capable of doing everything on their own. Just make sure you ask for help when you need it.
---

The text in this work is licensed under a Creative Commons Attribution 4.0 International License. Images, including our videos, are Copyright ©University of Cambridge and licensors/contributors as identified.  All rights reserved. We make our image and video content available in a number of ways – as here, on our main website under its Terms and conditions, and on a range of channels including social media that permit your use and sharing of our content under their respective Terms.
---