As new estimates of death toll for health workers are published, experts say the deliberate and systematic attacks on the healthcare infrastructure in Syria – primarily by government forces – expose shortcomings in international responses to health needs in conflict.   
It is vital that the international community design policies and interventions to help displaced healthcare workers find and sustain employment in neighbouring host countries

Adam Coutts
The strategy of using people's need for healthcare against them by violently denying access sets a dangerous precedent that the global health community must urgently address, say an international team of researchers.
The authors of a new report published today (15 March) in The Lancet – marking six years since the conflict began – have "triangulated" various data sources to provide new estimates for the number of medical personnel killed so far: 814 from March 2011 to February 2017.
However, they also say this is likely to be a "gross underestimate" due to limitations of evidence-gathering and corroboration in the conflict areas.  
There were 199 attacks on health facilities in 2016 alone – an increase from 91 in 2012, when the Syrian government effectively criminalised medical aid for the opposition. The government and its allies, including Russia, have been responsible for at least 94% of attacks, say the experts – threatening the foundation of medical neutrality.
Besieged areas are denied medicine, and remaining medics are delivering what care they can in brutal conditions. Despite explicit protections under International Humanitarian Law, attacks on health workers have included imprisonment, abduction, torture and execution.  
The authors of the latest report, including researchers from Cambridge's departments of sociology and politics, say the conflict has exposed serious shortcomings in global governance.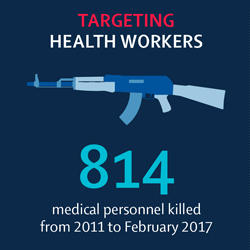 They call for the systematic documentation of attacks on health workers and, critically, the perpetrators via the WHO, allowing for greater accountability. UN policies and practices should also be reviewed and strengthened, including operational capacity to deliver support to health workers across conflict lines.
The research team also calls for global solidarity with health workers in the Syrian conflict, including support to increase awareness among donors and politicians.
"Syria has become one of the most dangerous places on earth to be a healthcare worker," says Dr Adam Coutts, report co-author from Cambridge's Department of Sociology.
"Thousands of health workers have left and relocated to neighbouring countries and further afield such as Europe. This poses significant challenges for current healthcare provision in Syria but also for future health system rebuilding in a post conflict situation."
Between 2011 and 2015, it is estimated that 15000 doctors, or half of the pre-war numbers, left the country. In Eastern Aleppo, approximately 1 doctor remained for every 7000 residents, compared with 1 in 800 in 2010.
The exodus of older, experienced doctors has left critical gaps. Younger, less experienced physicians – many of whom are students with no experience in trauma management or emergency medicine – have become indispensable. However, this increases risk for patients and warns of a serious shortage of skilled doctors in future.
In non-government controlled areas, the few health workers left face massive numbers of trauma victims, shortages of medicines, epidemics of infectious disease and chemical attacks. In areas under siege, surgical supplies and essential medicines are seldom allowed in, patients rarely evacuated, and public health measures such as water chlorination and measles vaccination are sometimes blocked.
The bulk of Syria's remaining health workers are in government-controlled areas, where they also face mortar attacks from rebel areas and travel restrictions. Some report being forced to breach ethical principles under pressure.
Sophie Roborgh, one of the report's authors from the Department of Politics and International Studies, conducts research on violence against health workers and medical infrastructure in conflict, and how health workers deal with it – professionally and personally.
"Healthcare workers that remain have been forced to adjust their entire lives around the threats and pressures they face," she says. "There is such a shortage of staff that some physicians and other medical staff actually live full-time in hospitals.
"One medic showed me pictures on his phone of his colleague's young children, who spend much time with their father, helping to mop up blood in operation rooms. Another told me how he celebrated his wedding in the hospital.
"We are trying to uncover which measures of support for these health workers are actually effective, in the hope that we can eventually move beyond a one-size-fits-all approach to a more specific, evidence-based model for conflict situations."
Coutts says that practical policy options to assist displaced Syrian healthcare workers require evidence of where they are and what skills and training capacities they have. This information is not currently available and is badly needed.   
"It is vital that the international community design policies and interventions to help displaced healthcare workers find and sustain employment in neighbouring host countries," says Coutts.  
"Due to visa and right-to-work issues, Syrian doctors and allied health professionals are unable to practice in countries such as Lebanon and Jordan. This is currently an untapped and essential workforce that could be used to support the already overstretched humanitarian response and public services in host communities."
---

The text in this work is licensed under a Creative Commons Attribution 4.0 International License. For image use please see separate credits above.
---