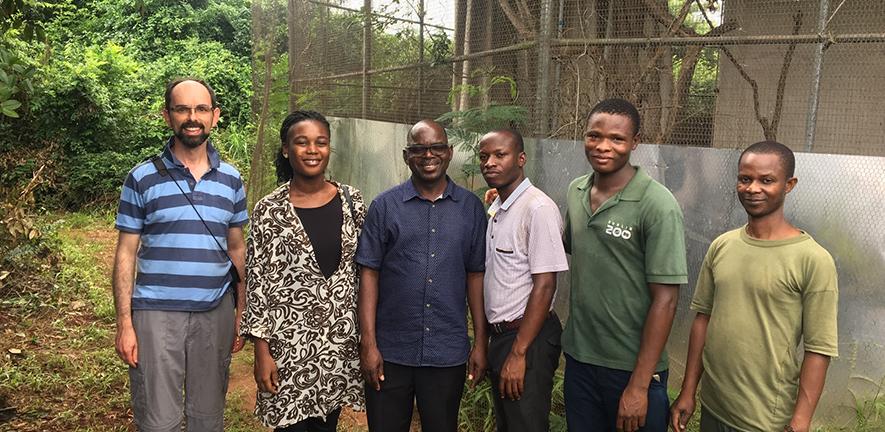 "We have been expecting a pandemic like this for nearly twenty years," says Olivier Restif, who uses mathematical modelling to understand how infectious diseases spread within and across species. In the midst of a global pandemic that began when one person was infected by one wild animal, he is keen to draw attention to the importance of using research to be better prepared. 
This article is part of a series in which we speak to some of the many Cambridge researchers tackling COVID-19. For other articles about our latest COVID-19-related research, click here.
My research is focused on viruses in bats that can be transmitted to people or domestic animals. We call these zoonotic viruses. The work is important in helping to understand where and how pandemics may emerge, and can help reduce people's exposure to diseases. However, once a pandemic is underway it becomes a public health issue and other colleagues are better placed than me to respond. Like many scientists, I've offered to help assess new evidence relating to the coronavirus, for example by responding to requests from the teams of modellers who advise the UK Government.  
I'm quite lucky that my work is mainly office-based, so working from home hasn't caused too much disruption apart from having to cancel a few trips and conferences. Obviously, staying in touch with everyone in my team requires a bit more organisation, but they're all doing well. On the plus side I get to spend more time with my three year-old son.
I'm part of a large international consortium, called Bat One Health, studying zoonotic viruses in bats in Africa, Asia and Australia. Using years of field data, we develop models to investigate how bat ecology affects the spread of viruses. We have come to realise that human activities, by disrupting wildlife, increase the risk of diseases spreading to humans in multiple ways. Working with academics and communities in affected countries, our goal is to come up with practical and sustainable solutions to preserve biodiversity while reducing threats to human health.
The UK and other high-income countries are experiencing unprecedented challenges in responding to the outbreak. But I think the biggest crisis is just beginning to hit many African and Asian countries. Many have recorded very low numbers of cases so far and some have imposed drastic social distancing measures. However, the virus has likely been spreading through those countries for weeks due to the lack of detection capacity. If severe cases increase exponentially in poor communities that lack access to health care, we could soon be witnessing a new humanitarian crisis.
The reaction of the University's research community has been quite extraordinary. Online forums have been set up to exchange information and coordinate action, to ensure that the necessary resources and expertise can be found and employed very quickly. Even though it's often claimed that researchers work in silos, that's not my experience at all: interdisciplinary research is thriving.
The irony is that we have been expecting a pandemic like this for nearly twenty years. We learned a lot from recent international outbreaks of SARS, Ebola and swine flu in particular, and contingency plans had been drafted by some of the best experts. The research was shared with governments and also with the general public, for example in David Quammen's excellent book Spillover (2012) and in the Hollywood film Contagion (2011). So why didn't this knowledge translate into better preparedness? This is yet another example of short-term political priorities getting in the way of planning for extreme events. 
From an academic perspective, better collaborations between natural scientists and economists would certainly help. The coronavirus outbreak definitely highlights the importance of research on zoonotic viruses in wildlife 'upstream' of pandemics. In addition to continuing our work on viruses in bats, we'll be looking for new opportunities to collaborate with public health scientists and policy makers. More than ever, our emphasis will be on capacity-building in Africa. 
When the pandemic is over, I'm most looking forward to meeting up with relatives and friends. I'm also conscious that the current restrictions are causing major disruptions for our students, who will need additional support to catch up. Hopefully the experience will inspire more students to work on pandemics and appreciate the importance of interdisciplinary research. 
Dr Olivier Restif is Alborada Lecturer in Epidemiology, based in the University's Department of Veterinary Medicine.  Read his recent opinion piece for The Conversation.
---

The text in this work is licensed under a Creative Commons Attribution 4.0 International License. Images, including our videos, are Copyright ©University of Cambridge and licensors/contributors as identified.  All rights reserved. We make our image and video content available in a number of ways – as here, on our main website under its Terms and conditions, and on a range of channels including social media that permit your use and sharing of our content under their respective Terms.
---