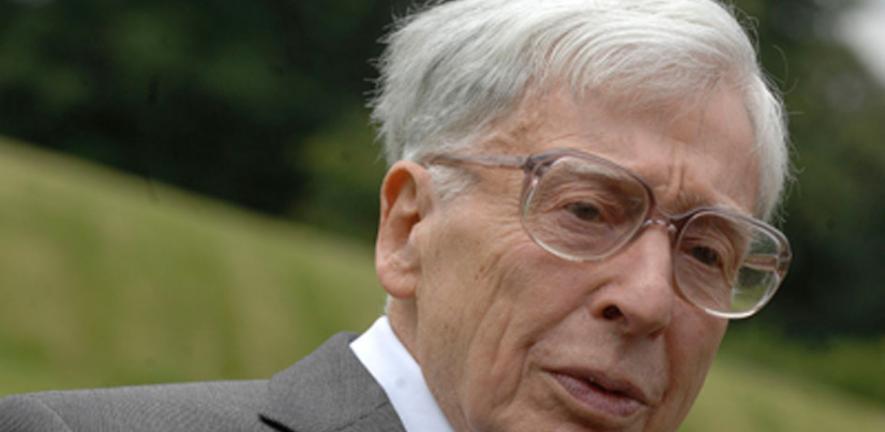 Professor Robert Edwards, Pensioner Fellow at Churchill College and Emeritus Professor of Human Reproduction at the University, was today awarded the Nobel Prize in physiology or medicine.
I am delighted that Bob Edwards's work has been finally recognised with the much-deserved award of Nobel Prize in Medicine.

Professor Azim Surani
Edwards, born in 1925, was educated at the University of Bangor and the University of Edinburgh. In 1963, he joined the University of Cambridge as the Ford Foundation Research Fellow at the Department of Physiology, and a member of Churchill College.
Edwards began work on fertilisation in 1955, and began his partnership with Dr Patrick Steptoe, a gynaecologist surgeon, in 1968. Although the first successful human test-tube fertilisation took place by 1970, research did not result in a successful pregnancy for ten years. During this time, Edwards supervised students at Churchill College.
By the late 1970s, funding for Steptoe and Edwards' project was running out, and their work met with scepticism, resistance and set-backs. But in 1978, a breakthrough resulted in a healthy pregnancy and the birth of the first ever 'test tube baby', Louise Brown.
Edwards and Steptoe went on to found the first IVF clinic at Bourn Hall, Cambridge, in 1980. Before Dr Steptoe died in 1988, Edwards, now a Professor of Human Reproduction at Cambridge, was able to tell his seriously ill colleague that one thousand babies had been conceived at the clinic.
In 2001 he was awarded an honorary doctorate from the University of Cambridge and the Albert Lasker Clinical Medical Research Award for the development of in vitro fertilization. Now aged 85, Edwards is a Pensioner Fellow at Churchill College, Cambridge. Over four million children have now been born as a result of IVF.
Professor Azim Surani, former graduate student of Professor Edwards and current Marshall-Walton Professor of Physiology and Reproduction at the University of Cambridge, said:
"I am delighted that Bob Edwards's work has been finally recognised with the much-deserved award of Nobel Prize in Medicine. I was one of his PhD students in early 1970's when Bob together with Patrick Steptoe was in the middle of his pioneering research on early human embryos, which eventually led to the birth of Louise Brown. Bob had to work very hard towards achieving his objective in the face of many obstacles, considerable opposition and lack of support from the establishment.
"Bob's work has been critical for many other important medical advances, including preimplantation genetic diagnosis for diseases, and for the derivation of the first human pluripotent stem cells, which hold great promise for advances in medicine in the future. For myself, Bob was a highly inspirational and generous supervisor, and I am delighted and proud to have been one of his PhD students."
Professor Bill Harris, Head of Physiology, Development and Neuroscience at the University of Cambridge, said:
"We are absolutely delighted that the pioneering work on the basic cell biology of mammalian fertilization done by Bob Edwards when he was in our Department has been duly recognized by the Nobel Committee for the huge step forward in reproductive medicine that it has proved to be.
"This is a perfect example of how basic science can have enormous, beneficial impact on modern medicine. Louise Brown, born in 1978, and thousands of other happy, healthy and successful human beings all owe their very existence to the remarkable breakthrough achieved by Bob."
Dr Alan Findlay, Fellow of Churchill College and longstanding friend and colleague of Professor Bob Edwards, said:
"This is great news. I just wish it had come sooner. Bob braved tremendous difficulties in the early days of the research that led to IVF. He had to make weekly journeys from Cambridge to Oldham- in the pre-motorway era! - where Patrick Steptoe, one of the few obstetricians willing to collaborate with him, was using keyhole surgery to collect eggs from ovaries. Leaders of the medical and scientific establishments were highly sceptical. Bob has engaged vigorously and constructively in debates on the ethical implications of his work. The greatest reward for him has been the joy that his work has brought to millions."
Sir David Wallace, Master of Churchill College, said:
"I am thrilled for Bob, who has given us yet another wonderful reason to celebrate this year the 50th anniversary of the Founding of the College."
The work of Bob Edwards is featured in the forthcoming exhibition 'Science and Technology at Churchill College Cambridge: the first fifty years' which opens at the College on 11 October with a lecture by Lord Winston. Use the link above right for further details.
Image not for duplication. Credit: Bourn Hall
---
This work is licensed under a Creative Commons Licence. If you use this content on your site please link back to this page.
---