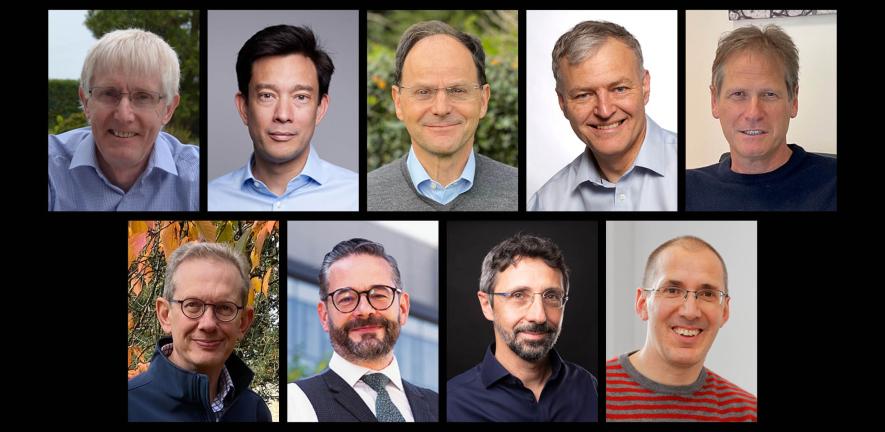 The nine Cambridge researchers were all selected for their exceptional contributions to science.
It is an honour to welcome so many outstanding researchers from around the world into the Fellowship of the Royal Society.

Sir Adrian Smith, President of the Royal Society
The Royal Society is a self-governing Fellowship made up of the most eminent scientists, engineers and technologists from the UK and the Commonwealth. Its Foreign Members are drawn from the rest of the world.
The Society's fundamental purpose is to recognise, promote, and support excellence in science and to encourage the development and use of science for the benefit of humanity.
This year, a total of 51 Fellows, 10 Foreign Members, and one Honorary Fellow have been selected for their outstanding contributions to science.
Sir Adrian Smith, President of the Royal Society said: "It is an honour to welcome so many outstanding researchers from around the world into the Fellowship of the Royal Society.
"Through their careers so far, these researchers have helped further our understanding of human disease, biodiversity loss and the origins of the universe. I am also pleased to see so many new Fellows working in areas likely to have a transformative impact on our society over this century, from new materials and energy technologies to synthetic biology and artificial intelligence. I look forward to seeing what great things they will achieve in the years ahead."
The Cambridge Fellows are:
Professor Graham Burton FMedSci FRS
Mary Marshall and Arthur Walton Professor Emeritus of the Physiology of Reproduction, University of Cambridge
Burton is a reproductive biologist whose research has focused on the early stages of human pregnancy. In particular, he showed how the placenta is established in a protective low-oxygen environment, stimulating its own development through interactions with the uterus. He demonstrated that aberrations in the early stages of placental development can adversely affect the life-long health of mother and offspring. Burton was founding Director of the Centre for Trophoblast Research, and founding Chair of the Strategic Research Initiative Cambridge Reproduction.
He said: "I am delighted to receive this recognition for myself and the field of reproductive biology, and thank colleagues and collaborators for their contributions over the years."
Professor Roberto Cipolla FREng FRS
Professor of Information Engineering, Department of Engineering, University of Cambridge
Cipolla is distinguished for his research in computer vision and his contributions to the reconstruction, registration and recognition of three-dimensional objects from images. These include novel algorithms for the recovery of accurate 3D shape, visual localisation and semantic segmentation and their translation into commercial products.
He said: "This is the ultimate honour for any scientist and recognises the amazing contribution of my students, collaborators and mentors in my 30 years at Cambridge. I am also very fortunate to be working in the field of computer vision and machine learning at a time of revolutionary progress and ground-breaking applications."
Professor Douglas Easton FMedSci FRS
Professor of Genetic Epidemiology, Centre for Cancer Genetic Epidemiology, Department of Public Health and Primary Care, University of Cambridge
Easton's main research interests are in cancer genetics. He analyses large population studies to identify genetic variants that predispose to cancer, and to understand how they combine together with other factors to determine cancer risk. His work has characterised many important cancer genes such as BRCA1 and BRCA2, and identified of hundreds of common cancer predisposition variants in the non-coding genome. He co-developed the BOADICEA risk prediction model now used worldwide to guide genetic counselling and cancer prevention.
He said: "I am truly delighted and honoured to be elected to the Fellowship of the Royal Society. This prestigious honour is a tribute the work of many wonderful colleagues in Cambridge and worldwide, over many years, who have made the research possible."
Professor Robin Franklin FMedSci FRS
Formerly Professor of Stem Cell Medicine, Wellcome - MRC Cambridge Stem Cell Institute, University of Cambridge; now Principal Investigator, Altos Labs - Cambridge Institute
The central question of Franklin's career is 'how do tissues regenerate?' To address this question, he has studied the brain, an organ notorious for its poor regenerative capacity. Working with many excellent colleagues, he has described how stem cells in the adult brain regenerate oligodendrocytes - the cells responsible for making the insulating myelin sheath around nerve fibres - once they are lost in diseases such as multiple sclerosis (MS); how this process declines with age; and it can be reversed. The work has led to two regenerative medicine trials in MS.
He said: "I am absolutely delighted to have been elected a Fellow of the Royal Society - it is a huge honour."
Professor Richard Gilbertson FMedSci FRS
Li Ka Shing Chair of Oncology and Head of Department of Oncology, University of Cambridge, Director of Cancer Research UK Cambridge Centre and Senior Group Leader, Cancer Research UK Cambridge Institute
Gilbertson, a paediatric physician-scientist, has identified the origins of common and aggressive childhood brain tumours and many of the genetic alterations that drive these tumours. His research has helped establish a direct link between disordered development and the multiple different brain tumour types observed in children: contributing directly to their classification by the World Health Organisation (WHO); changing the way conventional treatments are used, sparing children from unnecessary side effects; and underpinning clinical trials of new therapies.
Gilbertson said: "I am truly delighted and humbled to receive this recognition that I share with all the wonderful students, trainees and colleagues I have worked with over the years."
Professor Paul Lehner FMedSci FRS
Professor of Immunology and Medicine, Cambridge Institute for Medical Research, University of Cambridge
Lehner studies virus-host antagonism and how our genome is defended from invasion by RNA-derived retroelements such as HIV. His discovery of the 'HUSH' epigenetic silencing complex explains how the genome distinguishes new genetic material from endogenous genes through recognition of intronless DNA. This work uncovered an unanticipated surveillance system that discriminates 'self' from 'non-self' genomic DNA and defends our genome against the reverse flow of genetic information (RNA to DNA), paving the way to novel applications in medicine and biotechnology.
Lehner said: "I'm absolutely delighted to be elected to the Fellowship of the Royal Society; I've been fortunate to work with incredibly talented people and this honour recognises the commitment of the many past and present members of my group who have contributed to our work."
Professor Roberto Maiolino FRS
Director of the Kavli Institute for Cosmology and Professor of Experimental Astrophysics, University of Cambridge
Maiolino studies the formation of galaxies using observations collected at some of the largest ground-based and space telescopes. He has obtained key results on the interplay between the evolution of galaxies and the supermassive black holes at their centres. He has also investigated the enrichment of chemical elements across the cosmic epochs, as well as the origin and nature of dust particles in the early Universe.
He said: "I am truly honoured by such a prestigious appointment. Being a Fellow of the Royal Society will certainly foster my research activities and will allow me to further promote exciting, cutting-edge projects."
Professor Angelos Michaelides FRS
1968 Professor of Chemistry, Yusuf Hamied Department of Chemistry, University of Cambridge
Michaelides' work involves the development and application of theoretical methods to better understand contemporary problems in chemistry, physics, and materials science. His group places a particular focus on developing and applying computer simulation approaches that provide the fundamental molecular-level insight needed to help address contemporary global challenges related to water, energy, and the environment.  
He said: "Holy moly! I'm delighted to have been elected an FRS and very grateful to all the outstanding students, post-docs, collaborators, and mentors I've had over the years without whom this would never have happened."
Professor Jason William Chin FMedSci FRS
Head, Centre for Chemical and Synthetic Biology, and Joint Head, Division of Protein and Nucleic Acid Chemistry, MRC Laboratory of Molecular Biology; Professor of Chemistry and Chemical Biology, Yusuf Hamied Department of Chemistry, University of Cambridge; Associate Faculty in Synthetic Genomics, Wellcome Sanger Institute 
Chin has engineered the genetic code of living cells to synthesise modified proteins and non-canonical polymers. To accomplish this, he created new translational machinery and codons to reprogram the genetic code,  going well-beyond prior work using amber suppression. He then completely synthesised a bacterial genome in which he reduced the number of sense codons in its genetic code. The codons thus unused were reassigned to encode non-canonical amino acids. Chin's fundamental advances have been widely used to drive discovery, including to define the molecular consequences of post-translational modifications, define protein interactions in cells, and provide mechanistic insight into enzymes.
---

The text in this work is licensed under a Creative Commons Attribution 4.0 International License. Images, including our videos, are Copyright ©University of Cambridge and licensors/contributors as identified.  All rights reserved. We make our image and video content available in a number of ways – as here, on our main website under its Terms and conditions, and on a range of channels including social media that permit your use and sharing of our content under their respective Terms.
---